Intel Core 2 Extreme QX9650 Review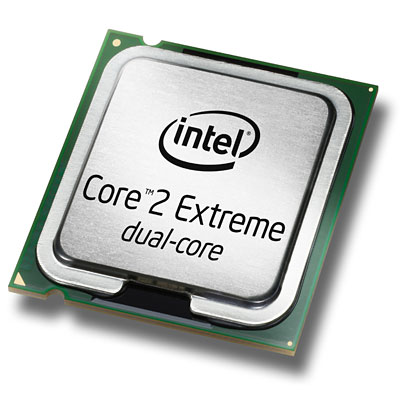 As both AMD and Intel continue to release a plethora of new CPU's onto the market, Intel add their own spin to the lot with the Core 2 Extreme QX9650 that is the first 45-nm desktop CPU from Intel that not only boasts four cores but runs at an impressive core frequency of 3Ghz.
Code named "Penryn", this new processor boasts a 12MB L2 cache, a new SSE4 instruction set and a 1,333Mhz Front Speed Bus, making this one of the most powerful processors on the market from the 1st of January 2008.
Features and Benefits of the Intel® Core™2 Extreme Quad-Core Processor
| | |
| --- | --- |
| Features | Benefits |
| Quad-Core Processing | Provides four independent execution cores in a single processor package. Four dedicated processing threadshelp operating systems and applications deliver additional performance, so end users can experience better multitasking and multi-threaded performance across many types of applications and workloads. |
| Chipset Support1 | Intel® Express Chipsets offer an array of exciting capabilities including dual graphics and deliver an impressive level of performance for demanding users. Other third-party chipsets may support Intel Core 2 Extreme quad-core processors; contact your board manufacturer for compatibility. |
| Intel® Wide Dynamic Execution | Improves execution speed and efficiency, delivering more instructions per clock cycle. Each core can complete up to four full instructions simultaneously |
| Intel® Smart Memory Access | Optimizes the use of the data bandwidth from the memory subsystem to accelerate out-of-order execution. A prediction mechanism reduces the time in-flight instructions have to wait for data. Pre-fetch algorithms move data from system memory into fast L2 cache in advance of execution. These functions keep the pipeline full, improving instruction throughput and performance. 45nm versions further improve this feature, with more efficient methods of loading and storing data in main memory. |
| Intel® Advanced Smart Cache2 | Dynamically allocates the shared L2 cache to each processor core based on workload. This efficient, dual-core-optimized implementation increases the probability that each core can access data from fast L2 cache, significantly reducing latency to frequently used data and improving performance |
| Intel® Advanced Digital Media Boost | Accelerates the execution of Streaming SIMD Extension (SSE) instructions to significantly improve the performance on a broad range of multimedia and compute intensive applications. The 128- bit SSE instructions are now issued at a throughput rate of one per clock cycle, effectively doubling their speed of execution on a per-clock basis over previous generation processors. 45nm versions include a new Super Shuffle Engine, which improves existing SSE instructions while enabling significant gains on the latest SSE4 instruction set. SSE4-optimized applications, such as video editing and encoding in high-definition resolution, will see additional performance improvements. |
| Intel® Virtualization Technology (Intel® VT)3 | Allows one hardware platform to function as multiple "virtual" platforms. Intel VT improves manageability, limits downtime, and maintains worker productivity by isolating computing activities into separate partitions. |
| Intel® 64 Architecture4 | Allows the processor to access larger amounts of memory. With appropriate 64-bit hardware and software, platforms based on an Intel processor supporting Intel 64 architecture can allow the use of extended virtual and physical memory. |
| Execute Disable Bit5 | Provides enhanced virus protection when deployed with a supported operating system and prevents the code from infecting the system. Memory can be marked as executable or non-executable, allowing the processor to raise an error to the operating system if malicious code attempts to run in non-executable memory. |
† Warning: Altering clock frequency and/or voltage may (i) reduce system stability and useful life of the system and processor; (ii) cause the processor and other system components to fail; (iii) cause reductions in system performance; (iv) cause additional damage; and (v) affect system data integrity. Intel has not tested, and does not warranty, the operation of the processor beyond its specifications.
1 The Intel® 975X Express Chipset only supports QX6000 series with a 1066 MHz Front Side Bus.
2 For the Intel® Core™2 Extreme Quad-Core processor, shared L2 cache refers to either 6 MB or 4 MB of L2 cache per core pair resulting in a total L2 cache size of 12 MB or 8 MB. The 45nm version has 12 MB of cache.
3 Intel® Virtualization Technology requires a computer system with an enabled Intel® processor, BIOS, virtual machine monitor (VMM) and, for some uses, certain platform software enabled for it. Functionality, performance, or other benefits will vary depending on hardware and software configurations and may require a BIOS update. Software applications may not be compatible with all operating systems. Please check with your application vendor.
4 64-bit computing on Intel architecture requires a computer system with a processor, chipset, BIOS, operating system, device drivers and applications enabled for Intel® 64 architecture. Processors will not operate (including 32-bit operation) without an Intel® 64 architecture-enabled BIOS. Performance will vary depending on your hardware and software configurations. Contact your system vendor for more information.
5 Enabling Execute Disable Bit functionality requires a PC with a processor with Execute Disable Bit
We tested the QX9650 with SiSoft's Sandra, a great benchmarking program that tested a variety of aspects of the CPU. The SiSoft processor results scored over 55,000 with the Dhrystone Alu, whereas the multimedia part scored a whopping 320,000 with the Floating Point x4 iSSE2 and had great results all around.
Windows Vista, Windows XP, Adobe Photoshop CS2 and WinRAR all performed remarkably well and in general it was around 15% faster than the Intel QX6700 processor. I was pleasantly surprised with Adobe Photoshop CS2 which is heavily CPU dependent and it ran like a dream on the QX9650 with minimal slow down and this was a result of insufficient memory. The latest Adobe is a beast when it comes to memory.
The QX9650 is also a speed demon when it comes to number crunching and converting movies into DivX was considerably faster than previous processors. Opening up large documents in Word, Excel and even PhotoShop showed a significant speed increase.
Bioshock is a PC game that has won many awards during 2007 due its amazing gameplay, graphics and storyline and what better game to test the power of the QX9650?
Developed with the Unreal Engine that supports the latest DirectX 10 instruction set, this first person shooter is a visual master piece and the results of the QX9650 speak for themselves.
BioShock
1024x768 (Minimum Detail)
| | |
| --- | --- |
| Intel QX9650 | (210.2) |
| AMD Phenom 9600 | (201.5) |
| Intel QX6700 | (189.1) |
As you can see from the above scores, the QX9650 performed admirably against the Phenom and QX6700 that definitely proves this processor is the perfect gaming processor.
Another game that was released late during 2007 was Crysis that uses the CryENGINE2 system and was created by the developers of Far Cry, one of the best first person shooter of 2006 and needless to say, Crysis on PC is a phenomenal game.
Crysis
1024x768 (Minimum Detail)
| | |
| --- | --- |
| Intel QX9650 | (154.2) |
| Intel QX6700 | (135.3) |
| AMD Phenom 9600 | (131.2) |
Once again the QX9650 is the King of Hill in the world of Crysis that reached speeds of 154 frames per second, making this title a truly smooth experience. Even when the resolution and detail was increased, although not performing as well as a low resolution game, the title was still quite playable with all detailed turned on.
The last gaming benchmark we used was Quake 4 and without any questions, the QX9650 once again outperformed all existing CPU's with the score results below.
For those who are unaware of the Quake series, Quake 4 is a first person shooter and although not as visually impressive as Crysis or BioShock, it's a great benchmark to use with all processors as so many computers can now run this game.
Quake 4
1024x768 (Minimum Detail)
| | |
| --- | --- |
| Intel QX9650 | (242.1) |
| Intel QX6700 | (223.7) |
| AMD Phenom 9600 | (210.4) |
In conclusion, the QX9650 is definitely an impressive processor and it appears that Intel's new 45-nm technology has once again proven that Intel are still the best in the market. Unfortunately as with all new processors, especially Intel, the price of the QX9650 is quite expensive and most users will need to upgrade their motherboards before making this investment. Whereas AMD's Phenom 9600 has a more wider appeal to existing AMD users due to the backward compatibility of motherboards and processors.
However, if you are after the best and money is no option, than the QX9650 is definitely the processor for you, whether its applications, gaming or design, this processor has the grunt.