HAF 912 Advanced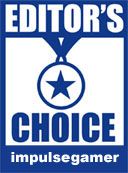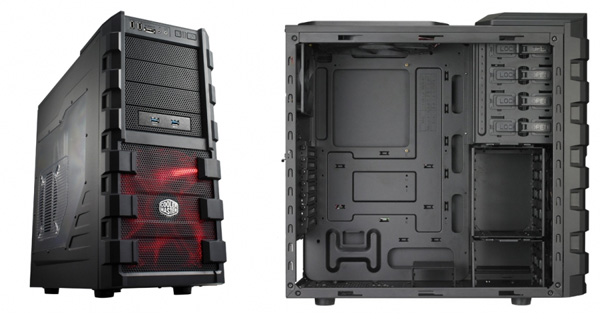 When I first saw the HAF 912 Advanced Case from Cooler Master, the immediate word that came to my head was monster... the second word was wow. For the uninitiated, HAF is an acronym for High Air Flow that basically maximises the throughput of the airflow through chassis with some careful architectural design by Cooler Master. The airflow works by taking cool air from the front of the case and then moving it to the top and rear of the case. An optional side fan can also be included to move additional cooler air into the unit.
In other words, this was the case for true computing enthusiasts, especially for those gamers and overclockers who want to get the ultimate performance from their PC's in all aspects of hardware. Part of the solution to achieving greatness on your PC is the HAF 912 Advanced Case.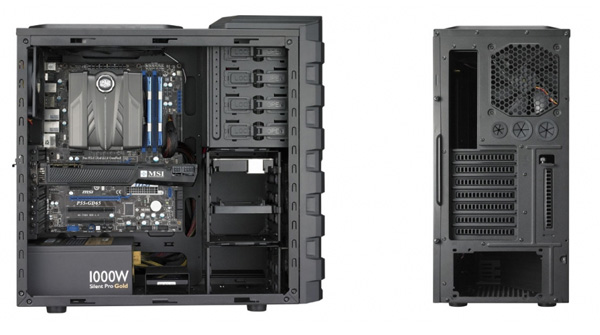 Design
The design of the HAF 912 would not look out of place on a military base due to its rugged design but where this case shines is through its internal design in order to accommodate a variety of cards and devices for your PC. Best of all, the HAF 912 has enough room to easily provide for the high end graphic cards from Radeon to NVDIA. However, the goal of the HAF 912 is simple, ensure the best possible cooling and airflow inside the case to maximise your PC experience without the pesky proverbial spanner in the works... over heating.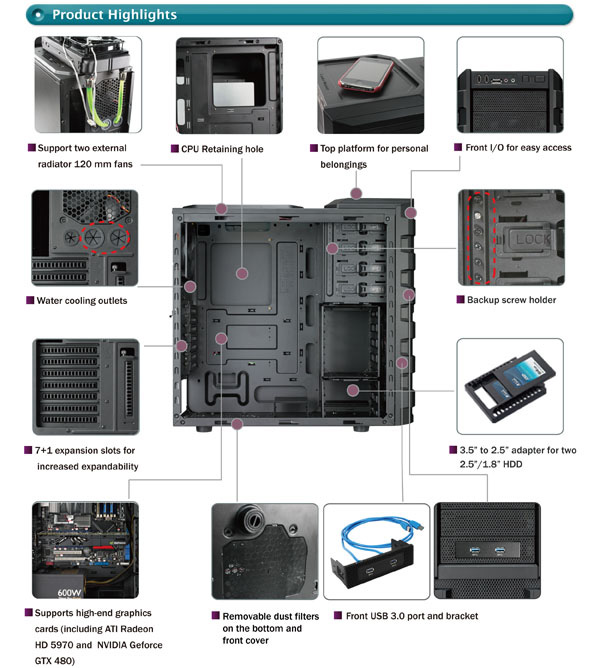 Features
HAF 912 Advanced is built in aggressive design and stylish interior black coating.

The compact interior able to accommodates 12 devices.

Supports long graphics cards including ATI Radeon HD 5970 and NVIDIA Geforce GTX 480.

Superior cooling performance support up to two 200 mm and two 120 mm fans.

Front 200mm fan with brilliant Red LED provides the best airflow to HDDs.

Removable 3.5"HDD cage provides enthusiasts more convenient installation.

Customized neat cable management.

Front I/O includes USB 3.0 for easy access
From water cooling outlets to removable dust filters and even various sized hard drive adapters, Coolmaster have definitely thought outside the square when it came to the design of this case. There is even a cable management system and in all my years of building PC's, I have never seen anything this well made and well thought out. Another highlight of the HAF 912 is that it works straight out of the box without the need to purchase additional cooling devices. The unit itself comes with three fans, a front 200mm red LED fan, a top 200mm fan and finally a rear 120mm rear fan. There is space for an optional side fan of either 120mm or 140mm.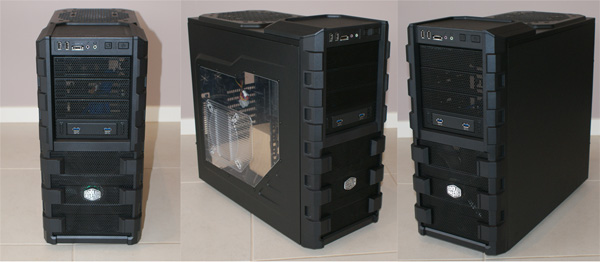 Out of the Box
Once out of the box, we were ready to review the unit and our initial reactions was that the HAF 912 was a very well built and sturdy case, albeit a little heavy, especially when all the innards of our test machine were installed. When we begin to transplant our old system into the HAF 912, we could not believe the amount of dust that collected in our old case. This was on everything, the video card, the motherboard and even in the hard to reach places inside the case.
This would also be the perfect opportunity to remove the excessive dust and it should be noted that excess dust can be quite detrimental towards the health of your PC as the dust that rests on fans and the like which increases the temperate that in turn decreases the lifetime of these parts. Not only does dust clog up your fans but it generally makes your PC worker harder than it should which uses more power as well. Fortunately Cooler Master have addressed this issue and have included dust filters in their design, including the bays of CD drives that is a brilliant design.
Specifications

Available Color
Black
Material
Case Body: Steel / Front bezel: Plastic and mesh
Dimension (W / H / D)
Main unit: 230 x 480 x 496 mm / 9.1 x 18.9 x 19.5 inch (with stand)
Weight
Net: 8.7 kg / 19.2 lbs
M/B Type
Micro-ATX / ATX
5.25" Drive Bay
4 Exposed (one could be converted to 3.5" bay)
3.5" Drive Bay
1 Exposed ( converted from 5.25" bay) / 6 Hidden
I/O Panel
USB 3.0 X2, USB 2.0 x 2, e-SATA x1,Audio x 1, Mic x 1
Expansion Slots
7+1
Cooling System
Front: 200 mm red LED fan x 1, 700RPM,19dBA (can be swapped for two 120mm fans)
Top: 200 mm black fan x 1,700RPM,19dBA (can be swapped for two 120mm fans)
Rear: 120 mm black fan x 1, 1200 RPM, 17 dBA
Side:120/140 mm fan x 1 (optional)
Power Supply
Bottom –mounted / ATX PS2 / EPS 12V
2.5"/3.5"- SATA HDD Drive Bay
4 Hidden (two converted from 3.5" bay)
Maximum Compatibility
VGA Card length :270.0mm (with HDD cage)
VGA Card Length :390.0mm (without HDD cage)
CPU cooler height:175.0mm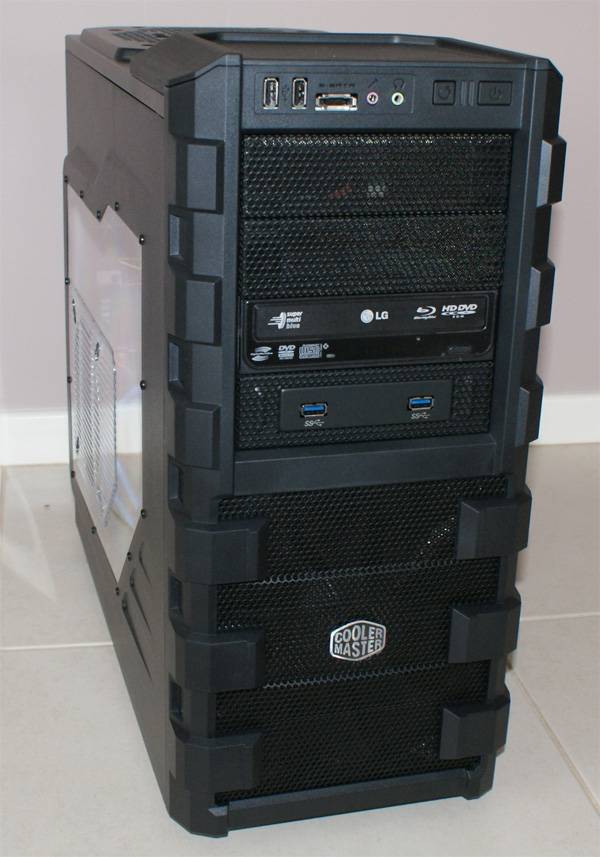 Cooling plus USB 3.0 Connections
The HAF 912 comes with a plethora of bays that include a variety of pays for all sorts of devices from hard drives, including 2.5" to 3.5", Blu-ray drives and lots more. There is an adapter to transform the 5.25" bays to 3.5" should you require additional bays for the smaller size and once again, the 3.5" bays can be converted to 2.5" via the adapter which we used in our installation. Nonetheless, the customisation options of the case is quite impressive. Another interesting feature is that the 3.5" HDD bays can be turned for 90 degrees and even removed for those longer than long graphic cards.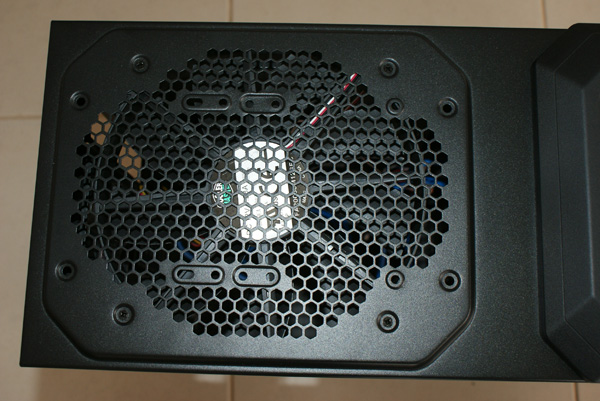 Powerful Top 200mm Fan
The cable management system is first class for the HAF 912 Advanced which not only gives additional room between the side panel and the motherboard but lots of holes for re-routing your cables. The inclusion of modular notches really assist with the cables ties (included) to keep things clean in the case which would help with the airflow as well. But for the overclockers, the ability to connect a water cooled cooling device to the HAF 912 is mad... in a good way.
Installation

Installation of our motherboard, cards, cables and devices was quite simplistic as opposed to some other cases that I've had the "pleasure" of using. Because there is so much room in the case with the ability to swap and change, I was not trying to fit my hand in where it shouldn't go and the overall installation time was considerably cut back.

Stage 1 of the Installation - Power Supply
Best of all, there was plenty of room for those larger graphic cards and upon installing it all, everything looked nice and neat. As mentioned, the fans that come with the HAF 912 can be replaced and even connected to your motherboard to monitor the fan or alternatively connect it straight into the motherboard. As opposed to some other cases, everything is nicely labelled in the system and I really enjoyed the locking mechanism on the 5.25" bays that makes putting in DVD and Blu-ray drives a treat.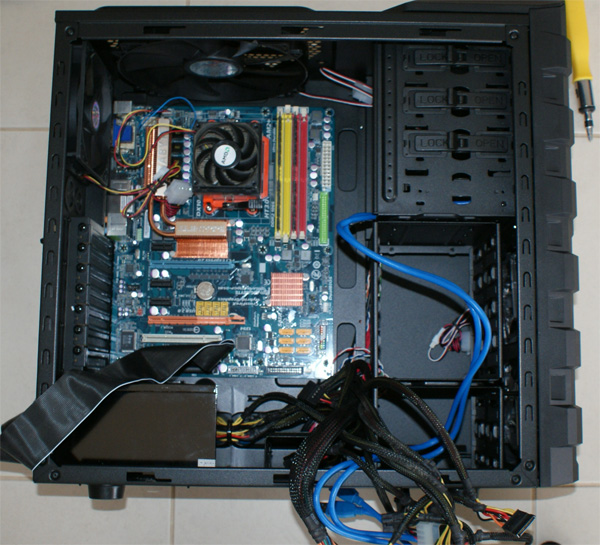 Stage 2 - Motherboard
We also like how the two front USB ports are located at the front of the case on the top, with an audio jack, reset switch and power button there as well. It's definitely the perfect spot when the case is located on the floor. The side panelling of the case comes with a sturdy plastic window that allows the user to look inside their computer.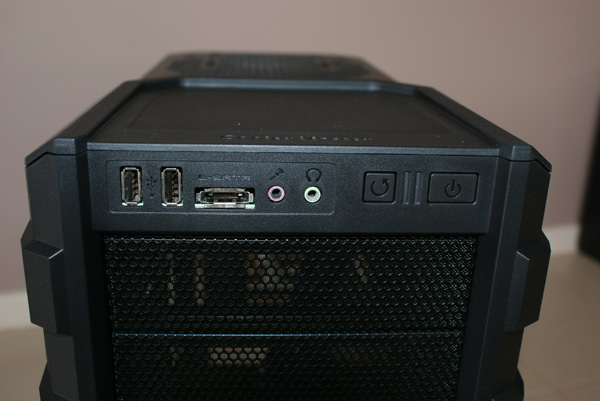 Convenience of front inputs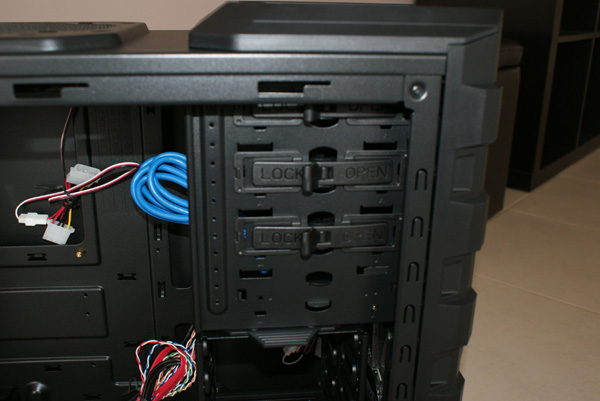 Innovative Locking System for 5.25" Drives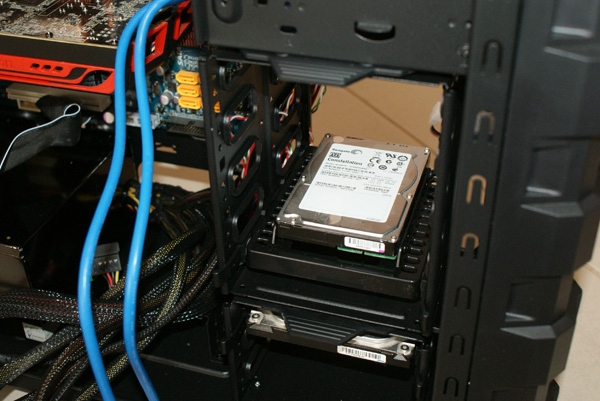 Stage 3 - Hard Drives & Optical Drives
The only recommendation that I could suggest when you install your items into the HAF 912 Advanced is that you follow the instructions. The multilingual instructions are quite easy to follow and they do assist in the process which in turn makes things easier for the user. Did we have any problems while transferring our components from our old case to the new case? We had no problems whatsoever and thankfully the cables from the case to the motherboard for Power Switch, Hard Drive Light etc were clearly labelled and easily fitted onto the motherboard. This was the same for our front USB connections, including the front e-Sata input. It's also great that the fans supplied by Cooler Master are relatively quiet that run at 1,700 RPM at 19dBA. The smaller fan is a little quieter that runs at 1,200 RPM at only 17 dBA.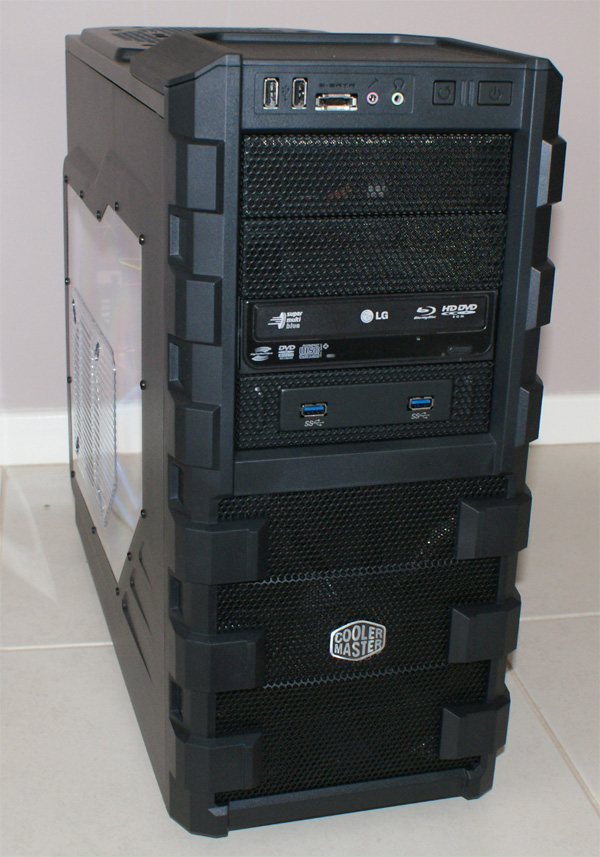 Stage 4 - Completed Product
For a recommended retail price of only $139, the HAF 912 Advanced is a very affordable and versatile case that offers gamers and overclockers a great option at getting the maximum out of their PC. With the ability to easily add a variety of cooling options plus the capacity to easily link graphic cards together, Cooler Master have certainly set the bar high for its competitors. This case offers the user a considerable amount of customisation, whether it's installing larger graphic cards, additional fans or liquid cooling radiators, it does it all. As a basic case, it contains full functionality out of the box and would happily recommend this to all hardcover gamers and overclockers.
Brilliant!