TARGUS FM TRANSMITTER
Ever since the iPod was released by Apple, the portable music industry has boomed and just about every man and their dog has access to an MP3 player. However the main issue with MP3 players is the quality of the accessories that are available for the unit. A small inexpensive speaker set generally sounds too hallow or tinny for these devices, so for top quality, the best alternative is to either use headphones or connect them to an amplifier. Unfortunately that hampers the portability of the unit.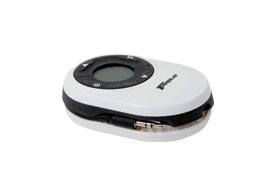 However, Targus have come with alternative to this method with the latest accessory for the MP3 market, the Targus FM Transmitter (AAT01AP) that allows you to easily connect your iPod, Laptop, PC or any other device to your FM radio. Simply by plugging in your device into the FM Transmitter, you can almost immediately begin to listen to your very own music on the radio.
Technical Specifications
Colour - Black/White

Device Compatibility - Music devices with 3.5mm audio jack

Size - 8.5 x 5.0 x 1.5 cm

Warranty - Limited One Year

Weight - 80g
The installation of the FM Transmitter was a breeze as it simply just plugged into our iPod (the unit also comes with batteries and a cigarette lighter adapter) and then we had select a frequency on the device and then tune in our FM radio. The device also has 5 preset memory frequencies so you can be assured interference free broadcasts. Another nifty feature of the transmitter is that it actually tells you the strength of the signal that allows you to fine tune for improved transmission.
I must admit that the quality of the FM Transmitter is flawless and the quality depends on your FM radio. As the device has a range of 10 metres, listening to the FM transmitter in our car was almost CD quality. With up to 30 hours battery life, the Targus FM Transmitter is the perfect accessory for your MP3 Player, PC or laptop that perfectly lets you listen to all your music on your stereo system.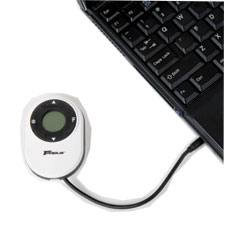 The design of the FM Transmitter feels and looks like an official iPod accessory with its bright white case and back light screen, making the display easily read in a wide variety of environments.
Features
Back light for better visibility

Car adaptor included allows you to power up the device in your car

Up to 30 hours battery life - longest battery life on the market

Signal indicator for transmission status

Full band selection from 88.1MHz and 107.9MHz

Automatic power "off" with low battery indicator

No Driver is Required - "Plug and Play"

5 preset memory frequencies
In conclusion, Targus have once again released a perfect accessory for portable music devices that allow you to listen to music or audio files on larger than normal portable speakers for that extra quality. With Hassle free installation, CD quality music, a must have for all owners of MP3 players.