Flip MinoHD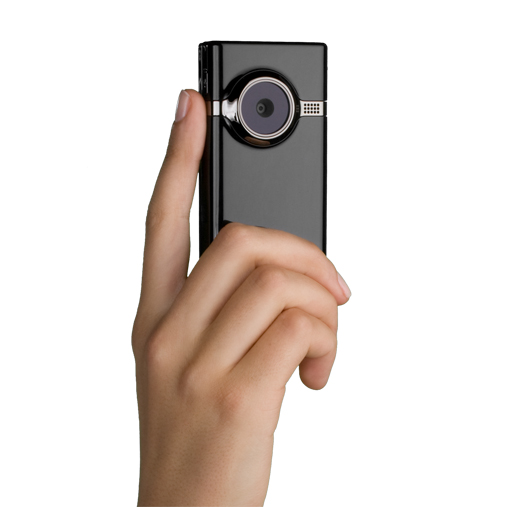 A portable high definition mini camcorder? That's what the new MinoHD device from Flip Video is, and it seems to be targeting Generation Y and to an extent Generation X.
The first thing you notice about this mini camcorder is the size which can easily be transported and measures at a tiny 10cm x 5cm x 1.6cm (HxWxD) and weighing only 93.5 grams. With a stylish design, the MinoHD is one of the easiest devices that we used this year and the only tricky aspect of the unit is setting up the dates and time when you first turn it on.
The device itself contains 6 touch buttons for navigation and a RED button to record video. On the side there is a button to flip the USB connection and on the alternate side, one for power. Add in a 29mm x 22mm transflective screen that we used in a variety of different types of light and you have everything you need to film your own videos.
In terms of video length, this unit supports 4GB which allows up to 60 minutes of footage to be filmed. In order to prevent the device from being scratched, it comes with a small pouch which of course can be used to wipe those pesky finger prints away from the unit. The MinoHD even comes with a tripod mount on the bottom and an AV output which can be connected directly into your TV.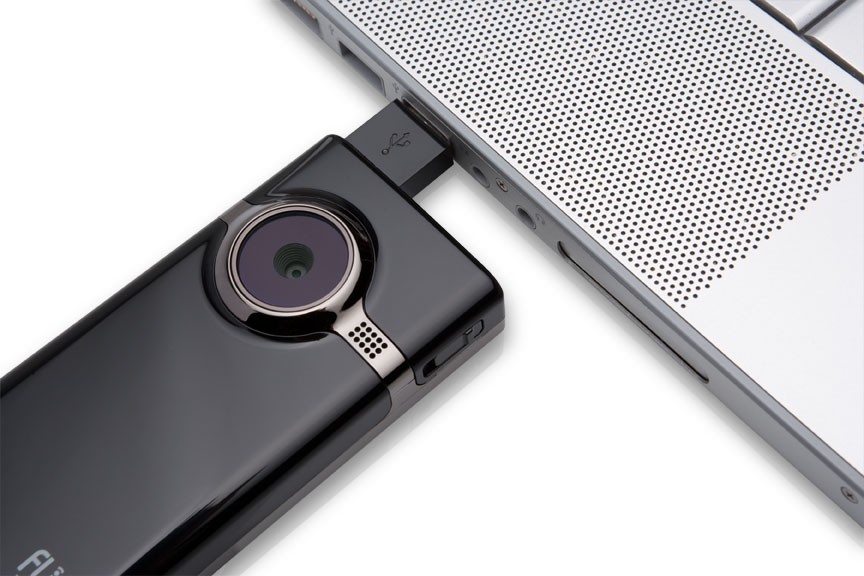 The unfortunate aspect of the AV output is that it only supports standard definition which is a shame, considering that Flip are labeling this as HD. Of course, copying your videos to your PC or Mac, they will be in high definition, just not on your TV for now.
The video quality of MinoHD is rather impressive for a portable device and supports a resolution of 1280x720 which relates to 720p on LCD and Plasma televisions. For the techno-junkies, the MinoHD saves the file as MPEG-4 AVI which uses the H.264 video compression algorithm and is quite decent.
We tested the device in a variety of settings from indoors, outdoors plus a variety of different light settings and it performed okay for something of this size. The video quality looked sharp on our 22" LCD screen, however at full screen, you can notice the inconsistencies of the video but once again on TV, this was not very noticeable.
With this in mind, this device is targeting users of YouTube and MySpace for example which allows them to film on the go and easily upload their files to this popular social networking sites. Needless to say, for its size and the small lens, the video quality is quite acceptable, especially if you're uploading movies to aforementioned sites.
Moving the files to your PC or Mac is extremely easy, you simply flip the USB connector and plug it straight into your computer which loads the FlipShare interface which is very easy to use, including sharing your movies. This in-built software on the unit is quite reminiscent of Apple iLife but works well on both the PC and the Mac.
Thankfully when you share the file with others such as e-mail or MySpace, it automatically compresses the file. This program supports some basic editing as well such as clipping movies, adding titles and even background music that's kind of cool. One can imagine that anyone under 30 would have a ball with this device, especially uploading a variety of videos to YouTube and MySpace.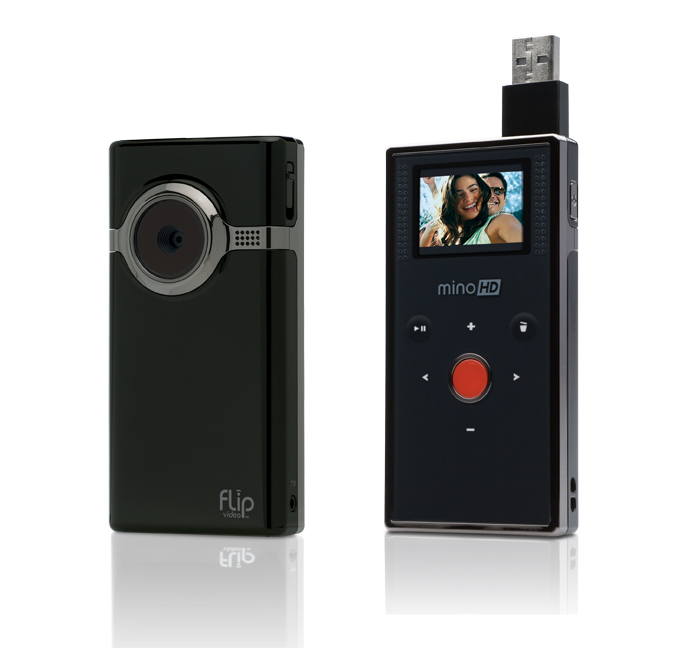 In conclusion, Flip Video have created a nifty little device for a relatively new niche market. The video quality is decent for a unit of this size and best of all, using the device, creating movies and sharing them is more than simplistic. The only issue with the video is the stabilization which does become a little shaky if you're moving around.
The unit comes with a lithium ion battery which would need to be professionally replaced once gone, however this type of battery does ensure for longer life and keeps its charge for around 2-hours. Thankfully the charging is relatively quick via the USB and this is easily one of the better products available for the mini camcorder.
A fun and clever little product!
Specifications
MinoHD
Recording Time: 1 Hour
Memory: 4GB
Screen: 1.5" Transflective
Video Resolution: High Definition, 1280x720
Frame Rate: 30fps Progressive Scan
Video Format: H.264, MP4
Average Bitrate: 9.0Mbps
Battery: Internal Li-Ion Rechargeable
Battery Life: Up to 2 Hours
TV Output: SD Composite Video
Zoom: 2 x Digital