Fatal1ty 1010 Mouse
First things first. This is one of the best looking packs for a mouse that I have ever seen. Seriously, if the mouse lived up to the packaging then we could all bow down and just call it a day. As soon as you open up the pack you just know that a lot of thought and design went into the appearance of this product, endorsed by pro gamer Jonathon Fatil1ty Wendell. Pro Gamer huh? What a cool title.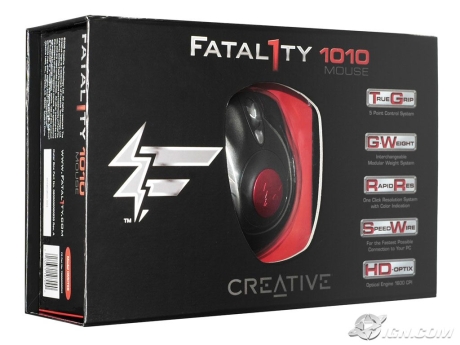 The story behind the mouse is that Wendell told Creative what gamers wanted and needed to get the most out of a decent controller. Precision optics and a whole slew of extras needed to be incorporated that the average peripheral user simply would not need to get the job done.
When you get the mouse out of the box, youíll notice that itís smaller than your standard mouse that you would use for every day tasks. Itís more akin to a notebook mouse in that you canít rest your palm on it, rather you need to manipulate the whole thing with you fingers, meaning that you always need to have firm control over it. We noted that this technique was actually a touch more responsive in first person games which allowed for better reactions when it came to targeted shooting.
The Fatil1ty offers a number of presets for sensitivity settings, meaning you can change them on the fly during the game to suit whatever you might be doing at the time. This is a serious mouse folks and although those settings are preset, they pretty much cover your basic to advanced needs very thoroughly. The mouse is fast and reads accurately enough in our tests on various first person shooters.
Possibly the only thing about this mouse is that it gets uncomfortable after hours of use. The size of the mouse itself is that your fingers are clawed most the time and the click wheel is set back into the mouse rendering it impractical for most everyday use, however innovative for gaming. To be quite honest, this would be a mouse that would only have one use for myself and that would be gaming as it did feel a fair bit more accurate in reaction time.
The average user probably wonít dig this mouse as most of us are not so hardcore that we want to switch mice for various tasks, we just use the mouse that is there day in and out. Itís also obvious that Wendell and Creative have truly paired up to make this mouse the way the champ would play best, but it also raises the question about whether catering so much to the demands of a pro will suit the needs of your everyday gamer.
Certainly worth trying out with a price tag that is not too much considering what improvements this mouse brought to our gaming skillz (which were certainly noticeable). Give it a shot and see what you think for yourself.