Dyson Air Multiplier
AM01 Air Multiplier fan 30cm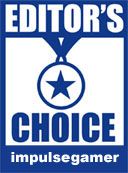 Impulse Gamer is not just games and we've reviewed some wonderful products in the past 8-years from games, software, hardware and accessories but this was one product we were not expecting. We were alerted to this product by one of our members and after getting in touch with Dyson Australia, we had the pleasure of reviewing this amazing bladeless fan called the air multiplier that goes beyond the standard conventional fan.
Although Dyson are known for the high quality vacuums, they have truly revolutionised the future of the humble home fan. And with summer almost upon us, whether you're enjoying TV, Blu-rays or video games and in order for you to be totally submerged in this experience, you also need to keep cool, provided you don't have an air conditioner.
Even so, ladies and gentlemen, I would like to introduce you to the AM01 Air Multiplier fan 30cm which is the largest fan in this range.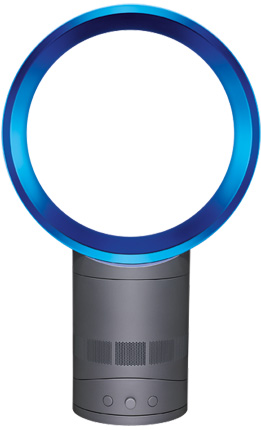 The first thing you will notice about this fan is that it contains no blades and looks like a big magnifying glass or something that lets you create bubbles. Of course this is not the case and with its unique design, it allows for a perfect flow of air, unlike the buffeting caused by conventional fans.
Once we put the fan on our desk and connected it to the mains, we were quite amazed at how this unit was forcing a continuous flow of air towards us. After putting our hands through the large circle and even our head, I must admit that we were a little flabbergasted as to how this device actually works.
So how does it all work? Without this review becoming War & Peace and for those who wish to learn more, I would suggest you check out the official webpage at www.dyson.com/fans. However to sum it up, it basically uses similar designs to jet engines to draw the air in and then amplify it by 15 times through the amplification ring. The result is a smooth and uninterrupted airflow, unlike the swirling of air with conventional fans.

In terms of controls, the unit has two buttons, one for power and one for oscillation. It also has a dial at the bottom of the base that allows you to adjust the speed of the air, however even on the lowest of settings, it does produce a rather impressive flow of air. The head of the unit can also be moved up or down in order to direct the flow of air. It's actually simplicity at its best!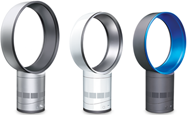 When it comes to safety, this is definitely the premium fan of safety as it does not come with blades, ensuring that children will not accidentally put their hands where they shouldn't go.
Of course, all this comes at a cost and the 30cm model retails for $399AUD, whereas the slightly smaller unit (25cm) retails for $379 which is relatively quite expensive at the moment. However if you're in the market for something different but more specifically, a quality built fan, than you definitely should investigate this impressive piece of technology from Sir James Dyson.
Recommended!