Desktop USB 2.0 4-Port Hub with Audio Pass-through
(Model # ACH80AU)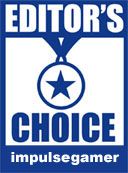 Everything uses USB, keyboards, mice, digital cameras, iPod's, memory card readers, joysticks, gamepads, scanners, printers and the list goes on. With that said, most computers are limited to the number of USB ports that they offer the user with standard desktop PC's offering around six USB ports. However, what happens when you fill these ports? The answer is not as simple as you think, you can either swap and mix between devices or purchase an additional piece of hardware called a USB hub.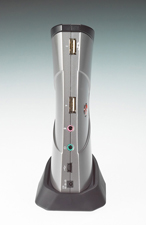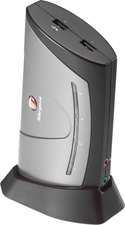 A USB hub generally connects to a spare USB port and adds a number of spare USB ports to your computer that either use the computer's power or mains power to power the device. There are also virtually dozens and dozens of different USB port hubs and fortunately for those USB in-paired uses, Targus have released one of the most impressive and useful USB port hubs entitled the Desktop USB 2.0 4-Port Hub with Audio Pass-Through.
The Desktop USB 2.0 4-Port Hub with Audio Pass-Through is not your standard hub as not only does it provide the user 4 spare USB ports but also an audio pass-through that basically allows you to easily connect various audio devices to your computer without fiddling behind your computer.
The installation of this device was a breeze and it simple plugged into a spare USB port, a spare power point and without even a blink, our test machine had four new USB ports. This device also supports a variety of operating systems that include Windows 2000, Me, XP and Mac OS X 10.2 and above.
Although alien in design, the 4-Port Hub is an impressive looking device with its neutral shades of grey and black that neatly stands anywhere on your desk. Measuring at 8.2 x 3 x 13.3cm, the 4-Port Hub is a rather small piece of equipment that is guaranteed to clutter your desk.
Another feature of this device is that even if your PC is shutdown, the 4-port hub still provides power to USB devices that is a god send for users of iPod and PDA devices. I must admit that I'm guilty of turning on the PC in order to power my iPod shuffle and with the new Targus 4-Port Hub with Audio Pass-Through, this is a thing of the past.
In conclusion, the Targus Desktop USB 2.0 4-Port Hub with Audio Pass-Through is a brilliant accessory to your desktop PC that provides the user with 4 high speed USB ports, an audio pass-through option and USB ports that are always on (provided your USB hub is connected to the mains) to power those popular devices such as MP3 players or rechargeable mice. With 1-year warranty from Targus, the Desktop USB 2.0 4-Port Hub with Audio Pass-Through comes highly recommended!

Technical Specs
Features
Other
Specifications:Hi-speed USB ports transfer data up to 480Mbs; Backward compatible with USB 1.1 devices
Size
8.2 x 3 x 13.3 cm
System Requirements
Windows® 2000, Me, XP and Mac OS X (10.2 and above), USB port
Warranty
Limited One Year
Weight
108 g

Connect up to 4 USB devices: Instantly connect up to 4 USB devices such as mice, keyboards, memory drives, MP3 players, digital cameras and printers to your computer
Audio pass-through ports: Audio ports located on the front and back of the hub provide convenient connection to headphones/speakers and microphone; simply plug and unplug audio devices directly from the hub, without having to reach behind your computer
High-power ports: Includes 2 high-power ports that provide twice the power (1000 mA) as standard USB ports
Always On USB ports: Both high-power USB ports remain powered even when power to your desktop is shut down (ideal for charging iPod,® mice, PDAs, phones, and other USB peripherals).
Review courtesy of Targus
www.targus.com/AU