Cygnett Revolution Rotating Speaker
The first thing that you will notice about the Revolution Rotating Speaker from Cygnett is the unique design. It's easily one of the most stylish speakers that I've had the pleasure of using. I love the jet-black circular design that looks quite modern as opposed to many other traditional rectangular speaker docks. It is also quite sturdy so you can rest assured that this won't topple over, no matter how loud your music or dancing is. However for something this small, I wasn't expecting it to boom with audio quality but surprisingly enough, I was wrong and for its size, the quality was actually rather decent.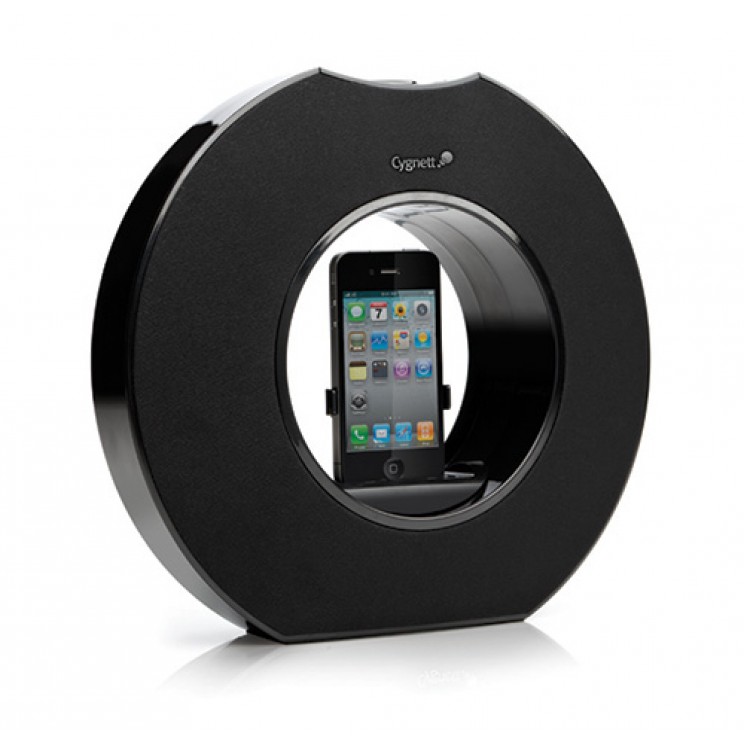 Before I could test my iPhone 4S on the Revolution, I first had to install the speaker system. The installation was a breeze and all you need to do is connect the speaker to the 240 and then insert your Apple product (iPhone 3 and 3G, iPhone 4, iPhone 4S, iPod Touch, iPod Classic and Video & iPod Nano) into the unit. The trickiest aspect of the installation was removing the battery cover on the remote control in order to eliminate the plastic cover on the battery. It also comes with a collection of plastic accessories in order to attach other Apple products to the unit which are a little fiddly.
The first thing I tested before playing music was the rotating dock feature of the product. This basically allows you to rotate your iPhone or iPod to go from portrait mode to landscape which is ideal for watching movies. It is a little gimmicky but it's a fun gimmick. To rotate the central part of the unit where the iPhone sits is done via the rotate button on top of the speakers or via the remote control. Another cool yet gimmicky feature!
Next to the rotate button on the top of the speaker is a power button with a light, a play/pause button and finally a rewind and fast forward button. By turning the unit around, you have access to the DC power jack and the option of auxiliary input which allows other audio devices to be connected to the Revolution but honestly, why bother? This is definitely an Apple designed product. The dock itself also charges your Apple products while it plays music.
The remote control contains 11 buttons that does make life easier and these include power button, rotate dock, menu up, menu down, menu button, enter to confirm selection), play/pause, previous song, next song and two volume buttons to increase and decrease. The remote control is definitely how you navigate the Revolution and more importantly, your menus on your iPhone or iPod.
Audio quality as mentioned was exceptionally clear for such a small speaker system, although if you put the volume to full, it does distort the music. Low levels were good as were mid-range audio levels with even a touch of bass. However in larger rooms, the audio quality was a little lost. This has definitely been designed for smaller rooms as opposed to large offices or open living.
Final Thoughts?
The Rotating Speaker System from Cygnett is around $160AUD which of course is dependent on store or online. Audio quality is good but is lost in large areas so we would definitely recommend this for a bedroom or small office. Nonetheless, its a well designed and built speaker system that will make your Apple products shine as opposed to their tinny speakers. With a fun rotating system and good audio quality, this products comes recommended by Impulse Gamer!