Cygnett KeyPad
WIRELESS BLUETOOTH KEYBOARD
The KeyPad from Cygnett is the perfect addition to not only your Apple smart devices (e.g. iPad, iPod or iPhone) but also other Bluetooth compatible devices (e.g. Blackberry) which in turn allows you to attach a full QWERTY keyboard to them. Best of all, this device is lightweight (200grams) and wireless which easily attaches to a variety of devices with minimal prompting from the user.
KeyPad Specifications
Full QWERTY keyboard with 78 keys, including Print Screen

Cable-free keyboard with low latency & minimal power usage

USB HID (Human Interface Device)

Perfectly portable size — easily fits in most bags or briefcases

LED indicators for Shift, Upper case & Num Lock

Instantly pairs with the iPad & all OS 4-compatible iPhones

218mm x 93mm x 21mm, 200g, 8.5" x 3.6" x 0.8", 7oz

2 year manufacturer's warranty

Product Code: CY0162KBKEY
The design of the KeyPad is "almost" like a full keyboard with slightly smaller keys that are touch sensitive. Charing is done via the USB port and the item comes with a retractable USB cable to minimise transport. Cygnett inform us that the device will last around 120 hours on standby mode thanks to the lithium-ion battery and we reported no issues with the battery life during testing.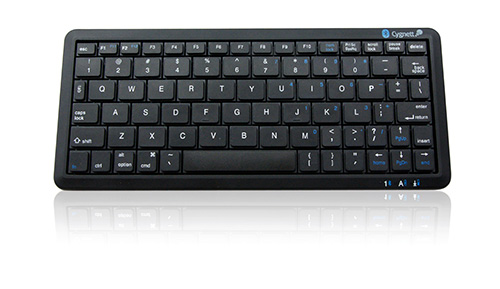 We tested this device on the Apple iPad 2 and a iPhone 3GS with our first reaction being... wow. However, before we could start typing on the KeyPad, we first needed to pair the keyboard to our smart devices. This involved turning the keyboard on and then enabling Bluetooth on our smart devices. Once it found the keyboard, we needed to type a code on it which finalised the pairing. That was basically it.
Once connected, both our iPad 2 and iPhone 3GS (separately of course) allowed us to wireless transfer whatever we were typing to these devices. Even though Impulse Gamer holds both these devices in high esteem, typing on the touch screen is just not the same as a keyboard and can be a little frustrating, especial on the iPhone due to the size of the unit. Even on the iPad 2, typing feels a little forced and unnatural and because I am a touch typer, my typing skills were greatly diminished while using the iPad 2.

However all this is now behind me, thanks to the KeyPad which almost turns your Apple smart devices into a laptop. The keyboard is perfect for touch typing and makes little noise while typing. The only issue with the KeyPad is that it does take a little time getting use and this is due to the size of the keyboard. The main keys are roughly 15mm x 10mm and as I am use to a full size keyboard, practice was needed to master this keyboard. Once I did master the keyboard, typing was almost like a full-size keyboard.
With this in mind, nothing is more satisfying than seeing my words get displayed on the iPad 2 as I type on this Bluetooth keyboard. Whether you're hooking this keyboard up to an Apple computer, iPad or some other Bluetooth compatible device, it definitely makes typing more accessible and more importantly natural.

Final Thoughts?

In conclusion, I would recommend this device to all owners of Apple Smart Devices such as the iPad, iPhone or iPod who do a considerable amount of typing. The KeyPad makes typing a breeze on these devices and whether you're lounging on the couch, flying on a plane or even sitting at your desk, typing has never been easier.