Solid-state storage (SSD) is the current future of hard drives that not only offer superior performance and improved power consumption over SATA technology but more importantly, the cost of SSD's have dropped considerably. The Crucial M500 SSD can be found online (May 2013) for around $439AUD with the 960GB version retailing around $749. Compared to what SSD's cost several years ago, it's great that this technology is becoming more and more affordable. Other versions available from Crucial include a 120GB and 240GB version.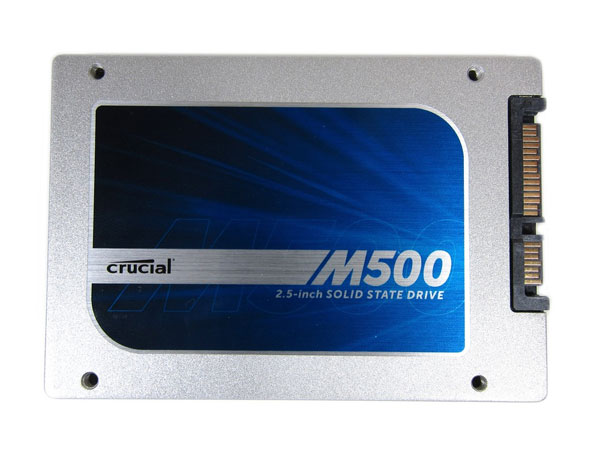 The memory chips of the M500 use the 20nm manufacturing process with a die configuration of 32 x 128GB. The drive itself supports a max sequential read/write speed of 500/400 MB/s with the 4KB random (IOps) read/write of 80,000 each. Add in a dual-core CPU controller, 6Gbps SATA and DDR cache memory, the Crucial M500 SSD 480GB is a muscle drive (aka muscle car) for your PC. It even supports 256-bit AES encryption. According to Crucial, they claim a MTBF of 1.2 million hours which works out to around 40GB of writes per day for 5 years. In other words, your PC will probably outdate your new Crucial SSD drive.

Technical Specifications
Ample storage: available in capacities of 120GB, 240GB, 480GB, and 960GB

Includes top-level hardware encryption technology

Advanced controller technology and Micron custom firmware

Extensive quality and reliability testing built into every drive

Compatible with PC and Mac systems

Micron Quality - As a brand of Micron, one of the largest NAND manufacturers in the world, Crucial SSDs are designed and developed in-house with the latest technology. This means four things: hundreds of SSD qualification tests, over a thousand hours of prerelease validation testing, 1.5 billion dollars invested in R&D, and more than 30 years of industry expertise.

Adaptive Thermal Protection - Greater thermal management enables the Crucial M500 to work with the host computer to dynamically adjust power consumption based on usage demands, which helps address the cooling challenges of ultra-small, thermally constrained systems.

Hardware Data Encryption - The Crucial M500 SSD offers top-level hardware-based encryption, enabling enhanced data security. Our AES 256-bit hardware encryption engine and TCG Opal 2.0 compliant firmware allow the drive to operate at full speed without the performance loss that's typically found in drives that use software-based encryption technology.

Three Year Limited Warranty - From pre-release validation testing to ensure that our SSDs work with the broadest range of chipsets, motherboards, and operating systems to more than a thousand hours of endurance testing, our drives are tested for reliability from start to finish. We proudly offer a three-year limited warranty and award-winning tech support.

Capacity (Unformatted): 480GB

Interface: SATA 6Gb/s (SATA 3GB/s compatible)

Sustained Sequential Read up to (128k transfer): 500MB/s

Sustained Sequential Write up to (128k transfer): 400MB/s

Random Read up to (4k transfer): 80,000 IOPS

Random Write up to (4k transfer): 80,000 IOPS

Form Factor: 2.5-inch, mSATA, and M.2

NAND: 20nm Micron MLC NAND

Life Expectancy: 1.2 million hours mean time to failure (MTTF)

Endurance: 72TB total bytes written (TBW), equal to 40GB per day for 5 years

Operating Temperature: 0°C to 70°C

Compliance: RoHS, CE, FCC, UL, BSMI, C-TICK, KCC RRL, W.E.E.E., TUV VCCI, IC

Firmware: Field upgradable firmware

Product Health Monitoring: Self-Monitoring, Analysis and Reporting Technology (SMART) commands
In terms of size, the Crucial M500 SSD is quite small and is a 2.5" internal drive and comes with a easy laptop install kit, making the installation into a notebook quite easy. Another impressive feature is that if the drive exceeds 70 degrees Celsius, the drives performance is throttled in order to reduce the temperature and ensures added protection of your data. The drive itself also comes with a 3-year warranty for additional peace of mind.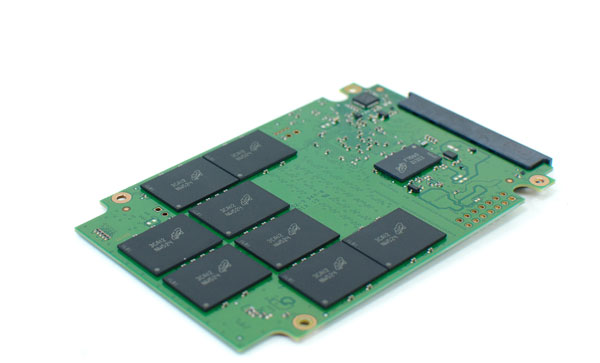 We tested the Crucial M500 SSD with the following system configuration for testing:
Intel Core i7-3960X Processor

Kingston KHX 1600C9D3K4/16GX Memory (16GB)

ASUS P9X79 Motherboard

Cooler Master M2 520W Silent Pro Power Supply

Cooler Master Silencio 550

Cooler Master X6 CPU Fan

ASUS HD 7970 DirectCU II Top

Windows 7 64 ultimate

Logitech G510 Keyboard
Once installed, one thing we did notice about the drive was the boot-up time. Compared to traditional SATA drives, the boot-up time of Windows 7 took only 6.2 seconds. Power consumption for the drive was also quite impressive with an idle time of 1 second according to IOmeter. During drive use, this moved to just over 2 seconds which once again proves the power efficiency of this product.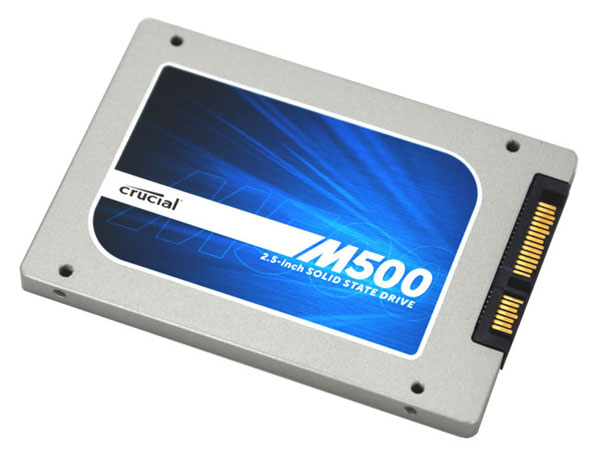 We tested the drive with a variety of benchmark programs with the first being ATTO Disk Benchmark, one of the oldest and most trusted hard drive benchmark tools. Read speeds were 555 MB/s with write around 450 MB/s. As you can see from the results, it actually excelled the recommended write/read specifications from Crucial.
Another benchmark program we used was HD Tune which allows you to do a total test of a hard drive. The average read speed of the drive was around 448 MB/s with write speed 260 MB/S which is definitely nothing to scoff at. CrystalMark on the other hand had a sequential read speed of 500 MB/s and a write speed of 450 MB/s which is perfect for gaming and overall hard drive performance for your PC. In relation to gaming, the drive did load games a fractional faster than out traditional Seagate SATA drive.

Final Thoughts?

At around $439AUD (online), the Crucial M500 SSD is definitely a drive that gamers and computer enthusiasts should investigate. Although not as cheap as a SATA drive, the M500 averages at around $0.91 per gigabyte. Although smaller drives are generally fast in terms of write/read performance, once you start increases the size of the drive, such as doubling a 240GB to 480GB, the performance does take a slight hit.
However when compared to traditional drives, the Crucial M500 SSD (480GB) is far superior and with SSD become the standard now, these drives are just going to get cheaper, larger and more powerful. However if you're after a mid to high performing SSD, than we could happily recommend the Crucial M500 SSD.