One of the most powerful gaming sound cards has "blasted" its way onto the market which features a plethora of audio options, ensuring users that will experience one of the most realistic and amazing sound experiences... provided you have speakers of similar quality.
Creative describe this card great by stating "It's Sound Blaster...on steroids!" which is 100% true. Another impressive feature of the Sound Blaster X-Fi XtremeGamer Fatal1ty Pro Series sound card is that it uses X-RAM which does not use your computers memory but the onboard memory on the sound card.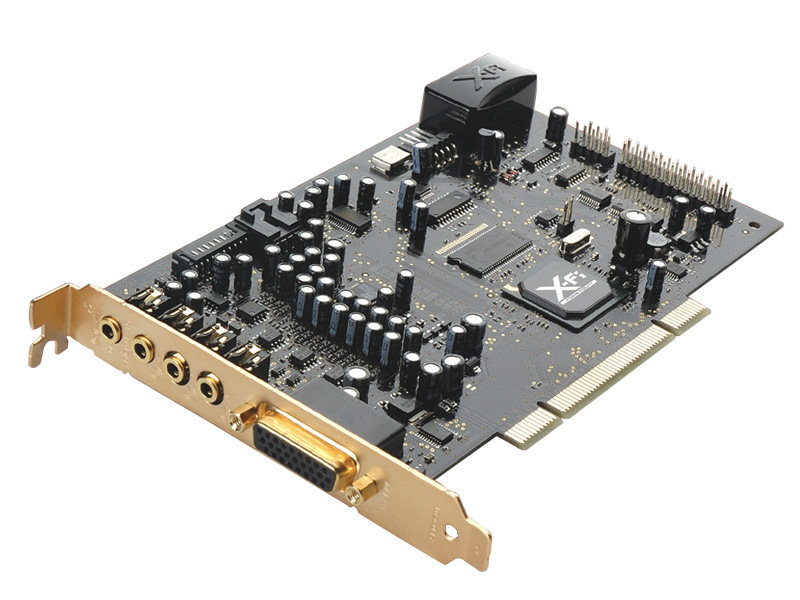 Features
Boost performance even further in games with X-RAM support
Free up system memory and improve overall gaming audio performance in game titles like QUAKE 4, Battlefield 2, Prey and others that take advantage of X-RAM.
Hear your enemies before they find you
Don't let them sneak up behind you. X-Fi CMSS®-3D Headphone creates nine virtual speakers over stereo headphones for positional audio that's so accurate you can actually locate enemies by sound. Multichannel speakers are even better with audio cues that let you hear exactly where they are even between speakers.
Immerse yourself in a new dimension of sound
Bullets whiz past your head. Explosions shake the room. Take reality to the next level with EAX® ADVANCED HD™1 sound effects in games.
Get lost in the details
Hear crisp, sharp gunshots and deep, booming explosions. X-Fi Crystalizer™ revitalizes your compressed game sounds, bringing out the highs and lows for the most intense gaming experience ever.
The installation of the Sound Blaster X-Fi XtremeGamer Fatal1ty Pro Series was a breeze on our test machine and it simple slotted into a spare slot on our motherboard. This installation can be installed by anyone, provided they have a Philips head screwdriver available and some time. For those a little wary, they can organise a computer technician to install this item. It should also be noted that the drivers for the sound card must also be installed on your system in order for the user to benefit from all its features.
Once the installation was completed and the relevant drivers and software was installed, our Windows XP test machine was ready to be fully tested in the audio department. Thankfully, we had a pair of Creative GigaWorks T40 Speakers to test this device and needless to say, it was a thoroughly enjoyable audio experience.
We also tested the Sound Blaster X-Fi XtremeGamer Fatal1ty Pro Series with Quake 4 and Prey that takes advantage of X-RAM and we were pleasantly surprised that this system had provided additional speed to the overall gameplay.
Depending on your speaker setup or whether you are using headphones (We also tested the soundcard with the Creative Aurvana X-Fi Noise Cancelling Headphones), the x-Fi CMSS-3D technology has the ability of targeting certain sounds for different speakers and if you have headphones connected to the Sound Blaster X-Fi XtremeGamer Fatal1ty Pro Series, it even creates nine virtual speakers over sound, giving you an almost surreal gaming experience. This ability is great for users who have multichannel speakers as the software really takes advantage of this technology.
Thanks to the xtreme-fidelity technology, the sound quality for games is very clear and sounds like it almost recodes the original sound to give it a more natural sounding tone, so whether you are racing or fighting your way through an alien hoard, the sound effects sound extremely realistic. Music also benefits from this feature and whether listening to MP3's or audio CD's, the quality was phenomenal.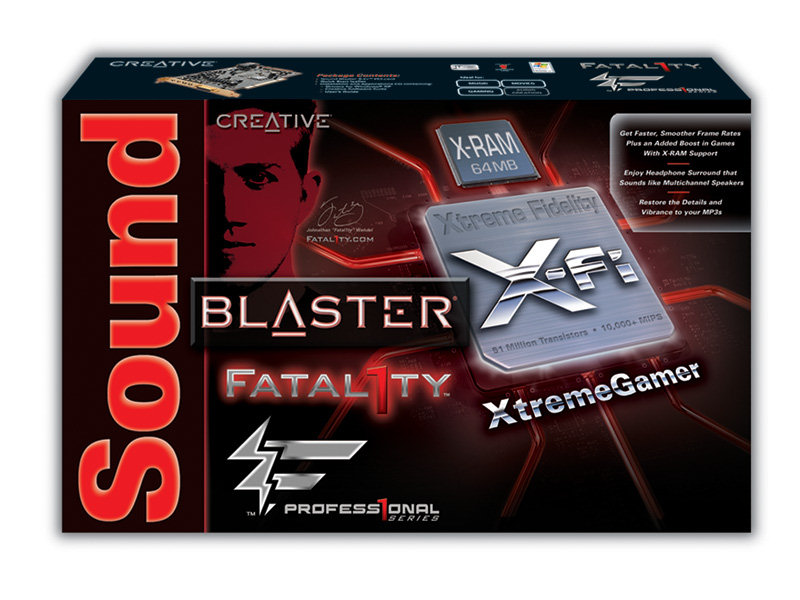 Movie lovers will be pleased to know that the Sound Blaster X-Fi XtremeGamer Fatal1ty Pro Series is THX certified, allowing for more vibrant movies which follows this universal standard and truly gives you a unique move experience on your personal computer. The program also comes with Cyberlink's PowerDVD software with DTS™ and Dolby Digital®-EX decoding which is great for users who do not have dedicated DVD software on their PC.
In conclusion, Sound Blaster X-Fi XtremeGamer Fatal1ty Pro Series soundcard is one of the market's best gaming sound cards but it does come at a cost to the user. The price is rather steep but considering the quality, it may be a small price to pay for some users. The other aspect is that if you wish to truly experience this soundcard, you will need to purchase a good speaker system.