Creative ProdiKeys Keyboard PC MIDI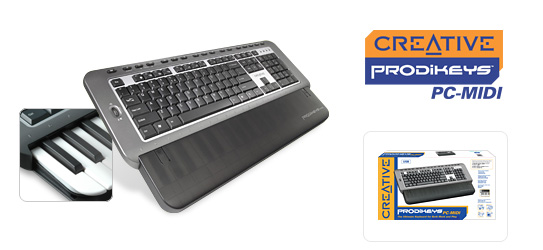 I must admit that I was stunned when I first saw shots of this keyboard, thinking it was something that someone has just thrown together in Photoshop! Then the offer came through from Creative to review it, and I leaped at the chance. It amazed me that other companies hadn't thought of it before and then to find that this is the second version of the keyboard, now called PC MIDI that made it something to check out for sure.
First thing to note that this is a good looking product. The keyboard is styled ergonomically and has a real sense of good aesthetic to it. As clunky as you would think that a product of this nature could be, this is not the case and what we have on our hands is a keyboard that is as pleasing to look at as it is to actually use.
With the combined standard keyboard, along with the music component, there has been very little in the way of compromise. By placing the 37 midi keys on the front of the machine and protecting them with a cover, in essence you have an wrist support when the guard is on and a music keyboard when it is not. I thought it would feel slightly cumbersome when the cover is on but surprisingly it all works really well.
This is a product that will suit anyone from the home enthusiast to someone who is really trying to put together some serious music. The interface is sufficient enough that you can readily put together work on the fly and then take it through to your editing suite. There is enough software bundled however that you should be fine just using what comes in the box unless you are really serious about what you are doing.
The keyboard has a plug n play sensibility to it that allows anyone, even children to just get on and start tinkling those ivory keys. Music experience is not essential though, you just know that it would allow users to get even more out of the keyboard. It's when you get a true grasp of notes and how they all work together, obviously, that the product really shines.
Getting back to the serious music side of this write up though… The keyboard will suit musicians who are tinkering and don't have the tools on hand readily to create. Experiment with a tune before getting the rest of the band to play it. The functionality allows just that and will be a true boon for those creative spurts when you can just slip off the cover and play away.
Using the software suite is very easy and intuitive, and the ability to synthesize instruments is a great deal of fun putting together your own rock show and then showing it off to your friends. The actual keyboard has the added functionality of shortcut keys that give you quick access to the internet and other standard features that you would take for granted on most standard keyboards these days.

For those who are interested in fine tuning the keyboard even further, you can adjust the sensitivity to the pressure you are placing on the keys. Light play will result in fine sounds coming from your speakers, whereas bashing will see the house come crashing down around you. The end result is that you can basically achieve a heck of a lot of stuff with this suite and it will please most users. Here are some of the abilities of the software bundled in this package:
Hot Keys Configuration utility application included for customizing access to web sites, applications and keystrokes on Hot Keys and MIDI Keys

Creative Prodikeys DM Music software with six different modes for easy music playing and learning: FunTunes, PentaTunes, Learn, IntelligentChord, FixedChord, and Perform

Intuitive "How to Play" Instruction Guide

FunTunes and PentaTunes modes with matching rhythm, instrumental and effect presets

Learn mode with five guided lessons for learning to play each song

Library of songs categorized into easy, average and difficult for learning

Scoring system to monitor learning progress

Intelligent and Fixed Chord modes for auto-generated accompaniment when playing music

Customizable music settings in Perform mode

Up to 128 GM instrument sounds and effects including Grand Piano, Strings, Brass and Drums

Up to 100 rhythms classified under 10 style categories: Ballad, Slow Ballad, Pop, Dance, Rock and Roll, Old Latin, Modern Latin, Jazz, Waltz and Folk

Downloadable content libraries for PentaTunes, Fun Tunes, Rhythms and Learnable Songs

Record music in MP3, WAV or MIDI
All the cool stuff aside here, I hope that most of you noted that this software can record in the very popular MP3 format which means that you can distribute your music quickly and efficiently over the internet. Perfect for working on a collaboration, shooting ideas over to a band mate, the options are endless.
I was really impressed with this product and I am sure that you will be too. Creative seems to have made the effort to make sure that this is not treated as a simple toy or gimmick, so it should have a fair bit of longevity to it. The ability of the packed software is brilliant and sure to make the most of the keyboard's functions.
I highly recommend this product and if you were every wondering if this sort of combination was viable, I am delighted to tell you that it is.