Creative MuVo T200
Creative latest bite-sized MP3 player has arrived in Australia that is labeled the "MuVo T200" which a slim line and "bite-sized" MP3 player that not only comes in a range of different colours but a plethora of features that are generally only seen on high-end MP3 players.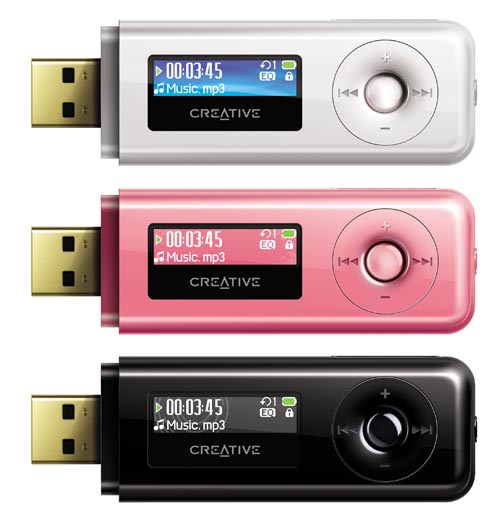 Contents
Creative MuVo T200
Earphones
Quickstart Leaflets
The first thing you will notice about the MuVo T200 is the size of the device which is reminiscent of a USB thumb drive and is extremely light-weight. The unit also boasts a colored LCD display which allows for easy navigation of the unit and displays the current file that you are listening to. Sporting 2GB of memory space, the MuVo T200 is still small enough to be discrete with enough memory space for your favourite songs. It should also be noted that a 4GB version is also available.
Specifications
Feature

Description

Capacity:
2GB
Display:
128 x 32 pixels 65k color LCD
Size:
25.0 x 77.7 x 11.0 mm
Weight:
20.6 g
Songs:
2,000 WMA/133 hrs1
1,000 MP3/66 hrs2
Battery Life:
Up to 9 hrs audio playtime3
Audio Playback Formats:
MP3, WMA/WMA (DRM9), Audible Format 2,3,4
Battery:
Rechargeable embedded Li-ion battery
Power Charging:
Yes
Connectivity:
USB 2.0
FM Radio:
Yes. Up to 32 presets
Voice Recording:
Yes
Features
Easy connection, quick transfers
Connect your MuVo T200 to your PC or laptop for quick file transfers without the need for a separate USB cable.
Rock deejay
Switch quickly from your personal music collection to live radio from up to 32 preset stations. Get traffic news and current affairs updates in an instant!
Colorful LCD screen
Personalize your LCD screen with the six attractive color themes available.
Instant plug and play
No software needed, the player syncs up with your PC or laptop instantly.
Conduct your own recordings
Organize your thoughts by recording voice memos at your convenience. You can even record meetings for reference.
Built-in power
With the rechargeable built-in battery, enjoy up to 9 hours1 of audio playback on a single charge. You can also charge your player directly via the PC-USB route.
Installation
Installation? What Installation! The device has a USB cover which can be removed from the unit and then you simply plug the MuVo T200 into a spare USB port. Transferring files was extremely simple and you simply copy the files to the device and presto, you're files are copied. Needless to say, quite a lot better than iTunes which hogs your system and for this device, you only need your operating system. Apart from music files, the MuVo T200 features "Rock deejay" which allows you to listen to live radio with up to 32 preset stations which is definitely a great feature.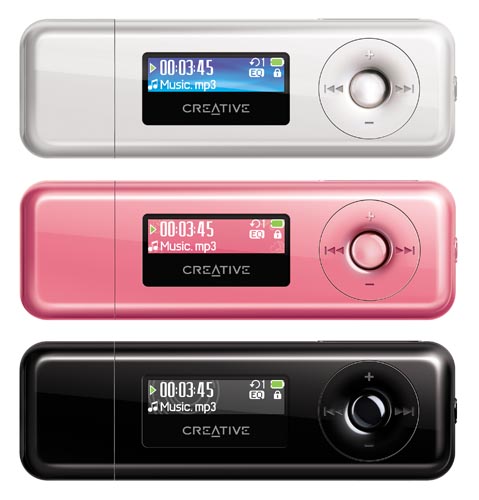 Navigation

The interface of the device is quite easy to navigate, however it does feel a little strange as you need to hold the unit on the side, unlike the original iPod Nano which allows you to hold the device lengthwise. Even so, after a few days, users should have no problem in navigating the device. The final feature of the MuVo T200 is the voice recorder which allows you to record memos or even meetings with this powerful little device. We tested this device at a team meeting and the quality was rather impressive for such a small unit.
Quality

The music quality of the device is exceptionally clear and crisp, however this is dependent on your music file compressions. The radio aspect was almost as good as music and whether your listening to your favourite CD or favourite radio station, this is the perfect device for those users on the go. The headphone quality of the MuVo T200 is decent and is probably on par with Apple's standard iPod headphones. The battery life of the MuVo T200 lasts for around 9 hours with charging exceptionally fast via your USB port. This of course is dependent on a wide variety of things.
Conclusion

In conclusion, we would happily recommend the MuVo T200 to anyone on a budget or for those that wish to have access to MP3, Radio and voice recording but size is an imperative. A great design, decent quality and some useful features, those who are in the market for a bite-sized device should really investigate this impressive MP3 from Creative.