Creative Inspire M2600
The Creative Inspire M2600 are probably the best value for money speakers on the market and come with a recommended retail price of $79.95, however a quick search on Google found these speakers even cheaper at some places.
The Creative Inspire come with a 17 watt subwoofer and two 6 watt satellite speakers that I believe is perfect for the home and business user.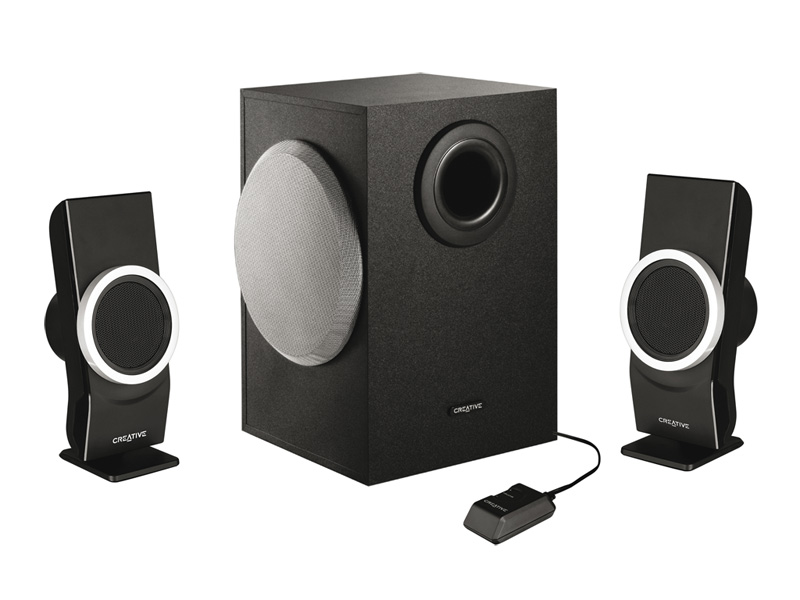 The installation of the Inspire M2600 was a breeze and it simply plugged into the computer and electrical socket and in under 5 minutes, our PC was ready to be heard. The speakers can also be used with a variety of other audio gadgets such as MP3 players or even gaming consoles.
Features
Stylish in looks and form
Give any room or desktop that cutting-edge look with the arresting color of black and silver. They not only deliver an outstanding performance, the flat form factor even looks good on its own.
More power on your desktop
The powerful ported wood subwoofer, with 5.25" long throw driver and adjustable bass control, provide strong and explosive bass reproduction.
High performance driver
The high performance 2" driver with it's distinctive metallic circle deliver a full range of robust and expressive performance that's perfect for balanced and dynamic clarity on your PC or Notebook.
Control at your fingertips
Personalise your music with the wired remote volume control, or place it anywhere nearby for flexible placement.
Small footprint / Magnetically shielded
Maximise your room for greater performance. The satellite footprint makes it easy to place the speakers anywhere, even mount them to the wall. You can even place them close to your desktop or TV, the magnetically-shielded satellites won't cause any interference.
The real test came with music and games, needless to say the Inspire M2600 performed quite well for this price range of speakers.
Musically, the sound quality was quite good, although every now and then such as Rock or RnB, there was the ever slight tininess to the sound. Where the Inspire M2600 did excel was the incredible amount of bass outputted by these speakers that truly rocked our PC.
Games performed well, especially with the bass of the speakers which is great for first person shooter or racing titles.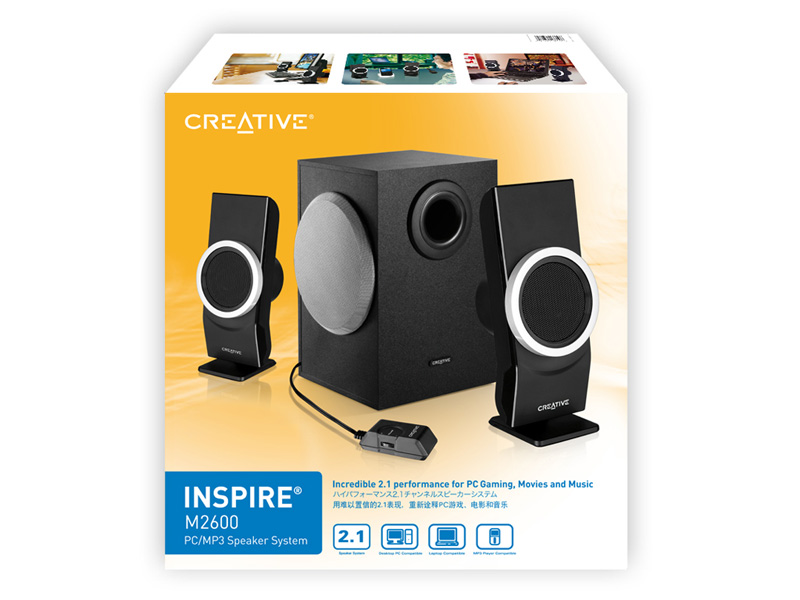 Creative also love their wired remotes and the M2600 also boasts this feature which allows the user to easily access the audio settings of the speakers. I'm a fan of the wired remote as it allows for greater control options. Blutak is a godsend!
The satellite footprints also allows the user to mount them on the wall or on the desk without any hassles.
Specifications

Feature
Description
Speaker Power:
6 Watts RMS per channel (2 channels)
17 Watts RMS subwoofer
Frequency Response:
40Hz ~ 20kHz
Dimension (H x W x L):
Satellite Speakers (with stand):
183mm x 80mm x 70mm
Subwoofer:
260mm x 170mm x 170mm
Wired Remote Control
20mm x 60mm x 30mm
Subwoofer Enclosure Material:
Wood
Signal-to-Noise Ratio (SNR):
80dB
Bundled Accessories:
2 x speaker stands
1 x wired remote control
In conclusion, Creative have a great reputation for audio and the Inspire M2600 is another quality design from this company at an affordable price. Shop around for the best price and you can't go wrong!