Creative Aurvana DJ Headphones
The Aurvana DJ headphones are part of the Aurvana range of headphones from Creative which target those computer users that create their own music via their PC's.
With that said, the Aurvana DJ headphones are also a great choice for music lovers as the quality is quite impressive and for a RRP of $129.95AUD, Creative may have another winner on their hands.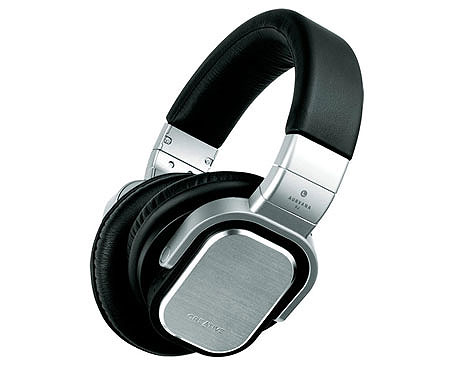 The design of the Aurvana DJ are quite sturdy and features well made headphones that have two large ear cups which are quite comfortable, add in the colours silver and black for that additional level of style. For budding DJ's, the Aurvana DJ has the ability of to rotate the ear cups as all good DJ's will need access to. Although the headphones are quite solid looking, they are remarkably lightweight.
Installation? What Installation? As with the Aurvana X-Fi Noise Cancelling Headphones, the Aurvana DJ Headphones work straight out of the box and we were beat boxing straight away.
Features
Luxurious finishing
Designed for utmost comfort, the plush headband padding and replaceable leatherette earpads make this headphones a joy to use, even for extended periods of time. And with the circumaural closed-back design providing maximum noise isolation, the Aurvana DJ is the perfect gear for DJs and music-monitoring enthusiasts.
Acoustically-tuned drivers
Large 40mm Neodymium drivers with CCAW voice coils ensure an accurate and linear response, whether it's music or pure vocals.
Ergonomic design
Like owning a pair of customized headphones, the angled earcups direct sound into your ear-canals, providing an optimal and unobtrusive audio listening experience. DJs will love the rubberized edges for a better grip during mixing.
Just what a DJ needs
Groove to the beat without cables getting in your way. The single-sided coiled Oxygen-Free Copper (OFC) cabling keeps your movement free while the vertical swivel-earcups makes quick listening to the outside world a cinch. You don't even have to remove your headphones.
Complements any music system
The Creative Aurvana DJ headphones works seamlessly with your CD, MP3 players and X-Fi audio solutions.
Sound sound and more sound! The Aurvana DJ were designed for a clarity of sound and music that can only be gained through high end headphones, however Creative have managed to reduce the cost considerably with these headphones but still keeping the quality there. We tested the Aurvana DJ's on a variety of music programs for both PC and Mac and even the subtle changes to songs can be heard with these headphones.
Although not a professional DJ and far from it, I unfortunately didn't get the chance to test these at a rave, however our former editor Tory Favro, our resident music expert and guru was quite impressed at the sound quality and purposely DJ design.
With the acoustically tuned Neodymium drivers with copper clad aluminum wire (CCAW) voice coils, this created a truly unique listening experience that apparently goes directly into your ear-canal for unobtrusive listening. Funnily enough, this is exactly what the headphones did and whether listening to audio CD's, creating our own music or listening to MP3's, the experience was thoroughly enjoyable.
Specifications

| | |
| --- | --- |
| Feature | Description |
| Driver Units: | 40mm Neodymium magnet with Copper-Clad Aluminum Wire voice coil |
| Frequency Response: | 20Hz-20kHz |
| Impedance: | 32ohms |
| Sensitivity (1kHz): | 105dB/mW |
| Cord Length: | 1.4m-3m coiled Oxygen-Free Copper cable |
| Input Plug: | 3.5mm gold-plated stereo miniplug with 6.3mm (¼") stereo adapter |
| Net Weight | 385g (without packaging) |
In conclusion, whether you're DJ'ing, listening to music or the like, the Aurvana DJ headphones are the perfect accessory to the budding computer music composer. I must admit that I got a kick out of twisting one ear cup to listen to the real-world... almost as if I was a professional DJ. Nice work Creative!