I've been running this power supply on my test machine for over 2-weeks now and I'm finally ready to give my verdict... Unlike the majority of power supplies that are mass produced in the PC-market, Cooler Master are one of the rare producers who continually update their well designed products thanks to their vigorous testing and research.
This is not some reversed engineered power supply but rather a powerful modern power supply for the latest PC hardware and configurations for not just the tech head but also the computing novice. With that said, Cooler Master also supports the following models of the Silent Pro MII;
Silent Pro M II 420 W
Silent Pro M II 520 W
Silent Pro M II 620 W
Silent Pro M II 720 W
Silent Pro M II 850 W
Silent Pro M II 1000 W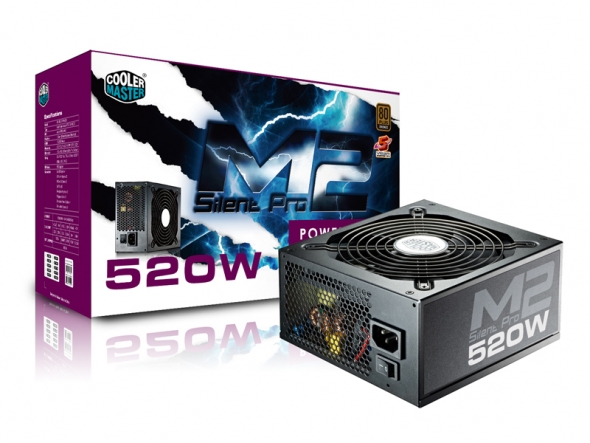 For this review, Impulse Gamer tested the 520W model, however depending on your need, some users may choose the more powerful units.
More importantly, the Cooler Master Silent Pro MII has the grunt behind it to run several graphic cards and even the most powerful motherboard with their 8 cores. Another feature is that the Cooler Master Silent Pro MII is extremely silent so when your PC does start to become a little warm from playing the latest Battlefield or Modern Warfare game, it has the technology to ensure that the heat is evenly dispersed and your PC remains as cool as possible.
According to Cooler Master, this product will last at least 100,000 hours of use and in order to back this statement, Cooler Master have added a 5-year warranty to the power supply which is quite unheard of but definitely a welcomed facet. For the techno purists, let's have a gander at the features of the Cooler Master Silent Pro MII;
Features
Copper-Aluminum Heat Sink


This slick CM design incorporates an expansive flat surface area for superior heat conductivity out to the aero-dynamic fins, therefore removing heat at an unprecedented rate.

Silent Operation




135 mm Hydraulic Dynamic Bearing Fan for quieter operation

Single 12V Power Rail


Single 12 V Power Rail Tackling challenges from the most power-intensive peripherals head on, this solitary 12 V power rail provides ample power and strong resistance to any overloading up to 40A.

Modularized Cabling


Neatly arranged connectors on the rear plate connect to flat internal cabling improve installment facility while allowing for greater airflow through the PSU.

Intel Compliant


Proficiently prepared to provide a stable power source and connectors for the latest ATX 12V v2.3 Intel processors.

Eco-friendly design: Erp Lot6 Ready!




A maximum 5Vsb current draw target in S5 off-mode of 0.1A for its motherboards and needed to ensure the system will consume < 1W in its off-mode

And More


- Multiple updated connectors for all types of interfaces (PCIe, SATA etc.)
- Double-Layer EMI Filter Dual protection from electromagnetic interference.
- Multiple Protection Design (OVP/UVP/OPP/OTP/SCP)
- High reliability with an MBTF of at least 100,000 hours of use.
- Five Year Warranty.
As you can see from the features, this power supply is no slouch when it comes to features and benefits to the user. From Intel compliance, superior dispersion of heat thanks to the copper aluminium heat sink and aero dynamic fins, eco-friendly and my favourite modularized cabling, this power supply has it all. I've been building PC's for around 20 years and this is easily the friendliest power supply that I've had the pleasure of playing with. Everything is just so streamlined and more importantly, it has the features to keep your PC cooler.
Installation
The installation of the SPM2 520W was a breeze on our test machine thanks to the modular cabling design. This not only makes installing your various cables onto your computer a breeze but ensures that clutter is reduced and that the airflow inside the case is improved.
The product supports a variety of cabling options that include CPU 4+4 Pin (600mm) x1, M/B 24 Pin (550mm), PCIe 6+2 Pin (600mm) x2, Peripheral 4 Pin + Floppy (400+100+100mm) x 6 and SATA (400+100+100mm) x6. Cables have also been flattened and are longer than other cables on different power supplies which increases to the ease of the installation.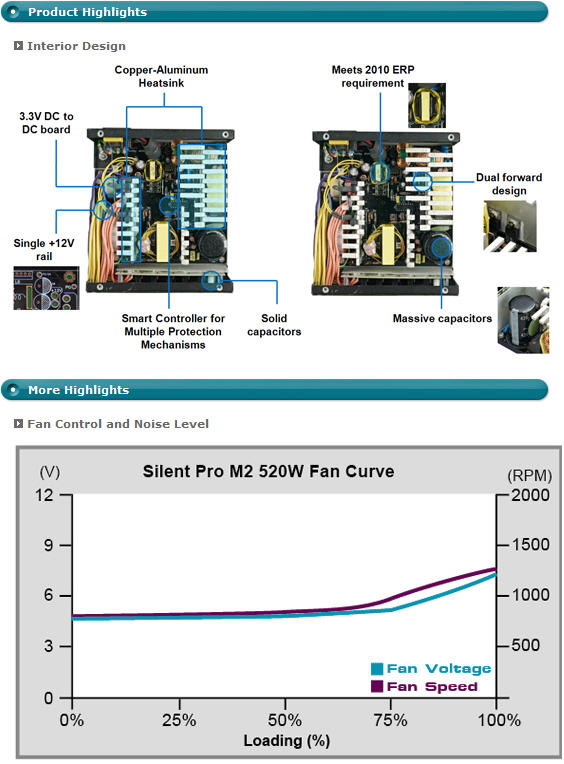 Specifications

Model
RS-520-SPM2
Type
Intel Form Factor ATX 12V V2.3
Dimension (W / H / D)
150 x 163 x 86mm
5.9 x 6.4 x 3.4 inch
Input Voltage
90-264Vac (Auto Range)
Input Current
8 - 5A
Input Frequency Range
47 - 63Hz
PFC
Active PFC (>0.9)
Power Good Signal
100-500ms
Hold Up Time
>17ms
Efficiency
85% Typically
MTBF
100,000 Hours
Protection
OVP/UVP/OPP/OTP/SCP
Output Capacity
520W
Operation Temperature
0~40°C (Nominal Input Voltage)
Regulatory
TUV / CE / UL / FCC / BSMI / GOST / C-tick / KC / CCC
Fan
135mm Hydraulic Dynamic Bearings
Certifications
80 Plus Bronze
Connector
M/B 24 Pin Connector x 1
CPU 4+4 Pin x 1
PCI-E 6+2 Pin x 2
SATA x 6
4 Pin Peripheral x 5
4 Pin Floppy x 1
I must admit that uninstalling my old power supply was actually more complicated than installing the new SPM2 520W. However once installed and my PC turned on, the entire computer was extremely silent thanks to the 135mm hydraulic bearing fan. Even on warm days (30+ degrees), the power supply remained silent with a low temperature and the only loudness was from my graphics card while I played Deus Ex.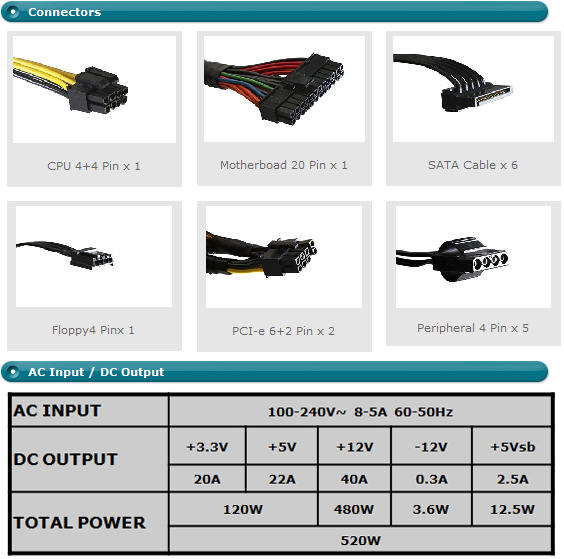 As the SPM2 520W is a "green design", even when the unit is in standby mode, the power supply uses a very minimal amount of power to keep the system alive. The Single 12V power rail design is another highlight, especially for those overclockers who want to get the most out of their systems or those users of high-end graphic cards for their PC. This technology basically prevents any overloading.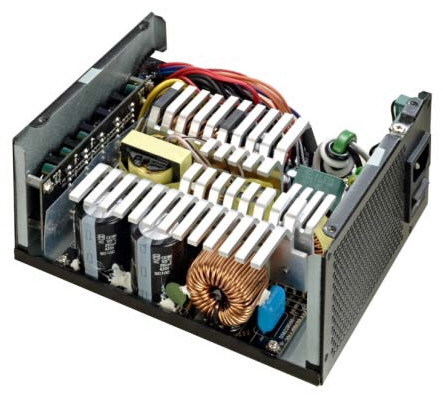 Final Thoughts
In the end, the Cooler Master Silent Pro M2 is very powerful supply that ensures as much heat as possible is kept out of your computer chassis. Any complaints? None whatsoever! The only recommendations that I could make to the end user is a large case (which makes installation easy) and if you have the budget, a Cooler Master case. Best of all, the cost of this unit is quite affordable and match that with a 5-year warranty and your PC and future upgrades will be quite safe with this product. Recommended!
Coolermaster Case