Cooler Master HAF XM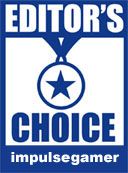 Targeting both the gamer and PC enthusiast, Cooler Master have expanded their popular HAF (High Airflow) X case by releasing the HAF XM which basically transforms the aforementioned case into mid-tower. This is definitely a bonus for those who want to keep things more compact and interestingly enough, it's probably a lot bigger than most mid-towers... not that this is a bad thing. This also ensures better overclocking, improved gaming and more importantly, increases the simplicity of building a new computer system thanks to innovative design.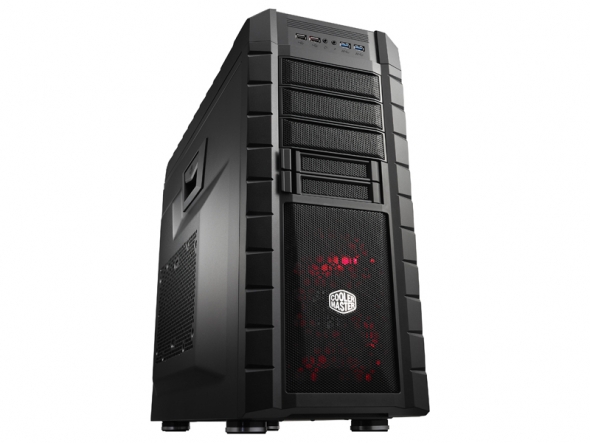 Starting with a recommended retail price of $159AU (June 2012), this case comes with a wealth of features that include the support for four 200mm fans, USB 3.0 support, the ability to connect up to 9 hard drives and some of the best ventilation technology that we've seen. More importantly, especially for gamers, those extremely large video cards such as the ASUS HD 7970 DirectCU II will easily fit into the HAF XM. Additional room can be made by removing the hard drive cage which also allows for 3 dual slot graphics cards.
Specifications
Available Colour
Midnight Black
Material
Appearance: Mesh, Synthetics; Case body: Steel
Dimensions (H*W*D)
252(W) x 530.5(H) x 579(D) mm
Net Weight
10.5kg / 23.1 lb
M/B Type
Micro-ATX, ATX, E-ATX
5.25" Drive Bay
3
3.5" Drive Bay
8 (Hidden x 6, X-Dock x 2)
2.5"/3.5" Drive Bay
9 (2 from X-docking, 6 converted from 3.5" bays, 1 behind motherboard tray)
I/O Panel
USB 3.0 x 2, USB 2.0 x 2, Audio In and Out
Expansion Slots
8+1
Cooling System

Front: 200mm Red LED fan x 1 (converted from 120/140mm x 1)
Top: 200mm fan x 2 (1 is optional: Converted to 120/140mm fan x2)
Rear: 140mm fan x 1 (Converted to 120mm fan x2)
HDD: 120mm fan x 2 (optional)
PSU
ATX PS2 / EPS
Max Compatibility
CPU cooler height: 190.6mm/ 7.7 inch
GPU card length: 354mm/ 13.9inch (with HDD cage), 463mm / 18.2 inch (without cage)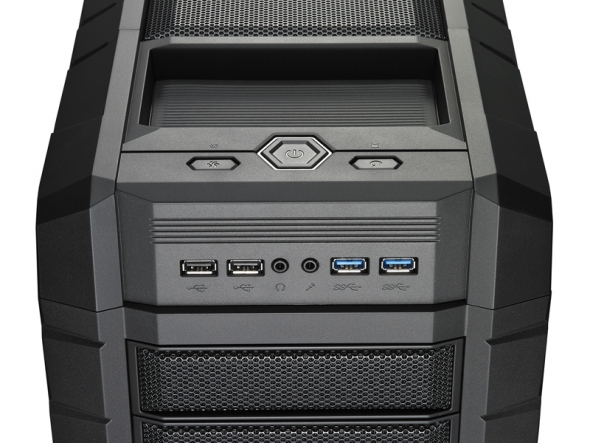 Features
Enthusiast case with the support for four 200mm fans
Latch on 90° rotated side panel for easy system access
Rich I/O panel with two USB 3.0 super speed ports
8+1 expansion slots for NVIDIA 3-way SLI™ and AMD CrossFireX™
Supports up to 9 HDDs, including two X-Dock slots and one behind the motherboard tray
Sliding PSU cable cover for improved cable management
Top compartment with rubber pad for placing personal belongings
Mesh on front panel, top cover; vents on side panel and bottom for excellent cooling
The HAF XM has more fans than a popular public personality on Facebook (kidding) but when it comes to cooling, the case has the following fan configurations, ensuring optimal cooling of your precious PC components.
Cooling System
Front: 200 mm LED x 1 (Converted to 120 mm fan x 2 / 140 mm fan x 1)

Top: 200 mm fan x 2 (One is optional, converted to 120 / 140 mm fan x 2)

Rear: 140 mm fan x 2 (converted to 120 mm fan x 1)

Side: 200 mm fan x 1(optional, converted to 140 mm fan x 2)

HDD: 120 mm fan x 2 (optional)
Apart from the wealth of features, the appearance of the HAF XM is quite gamer orientated with its almost military style design and red LED's at the front of the case, giving it this real professional look to it. Add in a 2-year warranty and not only do you have the support of this company that has been around for decades but rest assured that you will probably have no issues whatsoever when it comes to performance or the installation process.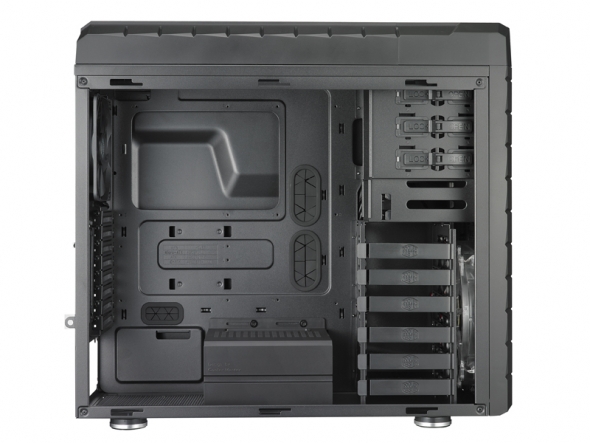 We tested the case with the following computer components
Intel Core i7-3960X Processor

Kingston KHX 1600C9D3K4/16GX Memory (16GB)

ASUS P9X79 Motherboard

Cooler Master M2 520W Silent Pro Power Supply

Cooler Master X6 CPU Fan

Kingston 240GB SSDNow 200 Hard Drive

WD VelociRaptor Hard Drive (1 Terabyte)

LG CH12LS28 12X BD-R Blu-ray DVD Combo Drive

ASUS HD 7970 DirectCU II Top
Once again Cooler Master do an exceptional job of packing this case, ensuring that when the user opens it, there will no unexpected surprises... or disappointments. It's not only well protected by Styrofoam but everything is clearly labelled for the installation process so when you start putting your components in, it will be rather flawless and fast experience. The case also comes with all the screws and accessories needed to build your PC. There is even a manual for newcomers.
The first thing to install in the case was the motherboard, followed by the power supply which nicely slid into place. What I did notice about the HAF XM is the improved cable management (including cable ties) which gives you a considerable amount of room to move cables and more importantly hide cables.
Another cool design of the HAF XM is the new latch system on the side panel. This makes removing the panel a breeze as opposed to the traditional system that is available for most cases. Simply pull the latch and presto, the side panel is off. However, before you install all your components, you need to ensure whether you want to install additional fans which this case supports but given our specifications, this was not needed. It's also quite a quiet case when everything was installed, even with our graphics card whirled up for Battlefield 3 or Diablo III.
Installing hard drives is great thanks to the locking mechanism that Cooler Master has given users. You simply slide the drive (e.g. Blu-ray drive or hard drive) into place and then flip the switch on the locking mechanism which securely keeps your drive in place. As mentioned, the case supports up to 9 hard drives that also include SDD's. I love the accessories for the SSD drives that allows you to easily and safely slot them into the case.
As all the cords in the case were labelled, attaching the cables to the motherboards, especially when it comes to the USB ports were a breeze. The reset switch, hard drive lights and power lights was extremely easy... almost child's play. I also like how the ports for USB are right near the top of the case opposed to the bottom where I've had quite a few USB sticks damaged. The power button is directly on the top of the case with the reset switch to the side. There is even a button for the front fan on the top if you need additional cooling turned on or off.
Conclusion
In the end, the Cooler Master HAF XM is a brilliant case that definitely comes with all the bells and whistles. Supporting a wide range of computer configurations, even for those wanting to install extra large graphics cards or SLI configurations and by just moving a few things around, the case will accommodate this. It's another well designed case from Cooler Master!