Welcome to the next generation of armour for your PC... PC enthusiasts and Gamers, I would like to introduce you to the Centurion 6! Cool name hey? It's not the next generation of Robocop but rather, a mid tower case from Cooler Master that looks like something you would find in a military bunker.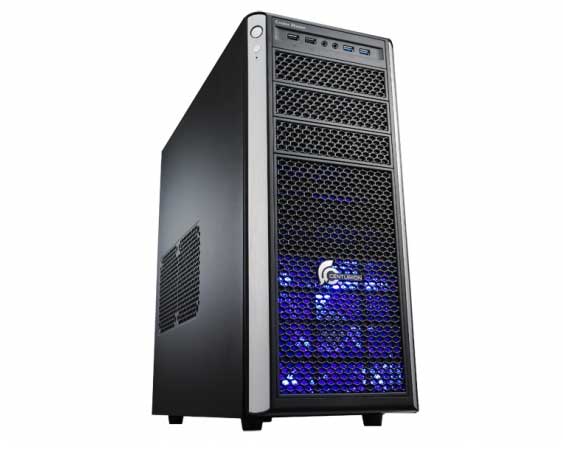 With a military-like design boasting a black front grill design with silver aluminium strips (a pure midnight black model is also available) plus easy access to USB & power buttons, the Centurion 6 offers PC enthusiasts the ability to create their ultimate overclocked machine.
This means that users can install up to nine fans inside the case for ultimate cooling capacity and more importantly, it allows for the easy installation of liquid cooling inside the case. Another highlight of the case is that you can even install two fans near the graphics card.
This means that with the right cooling, you could easily overclock your CPU plus the GPU in this case. Ultimate speeds here we come! Also as with all new Cooler Master cases, the Centurion 6 is USB 3.0 compliant and this case boasts a 140mm blue LED fan in the front of the case which gives your PC this almost DEFCON like luminescent glow. It's perfect for LAN games!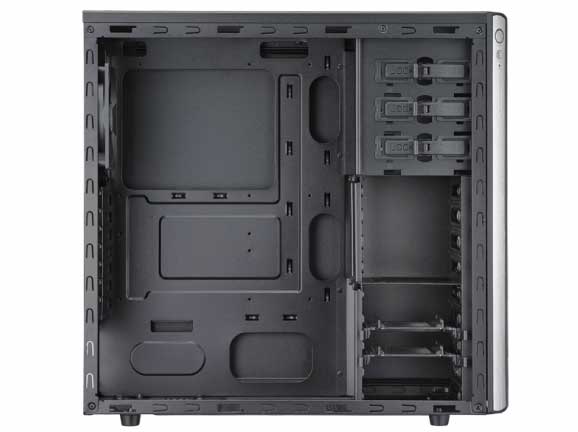 Space is definitely a premium when building a new PC, whether adding large cards, SSD's or other computer components
Features
The stylish metal mesh front panel with brushed aluminium stripes for a classic look

Supports all high-end graphics cards up to 405mm/15.9" and USB 3.0

Supports liquid cooling solution at the top (240mm) or in the rear (120mm)

Supports up to 9 fans, including one pre-installed 140mm blue LED fan in the front

Two 120mm fans can be installed on the side panel to cool the graphics cards

Tool-less mounting of ODD bays and 2.5" brackets for quicker installation
In terms of size, the Centurion 6 measures in at 200 x 464.5 x 481mm and when you first look inside this mid tower case, you will be impressed with the amount of space available to the user. This means that the latest and greatest video cards from both AMD and NVIDIA can easily fit inside the case.
I remember reviewing another case where I had to remove certain parts of the guts of the case in order to fit a large graphics card. This is not the case with the Centurion 6, provided the HDD case is removed.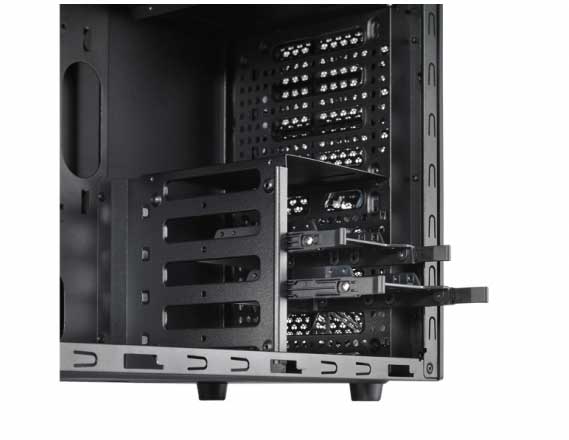 The Centurion 6 is SSD ready!
However even if the HDD Cage is removed, there is still ample space to install your SATA or SSD's into the Centurion 6. If you have a less powerful card, the maximum length card with the HDD Cage installed is 295mm which is still ample space.
When it comes to drives, the case boasts 3 5.25" drive bays (e.g. Blu-ray Drive), 7 hidden 3.5" Drive Bays (e.g. SATA drives) and 4 hidden 2.5" drive bays (e.g. SSD). Depending on your motherboard, there are 7 expansion slots available and the case supports both Micro-ATX and ATX motherboards. All in all, it's a well designed product from Cooler Master
Installation
Before installing our test components into the system, Cooler Master ensure that the user has all the right brackets and screws to connect your system to this machine. With that said, we tested the Centurion 6 with the following components that included;
Intel Core i7-3960X Processor

Kingston KHX 1600C9D3K4/16GX Memory

ASUS P9X79 Motherboard

Cooler Master M2 520W Silent Pro Power Supply

Cooler Master Seidon 120XL (Review Coming soon)

Kingston 240GB SSDNow 200 Hard Drive

Seagate Barracuda 1TB (600 MBps - 7200 rpm)

LG CH12LS28 12X BD-R Blu-ray DVD Combo Drive

ASUS HD 7970 DirectCU II Top
Installing the motherboard was easy as was the Cooler Master Seidon 120XL which is a liquid cooling device and was easily attached to the rear of the case. Once all the components were installed into the case, the spacious room that was first available was now at a premium but fortunately we still had room to move such as installing additional drives or getting to some of the memory.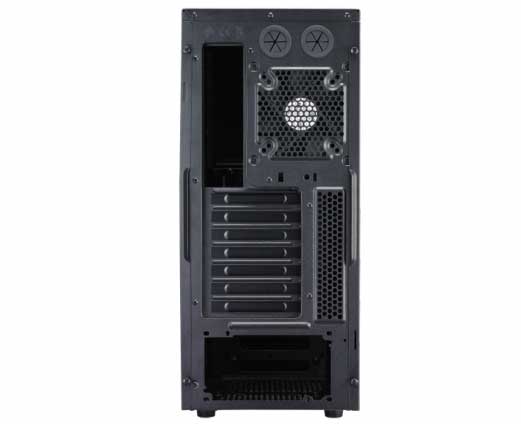 I also loved the great cable management system (including ties) which does assist in moving those sometimes troublesome cables around. Installing the drives into the case was a breeze, especially the 5.25" drives due to the slide/lock system. Cables are also labelled so connecting them to the motherboard was no issue. Given these facts, it was an easy and flawless system to build with the Centurion 6 and I think I bet my own record at building a PC as well!
Conclusion
Given the success of the easy installation in the Centurion 6 case, my only gripe and I'm stretching to find an issue is the overall design of the case. Unlike some of Cooler Masters or other companies cases, the Centurion 6 is a little Spartan but most users have their PC's hidden away anyway. I was also quite surprised at how quiet the case was, even with 6 fans plus the liquid cooler! Another impressive case from Cooler Master and best of all, no bruised or cut knuckles!
Specifications
Available Color
Black & Silver / Midnight Black
Materials
Steel body, aluminium, metal mesh front panel
Dimension (W x H x D)
200 x 464.5 x 481mm / 7.8 x 18.3 x 18.9 inch
Net Weight
5.9 kg / 13.0 lbs
M/B Type
Micro-ATX, ATX
5.25" Drive Bays
3 (exposed)
3.5" Drive Bays
7 (hidden)
2.5" Drive Bays
4 (hidden; converted from two 3.5" drive bays)
I/O Panel
USB 3.0 x 2 (int.), USB 2.0 x 2,
Mic x1, Audio x 1 (supports AC97 / HD Audio)
Expansion Slots
7
Cooling System
Top: 120/140mm fan x 2 (optional)
Front: 140mm blue LED fan x 1 (pre-installed),
or 120mm fan x 2 (optional)
Rear: 120mm black fan x 1 (pre-installed)
Bottom: 120mm fan x 1 (optional)
Side: 120mm fan x 2 (optional)
HDD cage: 120mm fan x 1 (optional)
Power Supply Type
Standard ATX PS2 / EPS 12V
Maximum Compatibility
VGA card length: 295mm / 11.6 inch (with HDD cage); 405mm / 15.9 inch (without HDD cage)
CPU cooler height: 162mm / 6.4 inch