CM Storm Trigger Mechanical Keyboard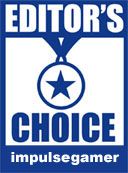 Cooler Master's latest gaming keyboard is the TRIGGER which has been made for gamers of the highest calibre. With its military inspired design, the keyboard boasts 1000Hz driverless polling and 1ms response time, ensuring that your keystrokes are immediately registered. This could be the difference between life and death...
The keyboard also has backlighting which opens up for night gaming and really gives the keyboard this futuristic look. Even with the lights down or off, it does create this more intense gaming experience. However with Diablo III just being released, we were looking forward to taking the TRIGGER through the tests and of course, Dues Ex: Human Revolution, World of Warcraft and and Battlefield 3.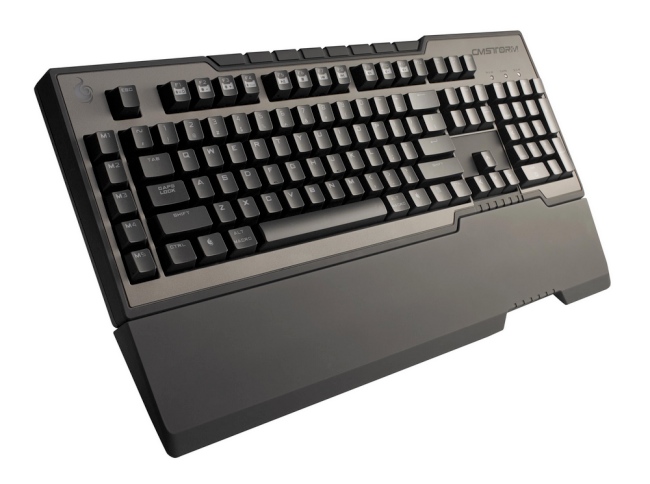 First Thoughts?
The design of the Trigger is quite rugged, although very streamlined in certain facets. The main difference with the Trigger compared to standard keyboards is the inclusion of 5 Macro buttons on the right hand side of the keyboard. These macro buttons allow the gamer to program them for a variety of functions in games such as Warcraft II or Diablo III. In Diablo III, I programmed these keys to replace the regular numbered shortcuts in the game such as skills and access to healing potions. However with the macros on the left of the keyboard, it does take a little time getting use to them but when you do, they are a true godsend.

Features
High durability gold-plated Cherry switches rated for over 50 million key strokes

Multi-media control keys for convenient sound control

5 macro keys with profile management

18K gold plated ultra low latency USB plugs

Anti-ghosting 6 key rollover

64KB on-board memory for profile storage

Storm tactics key for deactivation of Windows key

1000Hz driverless polling / 1ms response time

Two port enhanced USB 2.0 hub

Detachable wrist rest

Braided cable for durability

Non-slip rubber coating
Contents
The CM Storm Trigger Mechanical keyboard comes with the keyboard itself, detachable wrist rest, quick start guide and a whopping 2 metre long cable. I love how cooler master always think outside the box and by including the extremely long cable, this is definitely a benefit for gamers or for those users who have their PC's positioned away from their desks. Interestingly enough, there was no driver CD included in the box so I had to download the software from the Cooler Master website.
System Requirements
The system requirements of the keyboard is Windows XP, Vista or 7 (we tested it via Windows 7) and a spare USB port on your PC. Add in a 2-year warranty and you can virtually take this keyboard to war (Battlefield 3) and back as you engage in all sorts of virtual nasties. Should you become stuck, the keyboard does come with free technical support.
Add in the ability to connect additional USB devices to your keyboard like a mouse or USB headset and you don't have fiddle on your computer at all, simply plug it into the keyboard and off you go. For powered USB devices or those requiring more power, a separate DC cable can be purchased.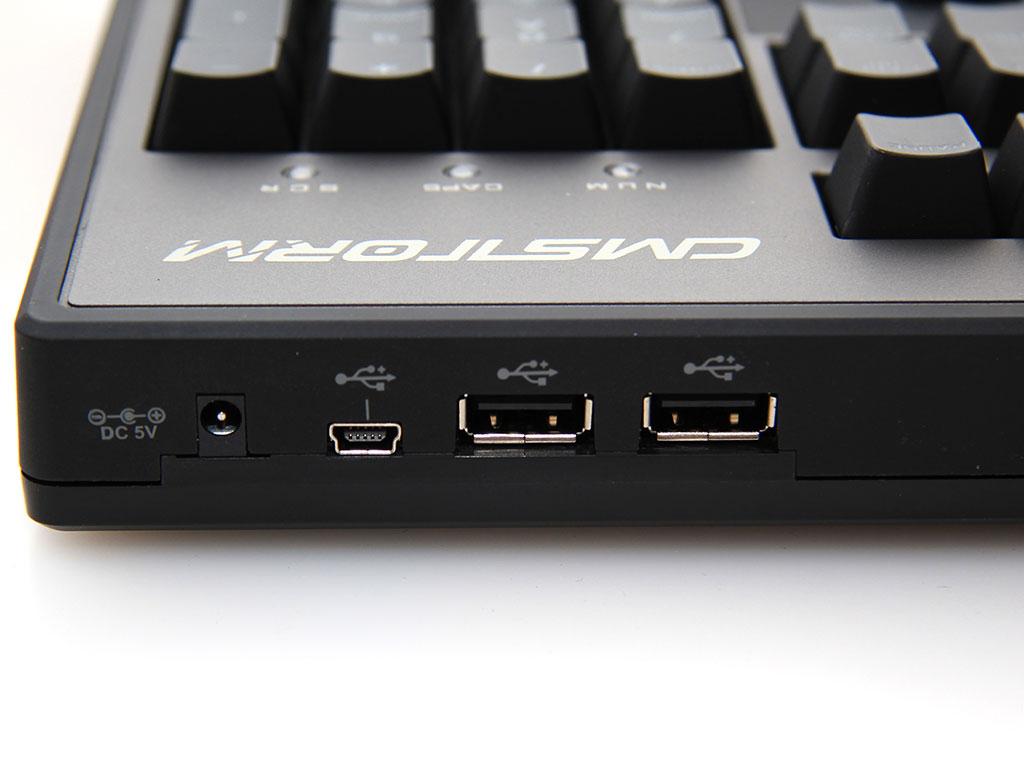 Using the keyboard
The first thing you will probably notice about the CM Storm Trigger Mechanical Keyboard is the weight of it. It's actually the heaviest keyboard that I have used and this definitely gives you an edge while gaming. This edge is that when you are using your keyboard, it doesn't move. This is useful if you are in a vital gaming session and your fingers are pushing keys like there's no tomorrow. If the keyboard slipped, this could mean the difference between victory and death. Weight does give you an advantage here.
The keyboard also has four rubber feet which with the weight, prevents the keyboard from sliding. Another edge to the gamer. Keys are the next edge to the gamer. The main highlight of the keyboard are the Cherry MX black switches that although require more force to push, does ensure that the wrong key is not pushed by accident. As a result it creates this loud clicking noise that may not be everyone's cup of tea. Lastly, all the keys on the keyboard have an LED under them to gives this luminescence effect.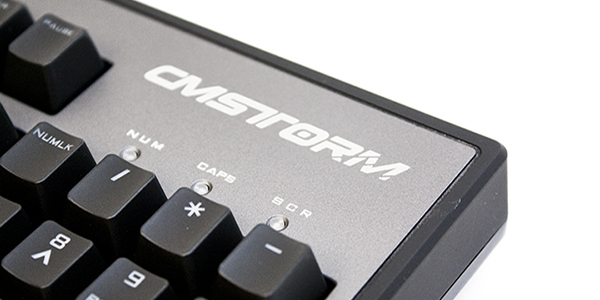 Although the keys make quite a heavy clicking sound, it does feel good when you type and more importantly play games. Overall, the keyboard is quite well designed with its rugged design that definitely targets gamers. It is also quite a comfortable keyboard to use and never once did I suffer from any wrist or hand strain while using it. More importantly, this was one of the most responsive keyboards available thanks to its 100Hz (1ms) response time. Add in the ability to re-program almost all keys on the keyboard and whether you're playing Diablo III, Battlefield 3 or the latest Need for Speed Game, this will ensure a flawless gaming experience.
Macros
My favourite feature was the ability to create on-the-fly macro recordings. By holding down the Storm and ALT buttons on the keyboard, this allows you to create macros without the need for software. This is definitely useful in games such as Diablo III or World of Warcraft where your skills and attacks change quite frequently depending on your skills or magic.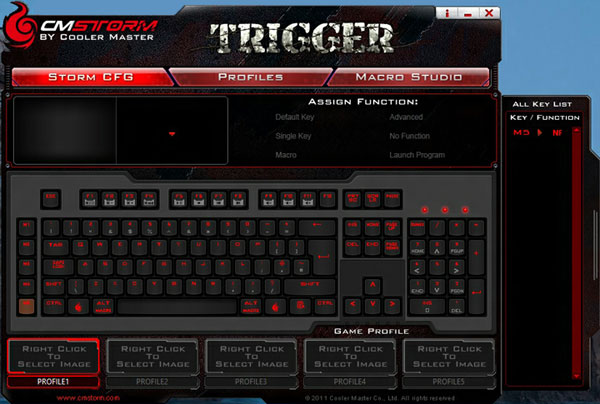 The software for setting up your macros and backlighting is relatively straight forward to use as you can create specific profiles for games. This software is basically split into three sections that include Storm CFG, Profiles and Macros. The Macro studio is the most useful aspect of the keyboard as you can create your own shortcuts and not just for games.
What about the cons you might be asking. Although I did like the weight of the keyboard, it does make lugging it around to LAN games a little pain. The absence of both the driver CD and the DC connection is a little annoying, especially considering the cost of the keyboard. The loud typing sound of the keyboard may also be off putting to some gamers and when compared to the Logitech G510, it is considerably louder. Nonetheless, this depends on your personal preference.
Final Thoughts?
As I stomped through the futuristic cities of Dues Ex: Human Revolution or engaged in a healthy dose of online multiplayer with Battlefield 3 and my sniper rifle, this keyboard felt good to use. As mentioned, the clicking sounds may not be for everyone but it definitely lets you know when the keys have been pressed and more specifically, it's lightning quick response time will never let you down while your searching for that potion (thanks to the Macros)... Diablo III beware, the Trigger is here!
Recommended!