Creative Audigy 2 Notebook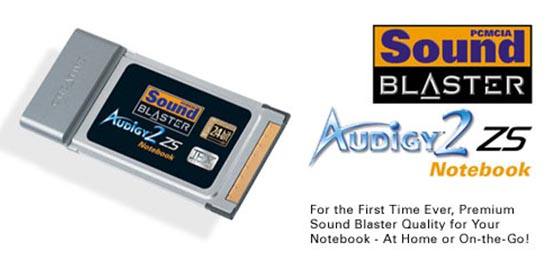 How cool is this little card?!!! One of the primary complaints about the sound on laptops was quite frankly, it sucks! Not any more with this baby that slots nice and neatly into your PCMCIA slot on your notebook.
Rated signal-to-noise ratio (SNR):

104dB

Supported output resolutions:

Up to 96KHz/24-bit 7.1 and 192KHz/24-bit stereo.

Playback:

24-bit digital-to-analog conversion of digital sources at 96KHz to analog 7.1 speaker output, 192KHz for Stereo DVD-A.

Recording:

Via stereo analog inputs at 96KHz/24-bit.

S/PDIF Support:

Resolutions up to 96KHz/24-bit quality at selectable sampling rate of 44.1, 48, or 96 kHz (SPDIF output is not available during playback of protected digital audio contents authored with Microsoft DRM (Digital Rights Management) technology.)

Outputs:

Wiring harness with three 1/8-inch connectors for 7.1 output, and combo headphone/S/PDIF output jack.

Input:

Combo line/microphone input.

Supported audio APIs/drivers

DirectSound, DirectSound3D, WDM (Wave), ASIO 2.0, and SoundFont.
One of the first things that should be noted is the ease of use for this little puppy, just bang it into your laptop, chuck in the CD and away you go. The difference in audio quality just has to be heard to be believed. Whether it is recording or output the Audigy 2 simply will not let you down.
The output on this card and assorted cabling will support full 5.1 or 7.1 surround sound for those who must have nothing but the best in audio when playing their movies on the go. Despite the fact that you'd also have to lug around the right speaker setup to fully enjoy it all. For those of you mere mortals who have only headphones when on the go, the card also supports a fantastic virtual surround sound feature that will have you ducking for cover with every explosion.
One of the things I liked, as a person who does a lot of audio recording was the Audio Clean Up that is perfect for cleaning up problems when you convert to mp3 format. There is a whole suite of goodness just waiting for you to play with to get the best out of your experience with the hardware. There is also an mp3 ripper bundled on this jam packed disc.
The card is bundled with headphones (earbuds), docking cables, and software.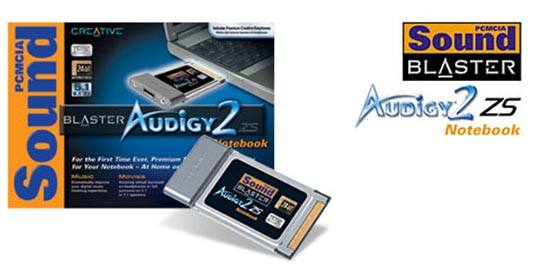 Creative Earphones
Quick Start leaflet

Creative DVD-Audio Sampler Disc

Sounds Best on Sound Blaster CD

Installation and Applications CD containing:
REQUIREMENTS
Minimum System Requirements
Intel® Pentium® III, Mobile Pentium® III, Pentium M, Celeron - 1.2 GHz, or equivalent AMD® processor, or faster

Intel, AMD or 100% compatible motherboard chipset

Microsoft® Windows® XP (SP2) or 2000 (SP4)

256MB RAM

600MB of free hard disk space

Available Type II CardBus slot (PCMCIA slot)

CD-ROM/CD-RW or DVD-ROM drive required for software installation

Headphones or external speakers (Audio will not play through built-in notebook speakers)
Recommended System for DVD Movies, DVD-Audio and Games
512MB RAM

DVD player software for DVD Movie playback

6x DVD-ROM drive or later for DVD Movie and DVD-Audio™ playback

3D Graphics Accelerator with 32MB or better for 3D gaming
Note: Other applications may have higher system requirements or may require a microphone
Whilst that info was ripped right from the Creative site for you tech geeks out there, I can say unashamedly that this card has the goods and at a great price point as well. There are other beefier rigs out there that are a pain to set up and will set you back a pretty penny but this setup has all the goods and then some.
Kindly enough the good folks at Creative have said that I can give this bad boy away after reviewing it so head to the competition area unless it's waayyy too late for that.