BELKIN WIRELESS COMFORT MOUSE
Coming in a wide range of cool and retro colours, Belkin's Wireless Comfort Mouse may easily be the most comfortable computer mouse available. Specifically designed to fit in the shape of your hand, the Wireless Comfort Mouse goes above and beyond many ergonomically friendly mice through the inclusion of wireless capabilities and some excellent power saving features.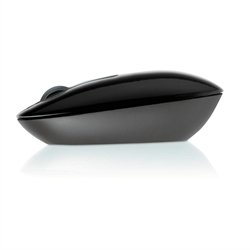 Features
USB dongle doubles as a perch to hold mouse in place when moving from room to room

Features an all-terrain optical engine to mouse on any surface

Power-save mode puts mouse to sleep after 8 minutes of inactivity
Compatible with all PC and Mac® computers with USB ports

Includes 2 AAA batteries
Best of all, the mouse comes with all the accessories needed to start, including 2 AAA batteries to allow you to start mousing straight away. It's even designed for portability, thanks to the USB dongle which easily allows you to attach the mouse to your laptop, however it can also be used on desktop computers.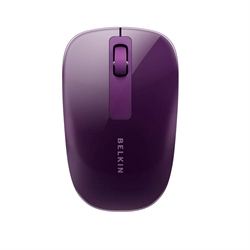 While testing the mouse, we did notice that shape of the unit was quite comfortable and fitted quite well in our hands. The installation was flawless, simply plug the USB dongle into a spare USB port and "presto", your mouse is available. We tested the device with Windows Vista and had no issues whatsoever in terms of installation. The mouse performs like most other mice and the accuracy was quite good for a wireless device. One feature we do like is the new "all-terrain" optical engine which allows the mouse to be used on a variety of surfaces with minimal impact on the user. We tried this on cardboard, paper and even plastic and the mouse kept ticking.
Belkin also boast that the batteries will last around 12-months of regular usage, although we could not confirm this with our testing. With that said, this mouse is definitely defined for most "regular" users, as opposed to heavy users such as gamers or designers. To help with their claims, the unit does have a power-save mode that puts the device to sleep after 8 minutes of inactivity. When powering the mouse back-on, it was exceptionally fast after a few moves of the mouse.
In conclusion, Belkin's Wireless Comfort Mouse comes with 1-year warranty and is quite affordably priced with a range of cool colours. Easy installation, good accuracy and best of all, quite portable, this is one device that we could happily recommend to a wide variety of users. It should be noted that the device works perfectly on a Mac as well.