Belkin TuneCast Universal
With the portable MP3 player becoming an almost pandemic necessity for Western cultures, listening to MP3 music in a car once posed various challenges to the user. Originally a tape was used to connect your MP3 player to your car stereo and then came the FM transmitter which allowed the user to "tune" in a particular radio frequency to this device in order for you to listen to your MP3 music on your car stereo.
The latest addition to the market by Belkin is the TuneCast Universal which supports all MP3 players such as iPod, iRiver and Zen. The TuneCast Universal can also be used with any device that has an audio out (e.g. CD players and even Laptop computers) which means the device is not just limited to MP3 players.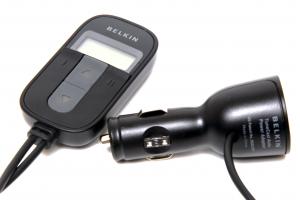 The fun part of the TuneCast Universal is plugging your MP3 player into the device and selecting an FM frequency from 88.1Mhz to 107.9Mhz. Once you have selected the frequency for the device, you then need to tune your car stereo into the same frequency and presto! ... you can now listen to MP3 music on your car stereo. The device also features an easy to use interface with a small LCD ensuring easy user access.
The quality of the transmission was perfect and it was almost like you were listening to a CD in your car. Interestingly enough, one of our staff was also able to pick up this frequency when their car was parked next to mine. The device itself is powered by your car power adapter which is definitely a preferred means.
In conclusion, the TuneCast Universal from Belkin is a definite improvement over its predecessors and we could easily recommend this product to any user who wishes to listen to their MP3 music through their car stereo.
Highly Recommended!