Belkin ScreenCast AV 4 Review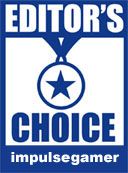 So what exactly is the Belkin ScreenCast AV4? In essence, this product basically allows you to wirelessly transmit up to four AV devices to your FULL HD TV without the need for cables. You basically connect your AV devices (e.g. Blu-ray Player, XBox 360 Gaming Console, TiVO unit and Digital Media Player) into the transmitter and then connect your TV into the receiver.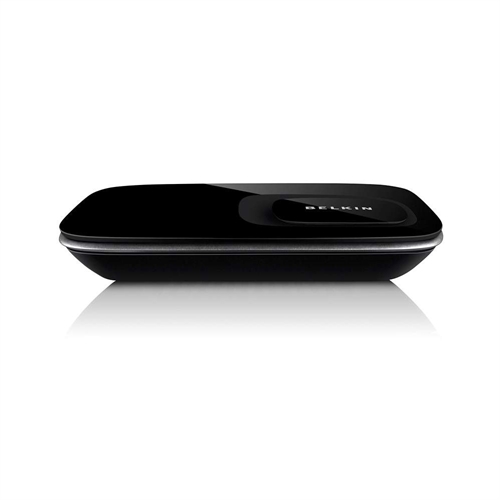 This basically removes the clutter of cables to your home entertainment setup and this product can even be wall mounted to make your room even tidier. This means that all your 1080p content, digital audio and even 3D content is streamed with a minimal (if any) loss at all.
The technology behind this device is the 5GHz Wi-Fi® spectrum which assists in reducing interference in order to produce high quality video and audio. The result is quite outstanding. You also need HDMI devices to use this product and although it does support standard digital TV's, a FULL HD (1080p) is recommended. For those tech heads, check out the features of the Belkin ScreenCast AV 4 below.
Features
Connect 4 HDMI devices

For devices like a Blu-ray player, DVR, gaming console and cable box
Keep devices out of sight

Store AV equipment up to 100 feet* away—in a cabinet, even in another room.

High Quality Picture

Full-HD 1080p resolution, and 3D video.

High Quality Sound

Up to 51 channels of surround sound.

IR Blaster

Total device control. Just point your remote at the TV, and ScreenCast does the rest.

Tabletop or wall-mountable receiver

Ideal for wall-mounted HDTVs.

Easy setup

Video Compatibility: 480p (EDTV), 720p (HDTV 2D & 3D), 1080i (HDTV), 1080p (FHDTV 2D & 3D)

Supports 5.1-channel surround sound

2D Video Resolution Compatibility: Up to 1080p 60Hz: 480p / 720p / 1080i / 1080p VGA, XGA, SXGA

3D Video Support: All mandatory HDMI 1.4a modes: 720p 50/59.94/60Hz, 1080p 23.98/24Hz

3D Format Support: Frame packing, side-by-side, top/bottom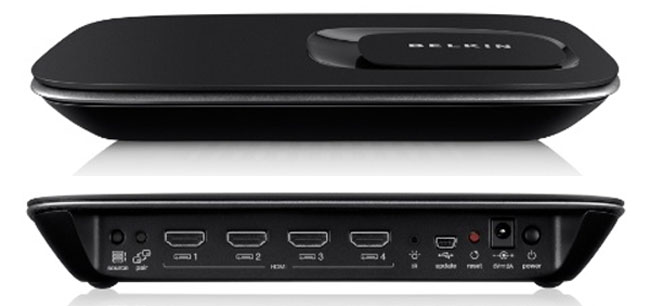 As mentioned, the Belkin ScreenCast AV 4 allows you to stream up to four AV devices to other parts of your room and house in glorious FULL HD, including 5.1 surround sound and even 3D images. That's right, with the Belkin ScreenCast AV 4 you can stream Blu-ray movies, your TiVo content and even your PlayStation to other parts of your home without the need for intensive cabling modifications as its all done wirelessly.
Best of all, you don't need any degrees in computer science or electrical engineering to install this product as Belkin have ensured to keep this very simple. That means no matter what your AV knowledge is and as long you know where to plug the HDMI cables and the power, that is pretty much all the knowledge you need for a successful installation.
Specifications
Uses the 5GHz Wi-Fi® spectrum to minimize interference and provide superior video and audio quality

Works with protected content like Blu-ray Discs (HDCP-enabled)

Up to 100ft* line-of-sight wireless connectivity; can go through walls and other solid objects over shorter distances*

Compliant with WHDI™ standard and interoperable with other WHDI-compliant products

Full-HD 1080p capable†

Up to 5.1 channels of high-definition audio†
The contents of the Belkin Screen Cast AV 4 includes the following items, ScreenCast AV 4 Receiver, ScreenCast AV 4 Remote, ScreenCast AV 4 Transmitter, Power Adapters for Transmitter and Receiver, 3ft High Speed HDMI® Cable, Quick Install Guide, User Manual on CD & IR Blaster Cable.
As soon as we took the ScreenCast out of the box, we noticed that the product itself looks quite stylish with it jet black design and classic Belkin blue lights on the devices. The design of ScreenCast AV 4 is quite sleek and the transmitter roughly measure around 23cm (l) x 14cm (w) x 3cm (h) with the receiver measuring at 17cm (l) x 12cm (w) x 3cm (h). Definitely quite a small product.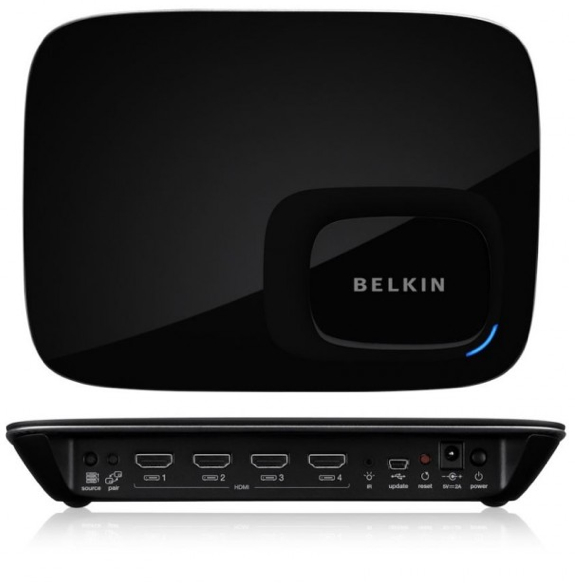 The installation of the product was a breeze. I chose the "easy setup" which is displayed inside the box and showed me how to install the product quite quickly. Firstly, I installed the receiver into my TV via the HDMI cable and then connected it to the mains. Next, I installed the transmitter into my various AV devices and then connected that unit to the mains. The only tricky aspect of this was that I had to move my cables around inside my entertainment unit.
The only messy aspect of the installation is the infra red blaster which is a cable connected to the transmitter with four LED receivers on it. This is used to transfer the remote control signals of the original devices (E.g. Blu-ray Player or TiVO) back to the transmitter in order to manipulate those devices like changing channels or watching a movie.
The distance covered by the Belkin ScreenCast AV 4 is 30 metres without walls or 10 metres through walls. It should be noted that Bluetooth remote devices like the PlayStation DualShock Controller or PlayStation 3 Remote Control do not work with the device. However as these two items use Bluetooth technology, the distance that these can operate at is quite impressive and should work in conjunction with the Screen Cast AV 4.
Once this was all installed, I simply turned on both devices, got the credit card sized remote and was ready to rock 'n' roll. On the TV that had the receiver connected, I basically had to select my language which was "English" and then had to setup the names for the devices connected to my transmitter which include names such as Blu-ray, Gaming Console or more generic names like source 1, 2, 3 and 4. This whole process took a few minutes to complete!
The first thing I tested was my PlayStation 3. Amazingly enough, I could actually watch movies on my PlayStation 3 wirelessly to my TV and even in another TV at the other end of the house.
In our testing, we noticed no loss of video or audio quality between our devices. Apart from testing my PlayStation 3, I did test the unit on my XBox 360 and this worked equally as good as I played a variety of games and surfed the net with it. TiVO was flawless as was our standalone Blu-ray player which streamed perfect video and audio.
For those users with 3D enabled televisions, the Belkin ScreenCast AV4 supports this format and once again there were no issues. I tested the product between two walls which was bordering on 10 metres and there was an occasional pixel glitch every now and then but considering how random this was, it was a moot point. Watching Batman Returns in the next room as it streamed FULL HD video and 5.1 audio sounded like a wired connection through our surround sound speakers. Truly amazing. It should also be noted that there is a slight pause switching between source devices which is around 20 seconds.

The only thing that I would have liked to see on this device is that if it had a switch or HDMI splitter on it. This would then allow me to connect an additional TV into the device and by pressing a switch, I could swap between that TV or stream it to another TV. However this is not what the device has been designed for but one can dream. I also like how Belkin have future proofed this device by including a USB port on the back of the transmitter which should any updates be available, allows you to update the Screen Cast AV 4 for new HDMI devices.
Final Thoughts?

For a recommended retail price of around $299AUD (March 2012), the Belkin ScreenCast AV4 is a very affordable solution for those users who want to rid themselves of their cabling mess without any loss of video or audio quality. At the end of the day, I cannot fault this device and I would highly recommend this to anyone who wants a very powerful wireless cabling solution.