Belkin RockStar
(F8Z274)
Have you ever been on a plane or sitting next to someone and thought that wouldn't it be cool to share one MP3 player with multiple people? Well my dear reader, Belkin have just done that! That's right, Belkin have created the RockStar which is a unique headphone hub that allows you to connect five headphones to one audio device. With that said, according to Belkin Market Research, "More than half of teenagers use their iPods with friends at school" which means this device not only targets a niche market but will spawn a plethora of competitors with this handy little device.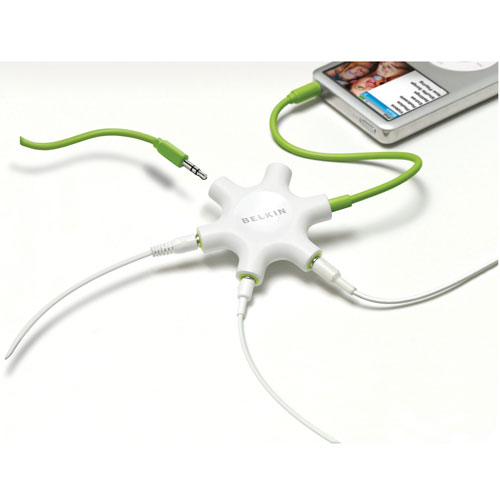 Features
Five ports to attach headphones or MP3 players

One hard-wired connection for your MP3 player

Included cable to attach another MP3 player

Mixing and fade-ins controlled by standard controls of each MP3 player

Colour: white
The design of the Belkin RockStar seems like something out of the Matrix with its strange spider like outputs but in actual fact is a great design which easily allows 5 people to sit around a table and share their music. The device also matches the traditional iPod "white" colour, however would not look out of place with a variety of other MP3 or audio devices.
Package Contents
The installation process of the RockStar was a breeze and you just simply connected your MP3 player to the device and then connect your headphones into the device, it's that easy. You can even add another MP3 player to the device in order to mix your songs and is the perfect item for teenagers or generation Y, X and the like for some great music sharing. It should also be noted that this device is not just for MP3 players but anything with an audio connection can be used on this item such as portable DVD players or even laptops. Great for sharing movies or music on planes as well.
In conclusion, the Belkin RockStar is brilliant product for a variety of different people who wish to share and listen to music and audio at the same time. Best of all, the product retails for a RRP of only $19.95 so there's no reason not to have one. Check it out!