Belkin n52te
With the first person shooter market on the PC one of the most popular gaming franchises, there have been quite a few accessories available to make this style of gaming more accessible and enjoyable for the user and Belkin's n52te is the latest mouse/keyboard to cause an uproar.
The n52te is an ergonomically designed "keyboard" with a limited number of buttons suited to a first person shooter, RTS game or even MMORPG with a stylised mouse wheel to assist with gameplay. The "te" in the title stands for Tournament Edition that although may be aimed at the more professional gamer, is quite accessible to everyone.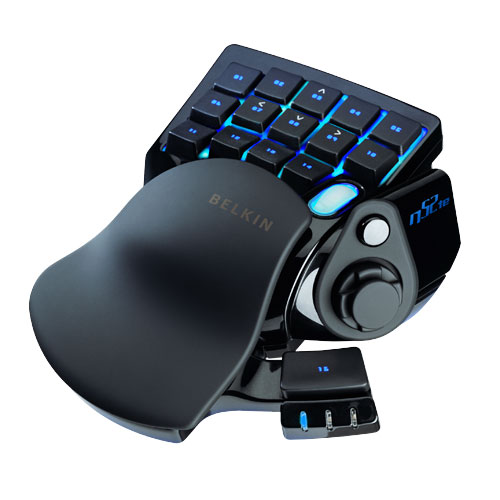 Features
Backlit keypad and scroll wheel for total control in dark conditions
Enhanced tactile feedback and button responsiveness for rapid key presses
15 fully programmable keys built for speed
Adjustable soft-touch wrist pad for maximum comfort and endurance
Programmable 8-way thumb pad with removable joystick
Nonslip rubber pads grip in place for aggressive fragging
Easily toggle between 3 keymap states
Razer software provides:

Personalization of multiple player profiles
Razer Synapse™ onboard memory enables plug-and-play versatility with no additional software installation
Unparalleled customization tools for intuitive setup and performance
Although the design the n52te is quite stylised and futuristic in appearance, the creation of the unit was a joint endeavor with Belkin and Razor which is visually quite impressive. You can even use the unit for dark conditions via its backlit keypad that almost likes like something out of Star Trek.
Unlike its predecessor, this current incarnation also allows you add a removable joystick to the device that neatly fits into the digital d-pad and was actually quite responsive when we tested it with a variety of different games.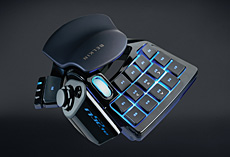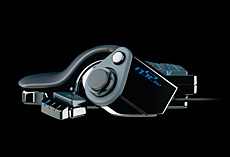 Using the n52te does take a little to master due to its design and almost revolutionary appearance but after a few hours of using the device, even the most novice of gamers will appreciate the facets of this device.
While playing a variety of games that included first person shooter, racing simulations and even a flight simulator, the controls was quite responsive as mentioned earlier, however where the unit dose excel is through the use with first person shooters that made it quite a comfortable experience without it being too convoluted. In other words, everything was in the right place!
The software for the device is quite straightforward to use as the user can program a variety of macros, ensuring for better gameplay. With 15 fully programable built keys, an easy to use mouse wheel, everything was designed perfectly from the start, although our only concern was left handers versus right handers. So if possible, you may want to test the device at a store before purchasing the device.
At the end of the day, the Belkin n52te may not be the accessory for all gamers, however if you are a fanatic at first person shooters or gaming in general, than this device may give the added edge to push you over to victory. Easy setup and installation, good software and quite intuitive to use, another great gaming idea from Belkin and Razor!