Belkin N1 Vision Modem Router
There have been some negative feedback over the previous incarnation of the Belkin N1 Vision Wireless Router in relation to performance issues. However, Belkin have addressed these issues and also upped the ante in the electronic communication industry by releasing the new N1 Vision Modem Router that provides an an all-in-one solution for users without the need for two separate devices, more specifically an ADLS modem and router. Best of all, the products supports the new ADSL2+ standard that provides increased performance in speed and stability, however is also backward compatible with standard ADSL.
As you can see from the features below, the device supports a wide range of industry standards and features the new MIMO standard that boasts increased wireless performance and connectivity between a wide range of devices. Belkin also continue to the sleek jet black design and this device is quite an impressive looking unit that actually performs as good as it looks. The buttons on the device are also easily used without it being too clunky.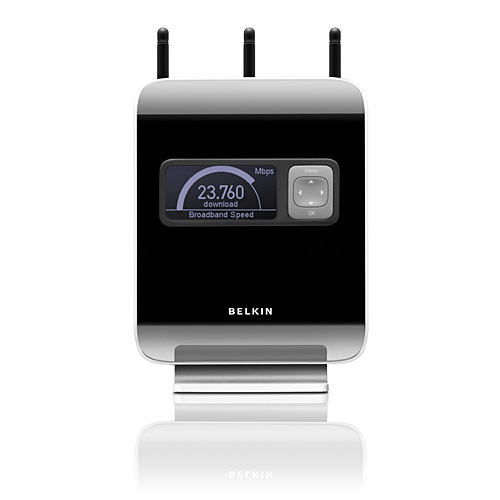 On our test system we were currently running two devices for our wireless capabilities so when we were given the chance to test an all-in-one unit, we jumped at the chance. The installation of the N1 Vision Modem Router was a breeze and once again Belkin continues its high standards with plug-and-play devices and no installation was necessary on our Windows Vista system.
To install the device, we simply plugged the unit into one of our spare network ports on our AMD Phenom 9600 and once our base PC detected the unit, we entered out internet service provider details through its intuitive menu system and after a short configuration time, the unit was installed and our wireless capabilities were functional.
That's right, we were connected to the internet and we even had our PlayStation 3 wirelessly connected to the device so we could challenge our friends and enemies online for some great wireless gaming. Streaming music from the internet or even across our own network was a breeze as were files. Best of all, we were pleasantly surprised by the speed of the device.

One of the most impressive features of the N1 Vision Modem Router is the interactive display on the unit itself which allows for a variety of network displays that include "Network Speedometer, Status Display, Guest Access mode, Bandwidth Usage Monitor and Client Counter". This is great for monitoring various aspects of your network and ensure that certain users don't go over their intended quotas, ideal for monitoring that sometimes precious bandwidth.
The performance of the N1 Vision Modem Router seems to have improved considerably over its predecessor with strong speeds and network connectivity. We had no dropouts whatsoever and we maintained good speeds, even through walls. The range of the device is quite phenomenon and we could still access our network outside the building with slightly reduced connection speeds.
The device also closes your private network through its security features, so you can ensure that your network hard drives are only intended for authorized people. Transferring between networks was a breeze and it maintained good speeds. Speedwise, it allows up to 24Mbps ADSL syn connections which is quite speedy and is the most affordable of internet connections.
In conclusion, the Belkin N1 Vision Modem Router is the perfect accessory for wireless networks that supports a plethora of industry standards, devices and security features. Whether your using your PS3 to access the internet or your laptop or desktop, this device does it all and best of all, flawless installation. Even if you do have issues with the installation, Belkin have some great support available.
Recommended!