Belkin Hub-To-Go
F5Y706au
It's official, computers and especially laptops do not come with enough USB 2.0 ports but fortunately for these luckless users, Belkin have designed the Hub-To-Go which gives users two high speed USB hubs in one easily transportable device that's almost like a Transformer. That's right, the Hub-To-Go is actually two pieces of equipment in one with a 3-port base to connect your main devices such as printers with the detachable 4-port travel hub to get a variety of USB devices from MP3 players, mouse, keyboards and the like.
Features
Adds 7 Hi-Speed USB 2.0 ports that transfer files at speeds of up to 480Mbps
4 ports detach from the base to act as a travel hub, while the 4-port base/tray stays on your desk

Features a rotating connector on the detachable 4-port hub, to keep adjacent ports free

Base stows fl ash drives, paper clips, and notepads in handy storage tray
The Hub-To-Go comes with an AC adapter which gives the user access to 7.0 high speeds ports and also a USB cable to easily connect the device to a variety of USB compatible computers. The device also supports a plethora of operating systems that include Windows 98, 2000, ME, XP and even Vista with the Mac users having access to OS 9 and OS 10.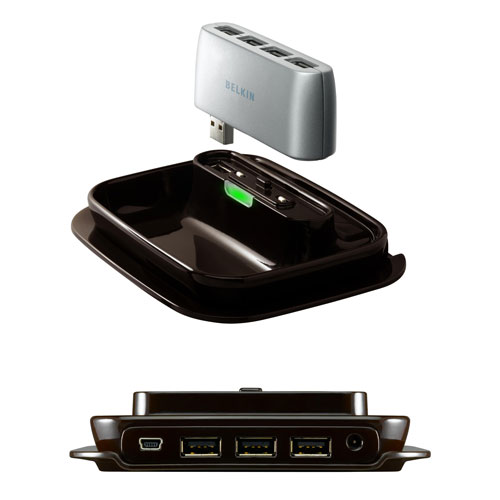 Installation? What installation! Simply plug the device in your USB port, connect the device to the AC power and whoa, 7 easily accessible USB ports without the need for fiddly USB cards or PCMCIA cards. Definitely a must have piece of equipment for the user on the go who require more than the stock standard 4-port hubs.