Belkin Flip DVI KVM Switch
The latest KVM device from Belkin has just been released called the "Flip DVI KVM Switch" which is the perfect accessory for using one set of input/output devices on two different computers.
This latest incarnation from the series has the addition of a digital DVI connection which can display some insane resolutions, depending on your monitor resolutions. Lastly, Belkin have upped the ante by included a wired remote which makes for swapping between computers a simple solution which is easy as a push of the button.

As you can see from the above photo, the device comes with a hub that you connect your input/output devices into. This includes, video, audio and two USB ports (perfect for a keyboard and mouse).
Second, the device has two long cords which are then used to connect to your two computers. By connecting these cables to two computers, you are basically sharing one set of input and output peripherals.

To swap between computers, all you need to do is push the button on the remote control and you will see whatever is displayed on that computer. The cables are also colour coded so when you know exactly which computer you are switching too. Another impressive feature of the device is that the cables are rather long which assists in minimizing some desktop clutter.
Unlike previous versions, this current incarnation uses a power cord to power the device, not a USB port which is definitely a better idea. Installation? What installation, you simple just install your input/output devices to the KVM and then plug your computers in... it's that simple!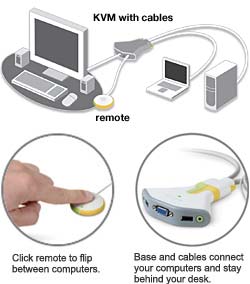 In conclusion, the Belkin Flip DVI KVM Switch is the perfect accessory for users who need fast access between two computers, without the hassles of reconnecting devices or purchasing additional hardware. Belkin have really improved this item since its predecessors and have made the whole experience almost flawless.