ATI Radeon HD 5550
Targeting both the budget and casual gamer and a "similar" priced NVDIA card (GT240), the ATI Radeon HD 5500 can be purchased for just under $100AUD (July 2010) and considering its affordability, it delivers on quite a few levels. The highlights of this 512MB card include an engine clock of 550Mhz, 1080p playback, DirectX 11 Support and EyeFinity Technology which allows you to connect this card to up to three monitors. Of course, we shouldn't forget the Dolby Digital TrueHD and DTS-HD either, producing some of the best audio to date.
Highlights

| | |
| --- | --- |
| Compute Power | 352 GigaFLOPS |
| Core Clock Speed | 550 MHz |
| Stream Processors | 320 |
| Typical/Idle Power | 39W / 9.7W |
| Memory | Supports DDR3 and GDDR5 |
| Max Displays | Up to 3 simultaneously1 |
Needless to say, the ATI Radeon HD 5550 is no slouch when it comes to special features and for the purists, the card features the following;
Features
627 million 40nm transistors
TeraScale 2 Unified Processing Architecture

320 Stream Processing Units
16 Texture Units
32 Z/Stencil ROP Units
8 Color ROP Units

DDR2 memory interface
PCI Express 2.1 x16 bus interface
DirectX 11 support

Shader Model 5.0
DirectCompute 11
Programmable hardware tessellation unit
Accelerated multi-threading
HDR texture compression
Order-independent transparency

OpenGL 3.2 support1
Image quality enhancement technology

Up to 24x multi-sample and super-sample anti-aliasing modes
Adaptive anti-aliasing
16x angle independent anisotropic texture filtering
128-bit floating point HDR rendering

ATI Eyefinity multi-display technology2,3

Three independent display controllers

Drive three displays simultaneously with independent resolutions, refresh rates, color controls, and video overlays

Display grouping

Combine multiple displays to behave like a single large display

ATI Stream acceleration technology

OpenCL Support1
DirectCompute 11
Accelerated video encoding, transcoding, and upscaling4,5

ATI CrossFireX multi-GPU technology6
ATI Avivo HD Video & Display technology7

UVD 2 dedicated video playback accelerator
Advanced post-processing and scaling8
Dynamic contrast enhancement and color correction
Brighter whites processing (blue stretch)
Independent video gamma control
Dynamic video range control
Support for H.264, VC-1, MPEG-2, and Adobe Flash9
Dual-stream 1080p playback support10,11
DXVA 1.0 & 2.0 support
Integrated dual-link DVI output with HDCP12

Max resolution: 2560x160013

Integrated HDMI 1.3 output with Deep Color, xvYCC wide gamut support, and high bit-rate audio

Max resolution: 1920x120013

Integrated VGA output

Max resolution: 2048x153613

Integrated HD audio controller

Output protected high bit rate 7.1 channel surround sound over HDMI with no additional cables required
Supports AC-3, AAC, Dolby TrueHD and DTS Master Audio formats

ATI PowerPlay power management technology7

Dynamic power management with low power idle state
Ultra-low power state support for multi-GPU configurations

Certified drivers for Windows 7, Windows Vista, and Windows XP
Installation & test machine
The installation of the card was a breeze and it simply connected into a PCI-E slot and presto, Windows 7 was ready to detect it. Another interesting aspect of the card and considering the relatively powerful features is that it does not need additional power connectors and only runs at 9.7Watts when idle. It does however require a power supply with a minimum of 400W. The card is also super quiet as well which is definitely a bonus in our books. Our test system for this card included the following specifications;
Motherboard - ASUS X58 Rampage II Extreme

CPU - Intel Core i7 980X Extreme Edition

Memory OCZ Blade (3x2048MB) DDR3 2133 MHz (8:9:8:24 2T) @ 1066 MHz CAS9

Power Supply Unit - ANTEC TruePower Quattro Power Supply 1200 watt

Hard Drive - Seagate Constellation

I/O Peripherals - Logitech Gaming Keyboard & Logitech G5 Laser Mouse

Operating System – Windows 7 (64-bit Ultimate)
Windows, Movies, Applications
Once the latest Catalyst drivers were installed for the card, we didn't notice any real difference in Windows and generally most graphic cards these days produce sharp images and colours, especially in the operating system. Blu-ray movies looked great in 1080p and surfing the net proved no issues whatsoever not did Microsoft Office Professional 2010. One thing it should be noted about the card is that it supports a maximum resolution of 2048x1536 which is great for users of Photoshop or AutoCAD. It should also be noted that the card supports true Dolby Digital TrueHD and DTS-HD Master Audio, making this card ideal for movies that supports up to 8 channels of audio. Not bad at all!
3DMark06 & 3DMark Vantage
3DMark06 and 3DMark Vantage are considered two of the world's best graphical bench marking utilities and what review would be one without it? The older 3DMark 06 is still a great tool to test the power of the card with older software, whereas the newer version tests the card with more of the latest software enhancements and features. Let's have a look at the results.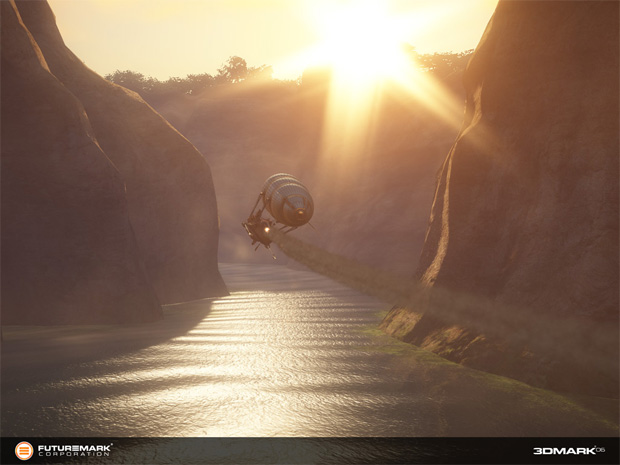 3DMark 06
1280x1024
| | |
| --- | --- |
| ATI Radeon HD 5550 | (7298) |
1680x1050
| | |
| --- | --- |
| ATI Radeon HD 5550 | (6210) |
1920x1200
| | |
| --- | --- |
| ATI Radeon HD 5550 | (5410) |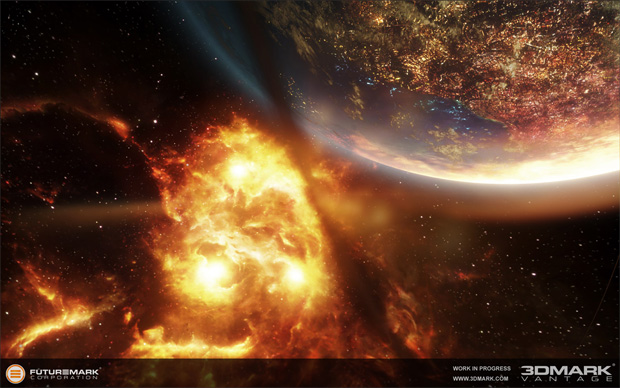 3DMark Vantage
1280x1024
| | |
| --- | --- |
| ATI Radeon HD 5550 | (16091) |
1680x1050
| | |
| --- | --- |
| ATI Radeon HD 5550 | (3490) |
1920x1200
| | |
| --- | --- |
| ATI Radeon HD 5550 | (1299) |
3DMark 06 produced some impressive results, however the card was a little lacklustre in the 3DMark Vantage tests, especially at higher resolutions. Even so, this card is aimed at the budget and casual gamer and for a price of under $100, there is little to whine about. It did struggle with higher resolutions with full detail but with some tweaking, this card would be passable.
Gaming
We decided to test the HD 5550 with three games that included Crysis Warhead, BioShock 2 and Batman Arkham Asylum, three games that look not only look fantastic but play brilliantly as well. Crysis is a game produced by EA Games and is definitely a resource and power hog and I've yet to see it played perfectly through any PC on its highest resolution. The game is a first person shooter that involves aliens, cyber genetically boosted soldiers and good old fashioned action... with graphics to die for. We tested Crysis with three different resolutions and considering that this is a low-end card, the results were brilliant on the lower resolutions and almost acceptable on the other end of the spectrum.
Crysis Warhead
1280x1024
| | |
| --- | --- |
| ATI Radeon HD 5550 | (70 Frames Per Second) |
1680x1050
| | |
| --- | --- |
| ATI Radeon HD 5550 | (53 Frames Per Second) |
1920x1200
| | |
| --- | --- |
| ATI Radeon HD 5550 | (39 Frames Per Second) |
Amazingly enough, the HD 5550 played Crysis Warhead quite well, even at 1920x1200. Of course, by dropping the resolution to 1280x1024, the game was smooth as silk. BioShock 2 was the next game which turned gamers into a Big Daddy, a lumbering golem like creature who protects the little sisters in Rapture City, a strange underwater city filled with freaks and danger. This highly popular sequel from the original game once again proved that first person shooters were not just rehashed World War II games but could be original, have a great story and visually pleasing on the eyes.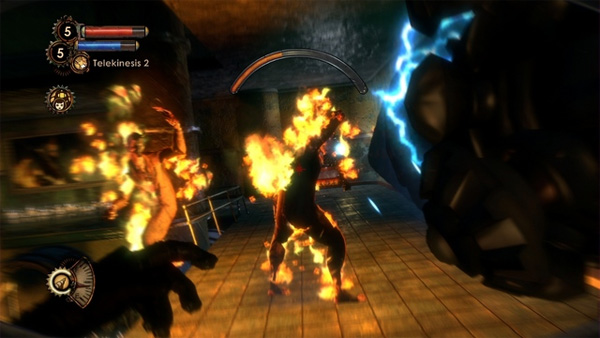 BioShock 2
1280x1024
| | |
| --- | --- |
| ATI Radeon HD 5550 | (77 Frames Per Second) |
1680x1050
| | |
| --- | --- |
| ATI Radeon HD 5550 | (60 Frames Per Second) |
1920x1200
| | |
| --- | --- |
| ATI Radeon HD 5550 | (45 Frames Per Second) |
Like Crysis Warhead, BioShock 2 played well, although it did become a little staggered at 1920x1200, however at around 45 frames per second, it looked fantastic at this resolution and was still quite playable, most of the times. Batman Arkham Asylum, another game incorporating the Unreal Engine is a third person action game and has the player taking the role of Batman. Going into to Arkham Asylum, Batman is pitted against his rogue's gallery that include everyone from the Joker, Poison Ivy and the dangerous Bane. This is what comic games should be all about!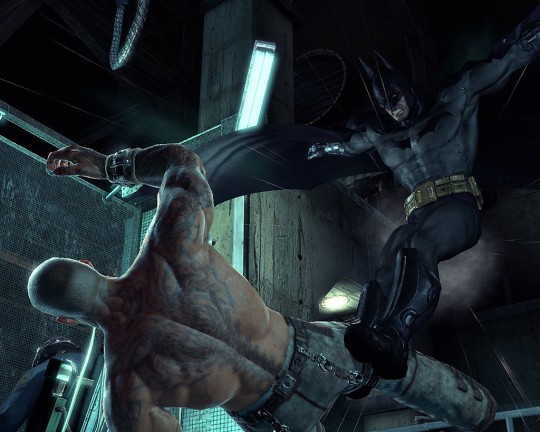 Batman Arkham Asylum
1280x1024
| | |
| --- | --- |
| ATI Radeon HD 5550 | (88 Frames Per Second) |
1680x1050
| | |
| --- | --- |
| ATI Radeon HD 5550 | (69 Frames Per Second) |
1920x1200
| | |
| --- | --- |
| ATI Radeon HD 5550 | (60 Frames Per Second) |
The results mirrored the other two games, however at 1920x1200, the game was perfect and with some tweaking, Batman never looked better. For gamers, there are better cards out there, however for the price, it does those on a budget an acceptable card.
Conclusion
This card is definitely great value for money and if you want to push the card a little more with some overclocking, you should be able to get improvements of around 10 to 15% which we did. However this is definitely up to user discretion. As a gamer, the card is not for me but for those who dabble, it's not a bad choice but when it gets to higher resolutions, the card does start to chug along.
However, even if you're not a gamer, this card is perfect for those who want to tap into the EyeFinity features such as three monitors and the like and best of all, it supports some impressive resolutions when working with the operating system and various applications. If you have a PC setup just for movies as an entertainment system, than the Blu-ray features and FULL HD video and sound make it an easy choice.