ATI Radeon HD 4770
AMD/ATI have released an interesting addition to the graphic card market with the ATI Radeon HD 4770 that offers powerful graphical capabilities at a cost effective price range. Definitely created to challenge and potential beat the NVidia GeForce 9800 GT, this graphic card boasts the following specifications;

Number of transistors - 826 million
Stream Processing Units - 640
Clock speed - 750
Memory Clock - 3200 MHz GDDR5
Math processing rate (Multiply Add) - 960 GigaFLOPS
Texture Units - 32
Render back-ends - 16
Memory - 512MB GDDR5
Memory interface - 128-bit
Fabrication process - 40nm
Power Consumption (peak) - ~80W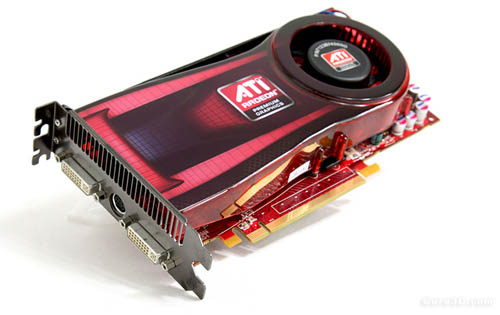 From the specifications, the card is quite powerful and although won't allow for high-end gaming with full detail and resolution, it is still a powerhouse when compared to medium gaming and for the price range, it's definitely a contender for those on a budget. The physical design of the card is quite reminiscent of those high end AMD/ATI cards and best of all, the card supports dual-link DVI that allows for the use of two screens.
From the card comparisons below from AMD, the HD 7440 is definitely no slouch when it comes with power and features, even for a 128-bit card that is definitely on par with the HD 4830.
ATI Radeon
HD 4850

ATI Radeon
HD 4830

ATI Radeon
HD 4770
ATI Radeon
HD 3870
# of transistors

956 million

956 million

826 million

666 million

Stream Processing Units

800

640

640

320

Clock speed

625 MHz

575 MHz

750

775+ MHz

Memory Clock

2000 MHz GDDR3 (effective)

1800 MHz GDDR3 (effective)

3200 MHz
GDDR5
(effective)

2.25 GHz GDDR3 (effective)

Math processing rate (Multiply Add)

1000 GigaFLOPS

740 GigaFLOPS

960
GigaFLOPS

497+ GigaFLOPS

Texture Units

40

32

32

16

Render back-ends

16

16

16

8

Memory

512MB GDDR3

512MB GDDR3

512MB GDDR5

512MB GDDR3/4

Memory interface

256-bit

256-bit

128-bit

256-bit

Fabrication process

55nm

55nm

40nm

55nm

Power Consumption (peak)

~110W

~110W

~80W

~105W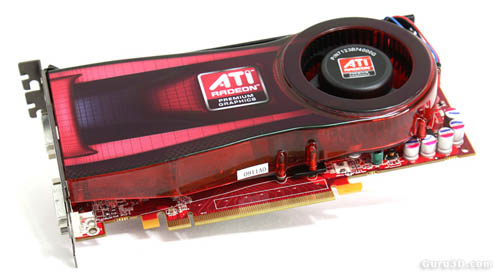 The installation card was a breeze and it simply plugged into our PCi Express 8x/16x slot, connected the 6-pin power plug and lastly connected the monitor to the back of the card. Once installed into the system, Microsoft Windows Vista Ultimate Edition (64-bit) automatically detected card, however we used the official drivers and the latest version of DirectX to test this card.

System Specifications

For this review, we used the following system specifications to assist with our testing and benchmarking. Be warned though that testing and benchmarking is quite subjective due to the numerous types of hardware available.
Motherboard - Gigabyte GA-MA790GP-DS4G
Graphics Card - HD 7770
Memory - 2048MB (2 x 1024MB) DDR2 CAS4 1066Hz Dominator Corsair
Hard Drive - Seagate Constellation 500GB
Power Supply - Titan 850W ATX Intel AMD PC Case Power Supply
Operating System - Microsoft Windows Vista Ultimate Edition (64-bit) with SP
DirectX - 10
Using the card with the operating system, surfing the net or accessing office products, the images were exceptionally clear with vibrant colours. Watching DVD's and more specifically Blu-rays displayed amazing picture quality with deep black levels and a vivid colour palette on our BENQ screen.
The card also supports CrossFireX which means you can link other cards together in order to increase your graphical processing power. For example, connecting two cards of the same calibre doubles the GPU power available to programs, especially for games.
The temperate of the card is around the midrange of gaming cards that runs at around 220 degrees Celsius (yes it is hot, however that is what the fans and heatsinks are) with an acceptable idle temperate of 150.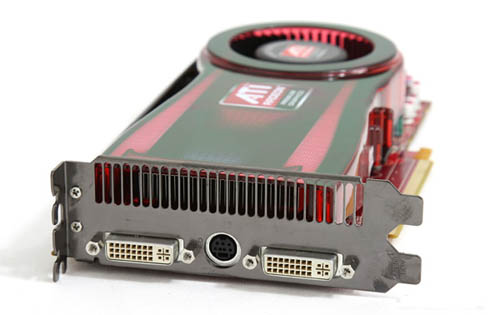 Benchmarking
Far Cry 2
Far Cry 2 was the first game off the bat to test and for the uninitiated, the game is a next generation first person shooter from UbiSoft that boasts some of the most realistic graphics to date. The scores for Far Cry 2 were as follows;
1280x1024 - 61 Frames Per Second
1600x1200 - 51 Frames Per Second
1920x1200 - 50 Frames Per Second
The HD 4770 performed exceptionally well with Far Cry 2, especially when linked with the Dragon Platform that produced extremely impressive results for such a graphical intensive game. Speaking of graphical intensive games, Crysis Warhead was the next title to test.
Crysis Warhead
In Crysis Warhead, players will don the Nanosuit of Sergeant Sykes and once again take on both aliens and super-powered humans as the gamer attempts to save the world from yet again another hideous danger. With state of the art graphics, Crysis was one of those games that could not be successfully run on even the most powerful computers around the world. Thankfully, Crysis Warhead was reprogrammed to make it more user friendly for us humble mortals.

1280x1024 - 51 Frames Per Second
1600x1200 - 35 Frames Per Second
1920x1200 - 30 Frames Per Second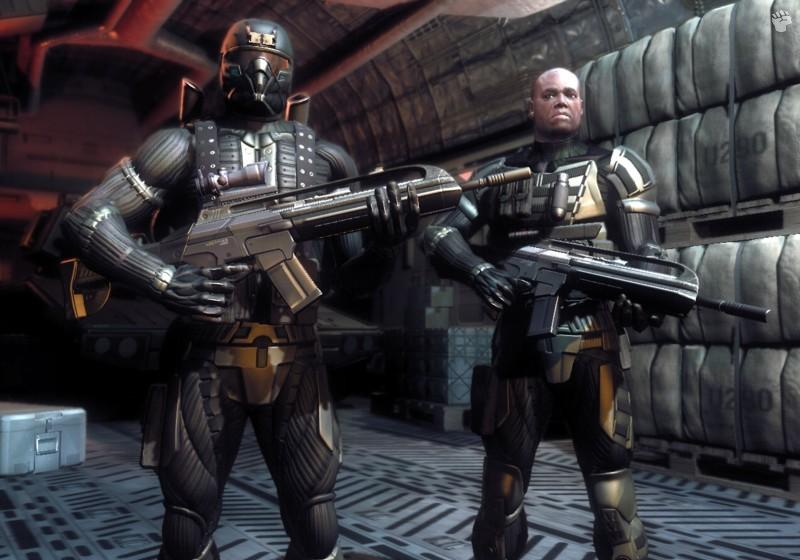 As you can see, Crysis Warhead had some very impressive results and just to assist, a first person shooter game should be aiming at around 30 frames per second, anything less and the game will noticeable be quite jerky. Of course, higher is far superior and running it at 1280x1024 was very impressive.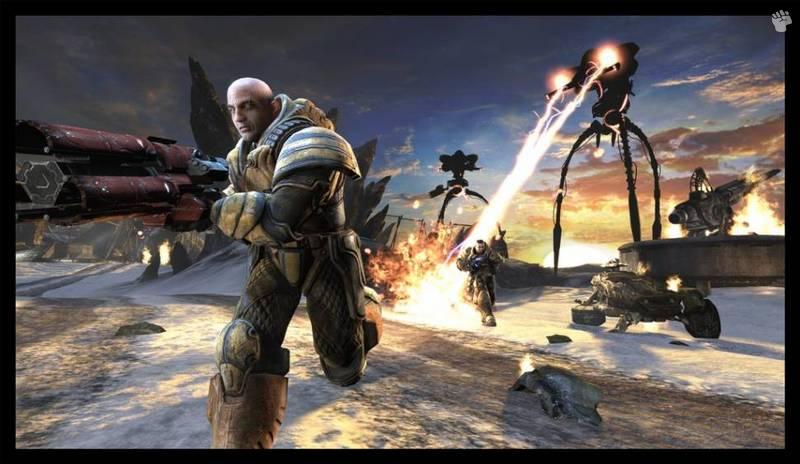 Unreal Tournament
Unreal Tournament 3 saw the return of one of the world's most popular first person shooters for lovers of multiplayer and the technology of this game is still one of the best available which simply looks lush with the detail turned up and the resolution.
1280x1024 - 72 Frames Per Second
1600x1200 - 56 Frames Per Second
1920x1200 - 39 Frames Per Second
As you can see, the game is quite playable on all resolutions, although some tweaking is required to keep the frame rate stable.
F.E.A.R
The last game we tested was F.E.A.R., an older game that stands for First Encounter Assault and Recon which had the player fighting supernatural menaces with the assistance of bullet time and state of the art weaponry. It was good to see the card produce some impressive frames per second.
1280x1024 - 105 Frames Per Second
1600x1200 - 81 Frames Per Second
1920x1200 - 57 Frames Per Second

In conclusion, AMD/ATI have created a truly impressive card that is great for modern gaming that has decent power consumption features and additional grunt if needed. We did try to overclock the card, however only gained a slight performance improvement of around 10 - 15% with basic tweaking, however the option may be there.
When you are surfing the net or using office based software packages, you cannot even hear the card, however when you do start to play, the fan speed will increase, although noticeable, you will soon forget about the sound when your playing those latest games for your PC.
At the end of the day, The ATI Radeon HD 4770 is an extremely affordable 128-bit card with the majority of bells and whistles of the high-end cards that we could happily recommend to gamers on a budget, especially with this economic uncertainty.