ASUS HD 7970 DirectCU II Top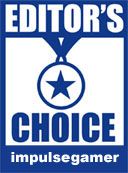 For gamers, there are two components of your PC that are needed to play games... and I mean play games properly. The first is the CPU which is the brains of your PC and the second is your Graphics Card which creates the lush graphical worlds of your games.
Thanks to ASUS, Impulse Gamer were given the change to review one of their monster Graphics Card... the HD 7970 DirectCU II Top which has been dubbed as the coolest and quietest 28nm card. More importantly, it has the grunt required to play the latest games with full detail in glorious FULL HD graphics. This is how games are meant to be played.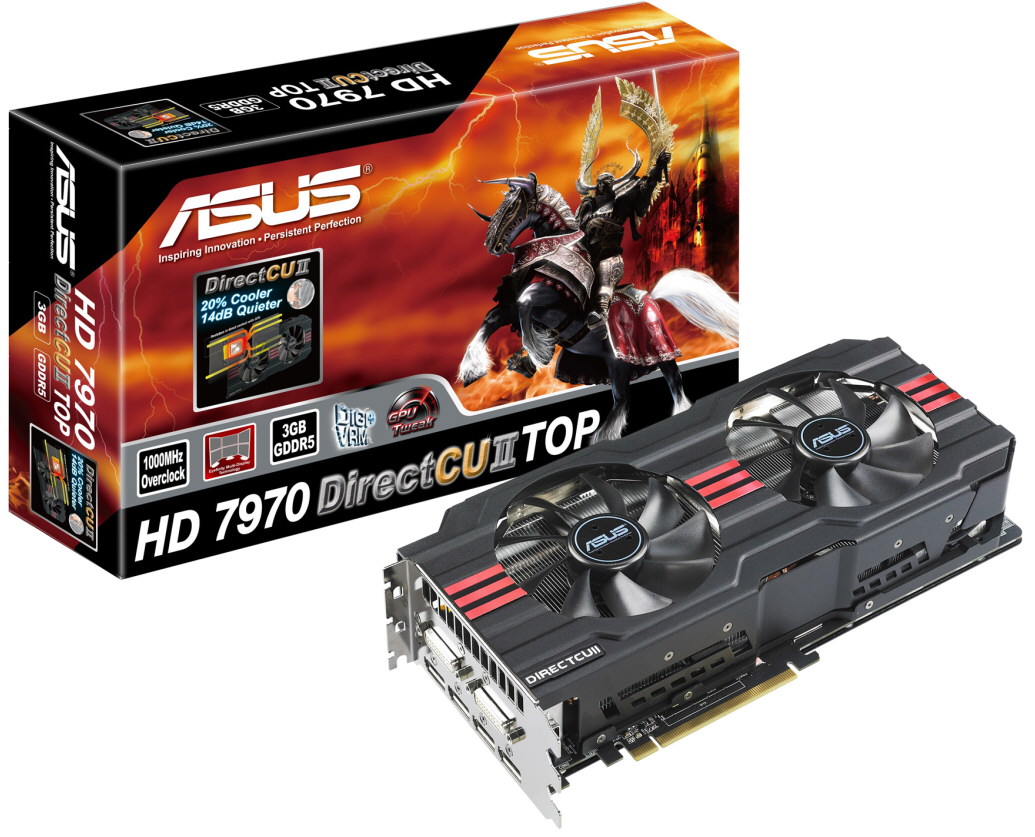 Add in 3GB of DDR5 RAM, an increased memory bus of 384-bit, PCie (Generation 3 which is 2 times faster than previous PCIe) plus the extremely powerful GPU and this card will be calculating all of the graphical formulas for your games like child's play, especially when it comes to tessellation.
Just be warned that you need plenty and I meant plenty of space in your computer case to use this card. With that said, the ASUS HD 7970 DirectCU II due to its cooling technology is probably one of the biggest graphics cards that we've used. It virtually takes up three slots in your PC.
This is due to the DirectCU thermal design architecture which uses six all-copper heat pipes which increases the heat dissipation area that not only makes your card cooler but also quieter. This is also useful for overclockers and with the DIGI+VRM 12-phase super alloy technology, this allows for stable overclocking. Overclockers can even connect wires to the card's voltage regulators which will then allow them to read Vcore, Vmem and PLL voltage levels thanks to the VGA hotwire.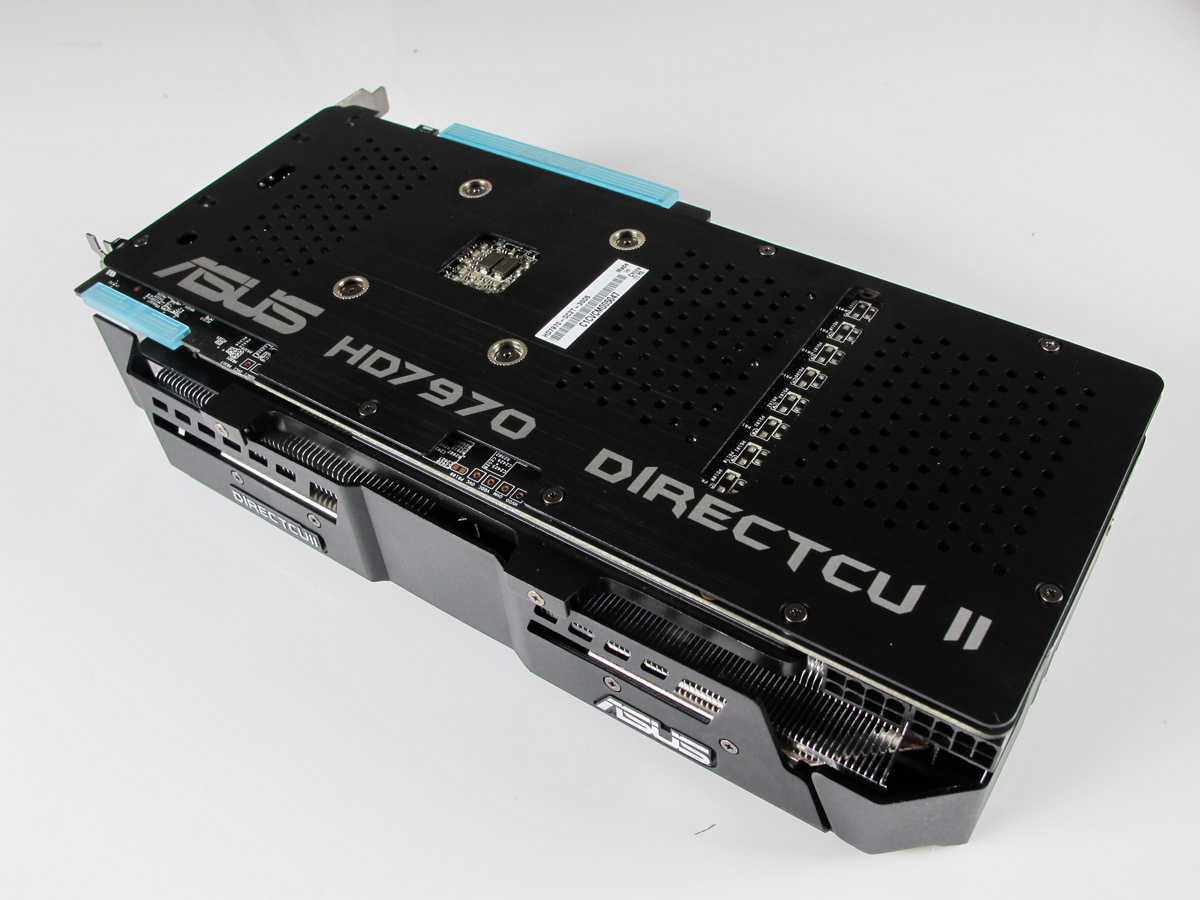 The card also supports up to six screens via AMD EyeFinity 6 technology. We tested the screen with three monitors and it was an interesting and productive experience. Hopefully in the near future, more games will support this technology that will definitely open up gaming to a whole new world. It also helps having three monitors with limited bezels on all four sides.
Installation
Installation of the card was a little tricky. One difficulty that users may have in relation to the installation of the card is that you need a considerable amount of room in your case to use this card.
We had to remove two additional back plates in order to fit the card into our Silencio Case. As the card is quite heavy, just over 1 kilograms, care is needed to place the card into the PCI slot. It is also quite a long card and measures at 27cm.
We also had to move cabling around in order to ensure that the card fitted correctly in the case and needless to say, it was a snug fit. Once the card was installed in our PCI slot, we screwed the card to the back of the case which required two screws to keep it securely in place. Lastly, you just need to plug in the power cables to the card.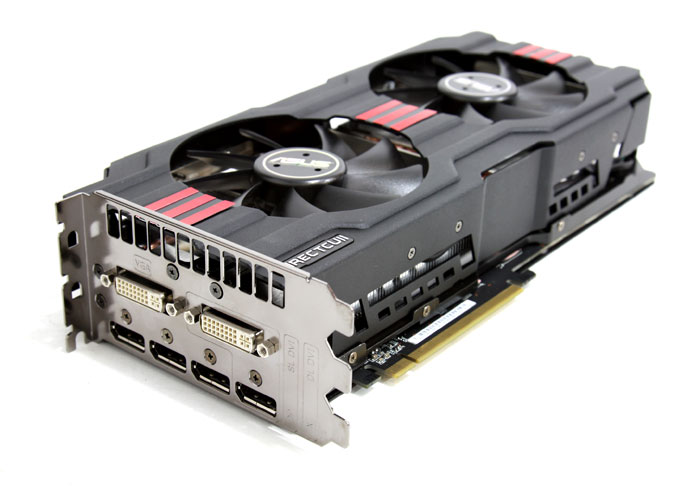 Once installed, Windows 7 immediately detected our new card, although we did download the new drivers from AMD. For those users who want to use two HD 7970's card via crossfire, an extremely large case is required. Let's have a look at the specifications below that makes this card what it is... a gaming monster.
Specifications

Graphics Engine
AMD Radeon HD 7970
Bus Standard
PCI Express 3.0
Video Memory
GDDR5 3GB
Engine Clock
925 MHz
Memory Clock
5500 MHz ( 1375 MHz GDDR5 )
RAMDAC
400 MHz
Memory Interface
384-bit
Resolution
D-Sub Max Resolution : 2048x1536
DVI Max Resolution : 2560x1600
Interface
DVI Output : Yes x 1 (DVI-I), Yes x 1 (DVI-D)
HDMI Output : Yes x 1 (via DVI to HDMI adaptor x 1 )
Display Port : Yes x 4 (Regular DP)
HDCP Support : Yes
Accessories
1 x CrossFire cable
1 x Power cable
1 x DVI to HDMI adaptor
Software
ASUS Utilities & Driver
ASUS Features
DirectCU Series
Super Alloy Power
Dimensions
11 " x 5.1 " x 2.1 " Inch
Note
*To have the best cooling performance, ASUS HD7970-DC2-3GD5 extends the fansink to 2.5 slots. Please double check you Chassis and Motherboard dimension prior to purchase to make sure it fits in your system!
*Support for six simultaneous displays may require complementary products compatible with DisplayPort.

As you can see from the above, this card is no slouch when it comes to performance or features. The contents of the HD 7970 include the card, CD driver disc, manual, quick installation guide, crossfire bridge, dual 6-pin to 8-pin PCIe adapter and a DVI to HDMI adapter. You have everything you need to get the card up and running.
Overclocking
Although the card comes with a 925Mhz core clock, it can be overclocked thanked to the GPU software to speeds 1GHz and higher. We did successfully overclock the card to around 1000Mhz which heavily improved the frame rates on some games such as Battlefield III and the latest Deus Ex title. The memory on the card can also be overclocked.
Another impressive feature about the tweaking tool (GPU Tweak) is that allows in-game video recording of up to 720p in order to share clips with other people from around the globe. The software also automatically checks for driver and bios updates and gives you other useful data about your cards performance and settings.
The card also comes with a massive heatsink and two 100mm fans. In relation to temperate, the card is definitely on the cooler end of the spectrum. Our device which measures temperature clocked the card at around 31 degrees Celsius during idle and 67 Celsius while under load (e.g. gaming). Our HD 6970 was 39 degrees idle and just 45 degrees under load.
The card also has a variety of connections that include four display port connections and two DVI ports. In turn this allows you to connect up to six monitors with some very high resolutions that can not just be used for games but also for productivity.
The native resolution for the d-sub is 2048x1536 with DVI being 2560x1600. For testing purposes, we used the standard FULL HD resolution of 1920x1080. However for those gamers who want to push this card to the limit (2560x1600), it is possible and the graphics do look outstanding but expect a few frame rate drops.
Benchmarking
In order to benchmark, we used the standard array of suspects that included 3DMark, the world's best benchmarking software and a plethora of games from Battlefield III to Crysis 2. Needless to say, the results were quite impressive, especially when compared to our old ASUS HD 6970 with around 40% improvement in some games.
3DMark
3DMark is a computer benchmarking tool created and developed by Futuremark Corporation to determine the performance of a computer's 3D graphic rendering and CPU workload processing capabilities. Running 3DMark produces a 3DMark score, with higher numbers indicating better performance.
Nature Test Score

ASUS HD 7970 DirectCU II (901.2)


ASUS HD 6970 DirectCU II (538.1)
3DMark Performance Score

ASUS HD 7970 DirectCU II (8330)


ASUS HD 6970 DirectCU II (5602)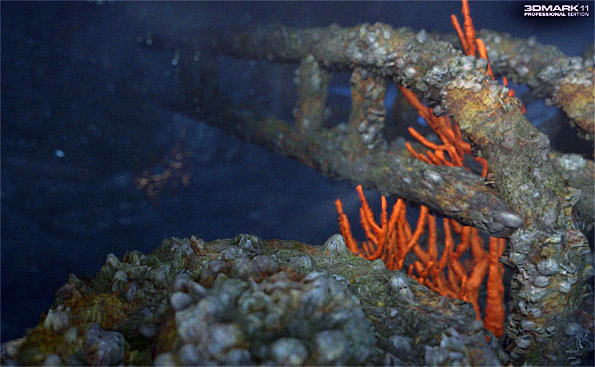 3DMark Vantage Performance Score

ASUS HD 7970 DirectCU II (29580)
ASUS HD 6970 DirectCU II (21410)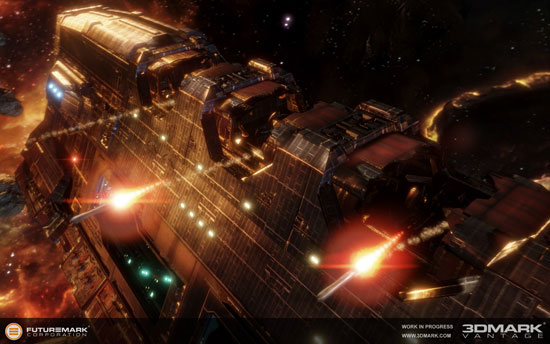 3DMark GPU Score

ASUS HD 7970 DirectCU II (32413)
ASUS HD 6970 DirectCU II (20901)
As you can see from our 3DMark testing, there was a noticeable improvement over this cards predecessor. Next up were our games!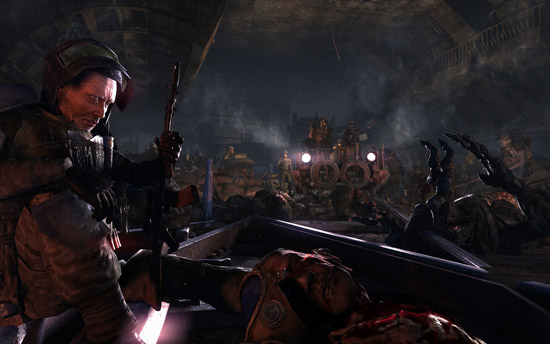 Metro 2033 - The Last Refuge
Metro 2033 is a post-apocalyptic first-person-shooter, set in the underground community built in the ruins of a Russian municipal train system, based on the best-selling novel by Dmitry Glukhovsky.

ASUS HD 7970 DirectCU II (44)
ASUS HD 6970 DirectCU II (27)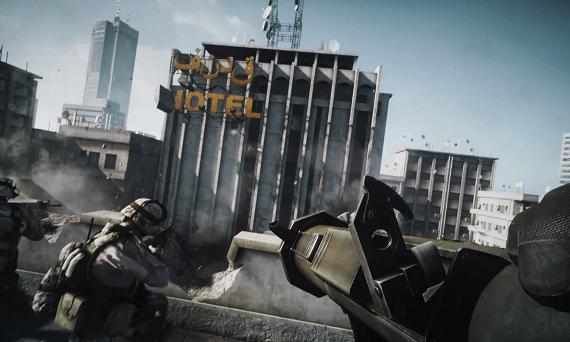 Battlefield 3
Battlefield 3 is DICE's third numerical installment in the franchise. It features a single-player and co-operative campaign, as well as 64-player multiplayer (on PC).

ASUS HD 7970 DirectCU II (52)
ASUS HD 6970 DirectCU II (34)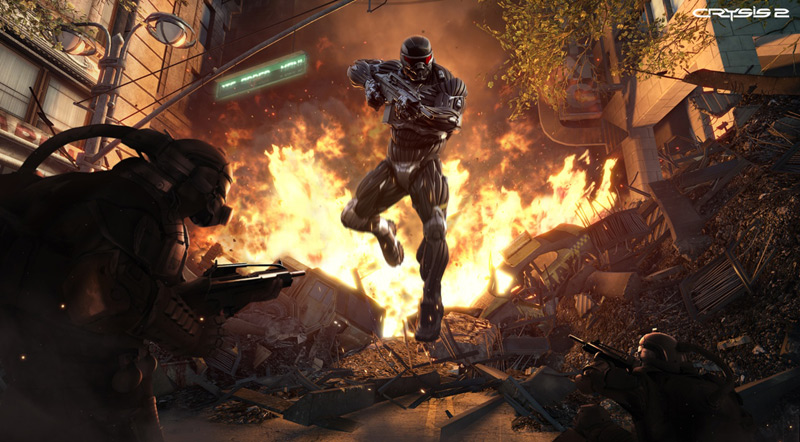 Crysis 2
Set three years after the original Crysis, an ambushed Marine named Alcatraz dons the famous Nanosuit and fights his way through an obliterated New York City to stop the alien invasion.

ASUS HD 7970 DirectCU II (61.2)


ASUS HD 6970 DirectCU II (42.1)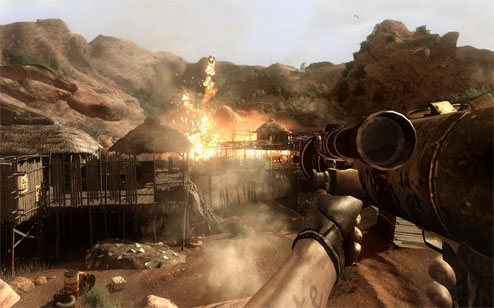 Far Cry 2
The sequel to the original Far Cry dispenses with Jack Carver, and moves the action to a war-consumed Africa complete with an open-ended storyline involving civil war, several hours of missions, heated gunplay, and a slew of dynamic elements powered by a new engine.

ASUS HD 7970 DirectCU II (113)


ASUS HD 6970 DirectCU II (82)
Gaming once again cemented some very impressive scores and considering that we were running the games in FULL HD with max detail, it created some extremely smooth gaming. Tearing and frame-rate drops were almost non-existent. Both AMD and ASUS should be commended on such a spectacular card for gaming.
Final Thoughts?
Retailing for around $599 (depending on store), the ASUS HD 7970 DirectCU II Top, although on a little on the pricey side definitely gives hardcore gamers a card to knock the balls out of the park. My favourite aspect of the card was the cooling technology that kept the temperatures quite low and also the power consumption of the card. Not only did the card have the grunt where needed but it's almost green friendly.
If you're looking to overclock which comes at the user's own risk, this card has enough bells and whistles to push the card to the max with some very impressive results. On our test system, this was necessary however. Add in the option for 6 monitors, low noise levels and this card definitely ticks all the right boxes. Just be warned that you do need quite a large case and a decent power supply to power this baby.
Highly Recommended!