Keyboards are perhaps one of the most under estimated bits of computer equipment. For some one using their computer for business, they want something functional and comfortable to use for those long typing sessions in an 8 to 12 hour business day.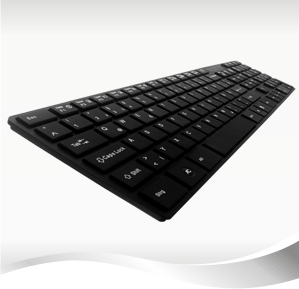 Gamers on the other hand want the same things but with a bit more. Macro buttons and keys that respond quickly are paramount. Macro buttons are programmable buttons that after programming them, they can run a complex command with just a tap of that key.

Most traditional keyboards are the standard 105 key layouts. Many of the keyboards on market offer extra buttons or buttons that work double duty. The Arctic K381 Keyboard is one of those.

While known more for their cooling solutions, Arctic Cooling has a good footprint on the market of peripherals. The company proves that style and functionality do not have to be lost, even with a budget priced product. Its thin lines may make it seem like a PC product with Apple envy, but the Arctic K381 brings a lot to the table for office use, music lovers and a bit of gaming.

Despite the keyboard's very basic layout it does have a multitude of function buttons that allow you to send your PC to sleep or adjust volume on the fly.
12 office function keys – one-touch access to different features

Keys for volume control and standby

Low-profile layout and key structure

Low resistance switches allow continuous typing without fatigue

Sharp and clear pressure point

Saves space with ultra-slim design
That being said it does bring along several extra function keys. Those are the 12 office function keys. At the very top, the F keys pull double duty for various other functions. Just pressing a key at the far right row, a key with just an F and arrow looking symbol activates these extra functions. For instance, now after pressing that F key and then pressing F6, my spell checker kicks in and checks my review for the typos that sometimes plague me. Other functions include but are not limited to putting the PC to sleep, and also controlling the volume.

Picking the keyboard up it feels very light, almost fragile. Unlike some of the beefier keyboards, we have around the office here.

The look and feel of the keyboard took some getting used to; I feel your typing has to be even more precise. In fact, I am using the keyboard to write this review. Near the top of the keyboard along its base, it is raised ever so slightly, though it stays flat. The keys are flat faced, each key press seems to respond well. The pressure used in the finger presses seems to be more than other keyboards. Though as noted, using the keyboard causes the typist to be more aware of their typing style.

I would say those with larger hands especially have to be more aware of the button presses to be sure what button they are pressing. At first, this may cause a typist to have to slow down, after a bit of time with the keyboard though, one grows used to the design of the Arctic K381. I was clipping back to a modest 40 to 60 words a minute in a couple days of use.

For general use, the Arctic K381 does well. General typing out emails, working on spreadsheets and writing reviews all are handled well with this keyboard. Ah, but of course... we are Impulse Gamer. We want to know how it fares in the gaming front.

I used the keyboard in various games including shooters like Aliens Vs Predator, Arma II Operation Arrow Head, Borderlands, and then in such games as Silent Hunter 5, Star Trek Online (See our latest update revisited review by Donna Millheim on Star Trek Online in our PC game reviews Section, A Review from a Role Players View Point.) And Victoria II. The keyboard responded well to all of the games. I have heard of at least one other reviewer complain about ghosting. Ghosting is that dreaded beep beep alarm the computer may give and unresponsiveness because the key presses over takes the memory buffer.

Ghosting may happen especially in first person shooters where the WASD keys get a work out from moving around the gaming world. So sometimes in a game, on some keyboards that signal failure may occur. The Arctic K381 got a real gaming work out, and I can say I never really ran into a ghosting problem at all. It performed very well. Would I suggest it as a gaming keyboard? No. However, the Arctic K381 is a good keyboard to have on hand at a reasonable price.

Visit them for all they have to offer here.
http://www.arctic-cooling.com/catalog/main.php?cPath=82

Have fun, play games
Edwin Millheim
United States Editor
Impulse Gamer