In the world of headsets and microphones, you may not think of a company that mainly makes cooling systems for computers. Surprise Arctic Cooling actually makes some impressive headsets and even keyboards. Not pricey at all Arctic's P531 headset is an affordable 5.1 headset solution that performs surprisingly well.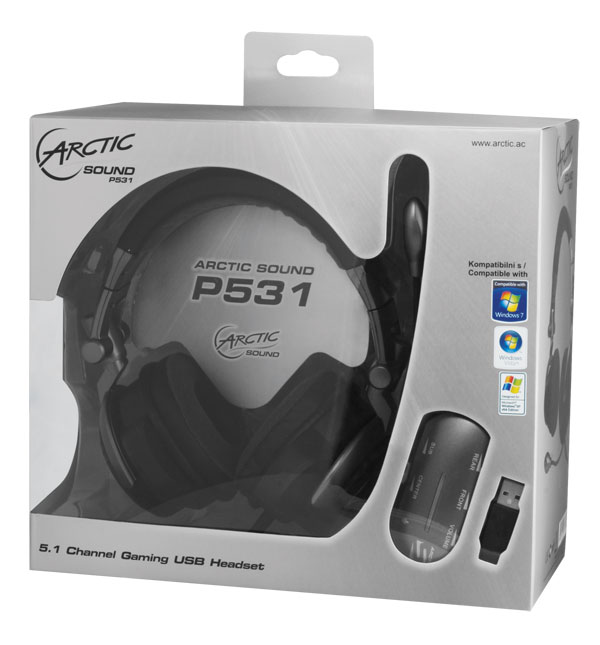 While a majority of the product looks to be made of plastic, it feels durable in hand and the soft fabrics along the head arch and around the earphones make it a very comfortable piece of equipment to wear for those long gaming sessions.

The USB cable is long enough not to make you feel like you have to lean over as some other headsets have made me feel. There is a controller on the cord itself, enabling the user to have full control of Front, Rear, Sub and Center sound, as well as the microphone and the over all volume. The LED bar gives you a visual queue that the headset is plugged in and ready to go.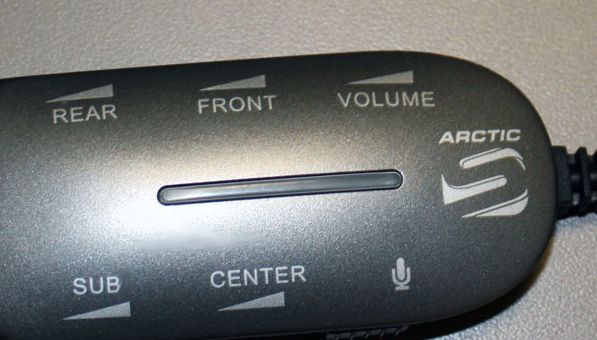 The P531 Headset comes with an install disk, heavy sorrow though for those with XP, it will not work for you. The march of technology ever goes forward and so XP users are left out of the emerging products and technology. However, folks with Vista or Windows 7 should have no problems at all.

The real surprise in the superb performance, the sound and controls work well. Actual 5.1 surround sound wrapped around your head. We tested the system with games and watching movies and general surfing on the internet, watching streaming videos and the like and the sound performance of the P531 is superb all around.

The games we tried the headset out on where Operation Flash Point Dragon Rising, Call of Duty Black Ops, Crysis 2, and Post Apocalyptic Mayhem. We also took several musical tunes for a listen from our iTunes account…from Daryl Hall and John Oates, to harder stuff from Keel, and a few pop and soul tunes. The films we tried things out with were Toy Story 3, Predators, and a couple of the Alien movies from the new Aliens collectors pack that came out several months ago.

Every thing but music came out spectacular. Music was great. Users may have to tweak some of the settings to get it to take off and sound its best. Lucky for us the design gives us that control to modify each channel individually. Do not get me wrong, it sounded great with music. It is just that in movies and gaming is the place the product shines the best. Gunfire in the distance or just behind you and to the right stands out more. The virtual bullets whizzing up range almost cause you to duck they sound so close. After firing shots with your virtual gun, brass from your spent shells clinking to the ground sound as if they are right there at your feet. Then the gunfire and explosions, with the bass vibrating around you…the whole experience is spectacular.

The microphone performance was admirable as well. It did not seem to pick up background noise or anything from the headphones at all. In addition, the mic lead is bendable so an adjustment to where you want it close to your face is easy. Persons I spoke with over the computer using the Mic stated that it came through very clear; I had no echo feed back and was rather pleased over all with the performance.

Over all the Arctic Cooling P531 Headset with microphone, a customizable wonder with a price point that wont break the user. With this headset, you can really get INTO your games.

Have fun, play games
Edwin Millheim
United States Editor Impulse Gamer