The portable media devices made a heck of a splash on the consumer market when they first came into being. Newer and more solid players over the years of course kept coming and getting better and better and more diverse in what they had to offer. One of the units that seems to be at the lead of the pack in all around functionality is the iPod Touch. The latest 2nd generation iPod Touch from Apple has taken the crown when it comes to an all in one multimedia portable entertainment device. Yup that's a mouth full but pretty accurate when it comes to this powerhouse of a portable hand held, you may as well dub this a mini entertainment computer for all it does. If you want to simplify it, just call it a portable media player/digital assistant. Let's dig deep here and you too will see what the iPod Touch is all about, and why I think it's well worth getting your hands on one.

Image Courtesy of Apple
The first generation iPod Touch was introduced by Apple Inc, back in 2007. Yup not so long ago at all. This new ultra cool portable player was the gee wiz of the time and still is. It uses the multi-touch graphical user interface with three types of models sporting different flash memory capacity. There is the 8, 16 and then the 32 gig models.

All around the support for audio and video formats is pretty diverse. Supported audio formats include AAC, Protected AAC, MP3, MP3 VBR, Audible, Apple Lossless, AIFF and WAV. The Video formats the iPod Touch supports are H.264, MPEG-4, The Image files it supports are JPEG, BMP, GIF, TIFF, PSD(MAC only) and PNG.

When it comes to other types of viewable files the iPod touch also supports the viewing of some attachments such as PDF, JPEG and Microsoft Word, Excel and PowerPoint files. Further you can also receive and view attachments from Apple's iWork suite. Including Numbers, Pages and Keynote.

After also grabbing one of the PDF readers from the apps store, we tried out several PDF with different results. One PDF viewer would not work at all. (Bare in mind it's the APP and not an iPod Issue. Though attachments would open right up from emails just fine. In the future we will be doing different APP reviews and PDF viewers will be one of the things we will be rounding up. But for right now the iPod Touch opens the PDF's in attachment emails just fine.

Just a couple years later the new 2nd generation iPod Touch is here sporting a few extra bells and whistles. They may not be enough and far removed to merit getting rid of your 1st gen iPod touch, but if you do not have one at all, you you need to join the fun.

The iPod Touch has a sleek sexy futuristic looking footprint, it's slim shape and rounded edges feel good in your hand, with just enough weight to it so that it does not seem like a hunk of plastic. There is a glass touchscreen display, and near the bottom of the unit along it's face is a physical home button so that you can always go back when screen as needed. On the side there is also a volume control, then also there is a sleep/wake-up switch at the very top of the unit. At the top is where you will also find the Wi-Fi antenna, hiding behind a little rubber section.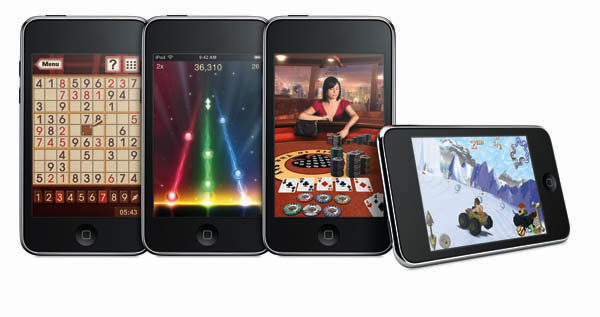 Image Courtesy of Apple
All of these buttons though are so non intrusive, they seem to melt into the iPod touch as if they are not there at all. Very pleasing in design. Along the bottom of the unit, you will also find the dock connector. This is where you can plug the iPod touch into your computer in order to download your content into the unit. Along the bottom is also the headset jack.

As I said, the iPod Touch is the ultimate portable entertainment device, everything looks absolutely gorgeous on it's 3.5 inch glass display. While sorting through your menus to get to what ever music, movies, video, or Internet browsing or gaming you have in mind, the touch screens menu makes it all rather simple and literally at your fingertips.

The iPod touch has a built in intelligent keyboard that stays hidden unless you need it. Summon up the keyboard with a mere...koff ... touch. This is a wonderful aspect of the system because you can hide the keyboard again in order to view pages on the internet. Having a hard time seeing the print? No problem. With a pinching open or closed motion on the iPod Touch's screen the page zooms in or out for easier viewing. Then with a sliding motion of the fingers, you can move that same page around the screen to look at is as you like.

This Wi-Fi 802.11 b/g wireless networking works very well indeed. Using the Safari browser you can be surfing the Internet in no time and even checking your email. Plus of course connecting to iTunes to expand your iPod Touch world. (See our other article on the iTunes software)

It is using the iTunes store that really expands the iPod touch even more. Granted when you first get the iPod Touch it's already loaded to the virtual teeth with several cool applications. The Safari web browser, which is very powerful. The whole experience of testing this feature was more like being on a very small computer. As noted else where in the article zooming in and expanding with taps and swiping motions is pretty simple. You can view the web pages in either landscape or portrait by simply turning the iPod Touch one way or the other. The iPod Touch actually can sync up with your computer (Mac or PC) and brings over your bookmarks and favorite pages. Web searches are accomplished with the built in Yahoo! And Google search engines.

Further there are icon links already for Calender, Email, a Contacts list, for those YouTube fans, there is YouTube, Stocks, Maps, Weather, a Clock, a Handy Calculator, a notes section, a fast link to the app store, and also the settings link, Using the setting link on the iPod Touch you can adjust it more to your likings in respect to screen brightness among other things. Along the bottom of the screen are fast links to your Music, Videos, Photos and a link to the iTunes Store.

Speaking of Email, the iPod touch keeps YOU in touch and in the loop with access to your email. The iPod Touch supports several of the popular and well known email servers. Such as Google Gmail, Yahoo! Mail, Apple's MobileMe service and almost any of the industry standard IMAP or POP3 mail systems. We tried a lot of testing with AOL (America Online) and where rather pleased with ease of syncing up with our email clients, reading email and general house cleaning of your email such as deleting and saving email for later. Further the Ipod Touch can also receive push email from Microsoft Exchange. We tested out looking at emails using the iPod touch and found it very easy to use, reading and even placing the emails in saved status or even deleting them where all pretty simple.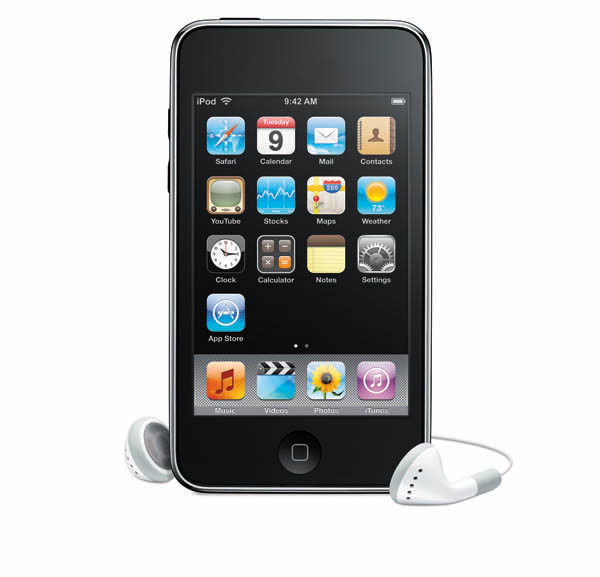 Image Courtesy of Apple
Videos, Movies, and TV shows look very crisp on the iPod Touch, it is ideal for watching your favorite movies or video podcasts. Tapping the video button on the screen brings up all of the video content have loaded on the iPod Touch. While watching a video just a touch on screen will bring up a set of video controls, like advance to a different section of the film, or control the volume. A simple tap of the screen hides the controls away again, much like the keyboard interface. Also videos from YouTube seem so much more crisper and sharp as well. Surprisingly so. Of course the video play back has half to do with the source file and half to do with the unit (iPod Touch) itself. Either way movies and videos played on the iPod Touch have consistent deep black levels and bright colors that pop off the screen.

As the iPod Touch expands it's functionality with various program Applications (Apps) it continues to expand and evolve in it's uses. The surprise is that it does so much so well. There are at least a couple of Apps that enable you to read electronic books on the iPod touch. The lettering is very readable and the simple touch and swipe motion to turn a page is just such an ease. Better yet, depending on what reader App your using, if you turn off the iPod in the middle of your book, it starts on the page you left off on, the next time you bring up the App. There is even an App for Amazon's Kindle store, which enables you to purchase Kindle iPod editions of electronic books.

Gaming on the system is a blast, and more and more cool games are being offered, some of them resemble the old Sega coin op days, while others have graphics that may put a certain Sony Product on notice that there is another gaming platform on the block that also fits in the palm of your hand, but has soooo many more uses. Games we of course will be doing full reviews on in the future, some of those such as the old Classic Arcade game SPACE ACE, The Secret Of Monkey Island, there is even a version of Lego Batman, and Resident Evil, Need For Speed Undercover, and a game App for the popular TV show 24! With the iPod Touch built in Accelerometer some games even respond to your movements. So in a racing game just tilting the iPod Touch one way or the other controls all the action like a steering wheel. Tap, tilt and just sliding a finger across the screen is enough to control all the action in a game for the iPod Touch. Graphics and Sound come across very well on the iPod Touch. With the sounds especially sounding remarkably well done, especially when using the head phones.

Music, of course the iPod Touch does music as well. Adding music is just like adding any of your other files or purchases from the iTunes program. It's simple and fast, which we like. Better yet the iPod Touch can also connect to various other devices and you can then enjoy your music through your car stereo or home stereo system. YES, we will be making note and doing reviews of other hardware and or accessories that work with or enhance the iPod Touch.

As if this was not enough, if your one of those folks that also enjoy a good work out, Nike and Apple have teamed up to bring us built in Nike support. There is a Nike + iPod Sensor that you can get separately that you can put into your Nike + shoe and just go for a run. The sensor communicates wireless with the iPod Touch. It keeps track of the distance, your time and even the calories burned, and gives voice feedback on your progress. How cool is that?

If there is anything that comes close to perfection in a portable entertainment device, it's the iPod Touch.

Check out Apple iTunes and of course the iPod Touch at http://www.apple.com
Have fun, play games.
Edwin Millheim