Apple iPhone 3GS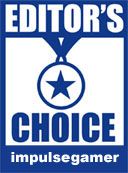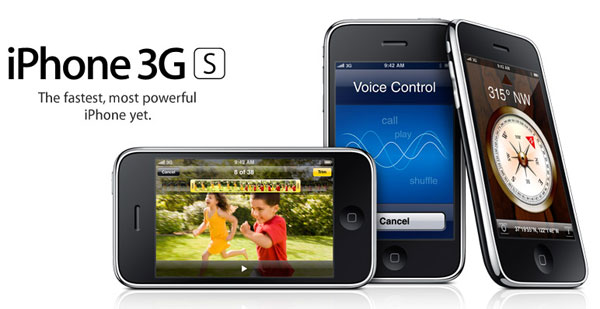 Although the Apple iPhone has been around for a little while now, Impulse Gamer Australia had the pleasure and privilege or reviewing the iPhone 3GS which truly transcend the world of mobile phones. As with iPod, Apple have once again revolutionised the future of portable devices an with the iPhone 3GS, it's faster and more powerful than previous models.
Not only is this device a phone but it also boasts a variety of other multimedia uses from real-world applications to gaming and and even a high definition camera to name a few of features.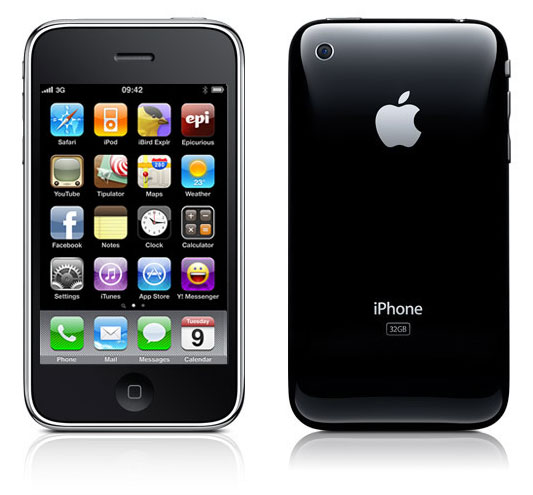 Physical Specifications
Height (115.5mm), Width (62.1mm), Depth 12.3mm & Weight (135 grams)
Setting it up
Most users of an Apple iPhone will have access to either a Mac or PC but best of all, the device works straight out of the box. Whether you have the device on a plan that is locked to a service provider or purchased the device outright, you need a nifty little program called iTunes to maximise the power of this phone.
Once you have setup iTunes on your computer, you need to register your Apple iPhone with it and from there, you're ready to experience the wonderful applications and games of the iTunes store.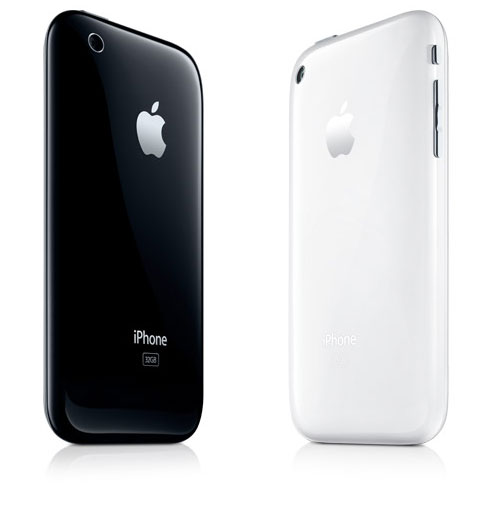 Although the unit comes with a charger for the mains, it can also be charged while connected to your computer via the USB cable which is included. The good aspect about connecting it to your computer is that it not only charges the device but also syncs it with your iTunes, allowing you to easily transfer music to your iPhone through just a few simple clicks.
Design
The design of the Apple iPhone is pretty much perfect and although other companies such as Nokia or LG have attempted to mimic this device, unfortunately they are just pale comparisons. On the top of the iPhone, there is a power button that turns the device on and off. To turn it off, you simply hold down this power button until a slider appears that prompts the user to "slide to power off". Simplicity at its best.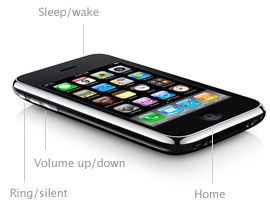 Also on the top is a 3.5mm stereo headphone connection and the unit does come with a pair of high quality Apple earphones. On the top left of the unit, there is a button to turn the unit into "mute/vibrate" mode and below that are two buttons which set the volume of the ringer.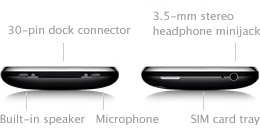 Moving along to the bottom of the unit, there are two reasonable good quality speakers and the connection to power the device and connect it to your USB (#: This is one connection). On the face of the device, there is a large circular button with a square in it that is used as a "home button" while navigating and to wake up the device when it goes to standby mode.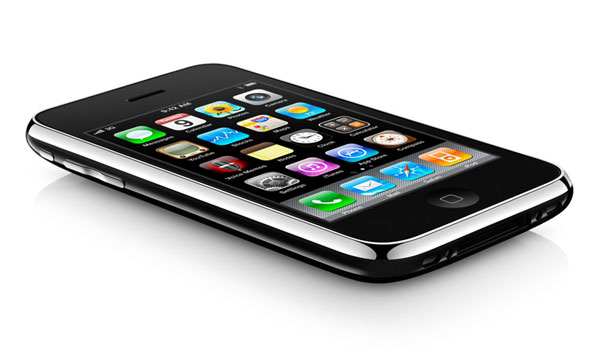 That basically sums up the device, however where it does shine is through the touch screen that allows the user to easily navigate the interface of this device. The screen itself is a 3.5 inche (diagonal) multi-touch display that supports a resolution of 480x320 pixels at a resolution of 163ppi.
Needless to say, it is a very high quality screen for such as a portable device. The screen also supports a fingerprint resistance oleophobic coating which basically assists in preventing finger prints from marking the screen from the oil in our fingers. Although this works to a certain level, I would recommend the purchase of clear screen overlays to prevent any scratching plus a case to protect the unit from bumps and knocks.
Battery
The battery life of the unit is phenomenal and allows up to 300 hours of Standby time, 12 hours of talk time on 2G, 5 hours on 3G, 5 hours of internet time on 3G and 9 hours via Wi-Fi. Video playback is up to 10 hours and audio playback is around 30 hours, of course this is dependent on the compression of the files. Charging for us was generally through the USB connection as our preferred method, however as mentioned, it does come with a mains adapter. In relation to 3G, if your iPhone is set to this, the phone does worker faster while accessing the internet and phone network.
The menu system is just point or move and it's that easy. Just above the icons above the top, it shows you the mobile phone strength of your carrier, your carrier's name, wireless icon, time and lastly the battery life of the unit. Directly below are 16 applications and below them are the main applications that include Phone (mobile), Mail (internet), Safari (web surfing) and iPod (music).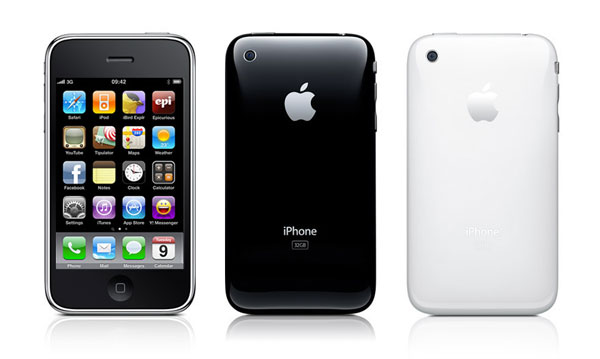 What's New?
The current Apple iPhone (October 2009) features a variety of interesting applications that includes a built-in video camera of 3 megapixels, autofocus, tap to focus, video recording (VGA up to 30 frames per second w/audio). This high quality camera has allowed us to take some impressive shots and the photos support Phone and Video tagging plus they are compatible with a variety of other third party applications.
Voice Control is another new feature that allows you to "speak" to the iPhone in order for the unit to make a call or even play music. To activate voice control, you simply hold the home button down until it beeps and then just talk. For example, by saying call "Dad", the iPhone would say Calling Dad. Another example is to tell the device to play music and presto, it would automatically start playing my MP3 files. Voice Control has been recorded to recognise a small vocabulary of words such as Shuffle, What's Playing?, Stop and even Who is this song by?. Yes, we were very impressed!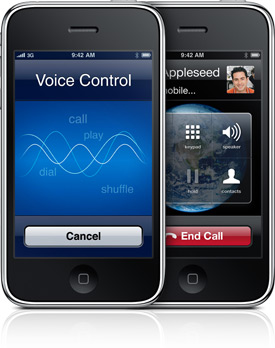 Compass is another application that has been added to this unit which links a built-in digital compass with Google Maps plus the accuracy of GPS. Whether your searching for a location, seeing traffic reports or getting directions from A to B, the map ability of the iPhone is perfect.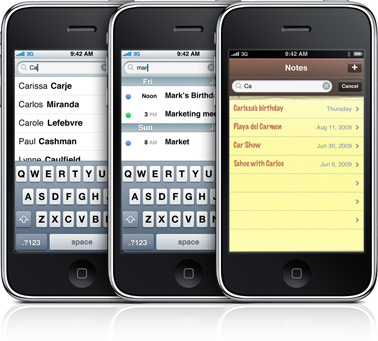 The search capability of the unit allows you to search your entire iPhone for information and even the ability to search your e-mails on your mail server. Simply by pushing the home button of the iPhone, it brings up a keyboard and all you need to do is type of the word or phrase that you are looking for and the iPhone does the rest. It searches all facets of your iPhone from music, notes, e-mails, applications and the like, ensuring for some extremely accurate and fast responses.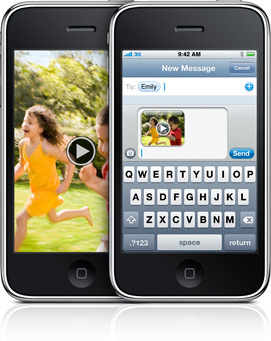 Lastly, Messages is another new feature of this current model that allows you to message others and even send them photos, videos or even voice memos to them. Although the device can be used via portrait mode, by turning the device to landscape, it gives you more access a larger keyboard which makes for typing an easier experience. If you type fast and accidentally push a wrong letter on the screen, the software will attempt to predict what you are typing and yes, it's considerably better than that of a mobile phone.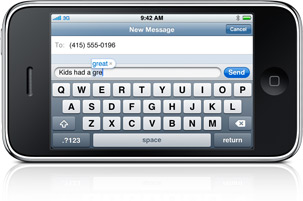 Main Menu & Applications
The main menu of the iPhone is the hub of the unit and the basic shortcuts include the following;
Messages

Calendar

Photos

Camera

YouTube

Stocks

Maps

Weather

Voice Memos

Notes

Clock

Calculator

Settings

iTunes

App Store

Compass

Contacts
As you download more applications, both free and purchased from iTunes, these icons will appear on the next page of your iPhone and this is simply accessed by scrolling over with your finger. We tested a variety of games on the iPhone that included Billy Frontier, Chess Pro, Fieldrunners, Doom Resurrection and our favourite Need for Speed Undercover and all games performed remarkable well.
Dare we say it, move over PlayStation Portable?

Need for Speed Undercover (EA Games)
The great thing about gaming on this device is that it uses the touch screen for interactivity and also its rotating capabilities. For example, if you are playing Need for Speed Undercover (landscape mode), to drive, you just hold the device to the left or right and it will steer that way. You can even use the unit as a lightsaber thanks to a cool free application by the developers of Star Wars Unleashed
Other applications we tested included Coastal Watch which gives you the tides of the waves, Star Walk that shows you a very detailed map of the stars in the sky and finally WifiTrak which looks wireless networks in the area.
Wireless connectivity
In relation to wireless setup, setting up the device to a wireless network was a breeze and if your network is locked (which it should be), all you need to do is select it and type in the password of the network and it automatically connects to it. By pushing the Mail or Safari button, it automatically connects to the internet and if you're out of range, you can still connect via your mobile phone provider, although depending on your plan, this may cost additional money.
Setting up e-mail was a breeze and it allows for multiple connections to different servers. For instance, you may have one connection for your work and another for your personal mobile. The unit also assists in setting up e-mail accounts which may not be the standard Hotmail or Gmail accounts.
Some other handy applications that come with the iPhone include Weather and by one touch of the button, it gives you the latest weather updates for your region from Yahoo. A YouTube button that allows you to access this popular video network and one of my favourites, the Voice Memos which is ideal for time management and of course as a tool for a to do list.
Settings
The Apple iPhone has a variety of settings from Airplane Mode, Sounds, Wallpaper and iPod settings to name just a few of the options. The settings are extremely easy to configure and simply by touching the intended option, for instance "Sounds" and the user can configure the sounds that the iPhone will use. It really cannot get any simpler than this and as per usual, Apple have truly outdone themselves.
Mobile Phone & Music
As a mobile phone, you can use the device like a standard device to your ear that is extremely clear as is the hands free mode, thanks to the quality speakers. The phone capabilities have additional icons that include Favourites, Recents, Contacts, Keypad and Voicemail.
If you have voicemail with your phone provider, the iPhone can automatically download the message for you and all you need to do is push play to listen to it. As an iPod device, the unit we tested boasts 30GB of pure music goodness and with the help of iTunes, things could not be simpler.
Conclusion
At the end of the day, the Apple iPhone 3GS was easily the most impressive item that we had the chance of reviewing in 2009 and it's definitely a contender for product of the year.
Apple have taken things that were once the domain of computers and GPS systems and have successfully married it with a stylish mobile phone plus the impressive capability of an iPod.
This unit comes in two sizes, 16GB and 30GB and whether your a business professional, student or anyone who uses a mobile phone and wants a truly unique portable multimedia experience, than this is the device for you. We really could not fault this device.
Highly Recommended
Official Specifications
Size and weight
Height: 115.5 mm (4.5 inches)

Width: 62.1 mm (2.4 inches)

Depth: 12.3 mm (0.48 inch)

Weight: 135 grams (4.8 ounces)
Capacity
Camera, photos and video
3 megapixels

Autofocus

Tap to focus

Video recording, VGA up to 30 fps with audio

Photo and video geotagging

iPhone and third-party application integration
Cellular and wireless
UMTS/HSDPA (850, 1900, 2100 MHz)

GSM/EDGE (850, 900, 1800, 1900 MHz)

Wi-Fi (802.11b/g)

Bluetooth 2.1 + EDR
Location
Assisted GPS

Digital compass2

Wi-Fi

Cellular
Power and battery3
Built-in rechargeable lithium-ion battery

Charging via USB to computer system or power adapter

Talk time:
Up to 12 hours on 2G
Up to 5 hours on 3G
Standby time: Up to 300 hours
Internet use:
Up to 5 hours on 3G

Up to 9 hours on Wi-Fi

Video playback: Up to 10 hours

Audio playback: Up to 30 hours
Display
3.5-inch (diagonal) widescreen Multi-Touch display

480-by-320-pixel resolution at 163 ppi

Fingerprint-resistant oleophobic coating

Support for display of multiple languages and characters simultaneously
Audio playback
Frequency response: 20Hz to 20,000Hz

Audio formats supported: AAC, Protected AAC, MP3, MP3 VBR, Audible (formats 2, 3 and 4), Apple Lossless, AIFF and WAV

User-configurable maximum volume limit
Video playback
Video formats supported: H.264 video, up to 1.5 Mbps, 640 by 480 pixels, 30 frames per second, Low-Complexity version of the H.264 Baseline Profile with AAC-LC audio up to 160 Kbps, 48kHz, stereo audio in .m4v, .mp4 and .mov file formats; H.264 video, up to 2.5 Mbps, 640 by 480 pixels, 30 frames per second, Baseline Profile up to Level 3.0 with AAC-LC audio up to 160 Kbps, 48kHz, stereo audio in .m4v, .mp4 and .mov file formats; MPEG-4 video, up to 2.5 Mbps, 640 by 480 pixels, 30 frames per second, Simple Profile with AAC-LC audio up to 160 Kbps, 48kHz, stereo audio in .m4v, .mp4 and .mov file formats
Mac system requirements
Mac computer with USB 2.0 port

Mac OS X v10.4.11 or later

iTunes 8.2 or later (free download from www.itunes.com/au/download)

iTunes Store account

Internet access

Windows system requirements
PC with USB 2.0 port
Windows Vista; or Windows XP Home or Professional with Service Pack 2 or later

iTunes 8.2 or later (free download from www.itunes.com/au/download)

iTunes Store account

Internet access
Environmental requirements
Operating temperature: 0° to 35° C
(32° to 95° F)

Nonoperating temperature: -20° to 45° C
(-4° to 113° F)

Relative humidity: 5% to 95% noncondensing

Maximum operating altitude: 3000 m (10,000 feet)
Sensors
Accelerometer

Proximity sensor

Ambient light sensor

Headphones
Apple Earphones with Remote and Mic
In the box
iPhone 3GS

Apple Earphones with Remote and Mic

Dock Connector to USB Cable

USB Power Adapter

Documentation

SIM eject tool