AMD Phenom X4 9850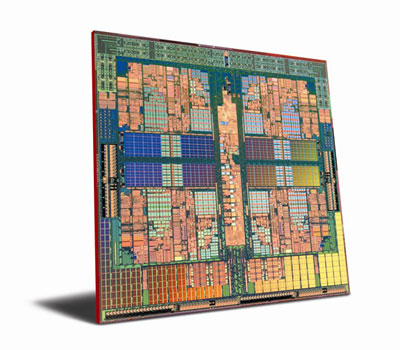 AMD continues to build on their popular "Phenom" range of CPU's with their latest endeavor entitled the Phenom X4 9850 that runs at a speedy 2.5Ghz with 65nm Silicon On Insulator Process Technology, 125W, 2.0Ghz Memory Controller and also allows for easy overlocking by increasing the multiplier. How's that for an improvement over the Phenom 9600 Black Edition?
AMD have also addressed the issues they had with their first Phenom processors, ensuring that their latest range is able to handle a wide variety of issues from installation to software and performance. The processor also features priority technology from AMD which include next-generation HyperTransport 3.0 and the energy efficient Cool'n'Quiet 2.0 technology ensuring for a safer and powerful experience. Our test machine included 4GB Corsair RAM, ATI Radeon HD 3870 X2 graphics card, 200GB Hard Drive and the latest ASUS motherboard with Windows Vista 64-bit and the up to date drivers.
Specifications & Features
| | |
| --- | --- |
| Model / Processor Frequency: | AMD Phenom Processor Model X4 9850 / 2.5GHz |
| L1 Cache Sizes: | 64K of L1 instruction and 64K of L1 data cache per core (512KB total L1 per processor) |
| L2 Cache Sizes: | 512KB of L2 data cache per core (2MB total L2 per processor) |
| L3 Cache Size: | 2MB |
| Memory Controller Type: | Integrated 128-bit wide memory controller, capable of being configured for dual 64-bit channels for simultaneous read/writes |
| Memory Controller Frequency: | Up to 2.0GHz with Dual Dynamic Power Management |
| Types of Memory: | Support for unregistered DIMMs up to PC2 8500 (DDR2-1066MHz) |
| HyperTransport 3.0: | One 16-bit/16-bit link @ up to 4000MHz full duplex |
| Total Processor Bandwidth: | Up to 31.5 GB/s bandwidth |
| Packaging: | Socket AM2+ 940-pin organic micro pin grid array (micro-PGA) (backward compatible with Socket AM2) |
| Fab location: | AMD's Fab 36 wafer fabrication facilities in Dresden, Germany |
| Process Technology: | 65nm (.065-micron) Silicon on Insulator (SOI) |
| Approximate Transistor count: | approx. 450 million (65nm) |
| Approximate Die Size: | 285 mm2 (65nm) |
| Nominal Voltage: | 1.1-1.25 Volts |
| Max Ambient Case Temp: | 70 degrees Celsius |
| Max TDP: | 125 Watts |
| Future Memory Controller Note: | Future 45nm processors versions are planned to include support for DDR3 memory |
Benchmarks
As we've previously mentioned in other reviews, benchmarks can be a tricky beast and although they mimic real-world applications, they can be tweaked which makes it very difficult to accurately measure and every computer setup is different. Even so, it's a great tool to test against other CPU's and to see where things stand in the real world. We used Sisoft Sandra XII to give us an overall perspective of the CPU compared to its older brother the 9600 and one of Intel's top line of CPU's, the QX9770.
Sisoft Sandra XII - CPU Test

| | |
| --- | --- |
| Intel Core 2 Extreme QX9770 | (59412) |
| AMD Phenom 9850 | (36102) |
| AMD Phenom 9600 | (33923) |
Sisoft Sandra XII - Multimedia Test

| | |
| --- | --- |
| Intel Core 2 Extreme QX9770 | (422931) |
| AMD Phenom 9850 | (133293) |
| AMD Phenom 9600 | (87238) |
As you can see from the results, the Phenom 9850 performed quite well when compared to Intel's QX9770 with the factor of backward compatibility and price which should also be taken into account. We also tested the AMD Phenom 9850 with Windows Media Encoder version 9.0 which performed exceptionally well when compared to Intel's QX9770 as this is using the raw grunt of the system to number crunch.
Windows Media Encoder version 9.0
(lower numbers are better)

| | |
| --- | --- |
| Intel Core 2 Extreme QX9770 | (154) |
| AMD Phenom 9850 | (204) |
| AMD Phenom 9600 | (259) |
Graphical and Gaming Capabilities
Futuremark's 3DMark06 is considered the definitive bench marking program which tests a wide range of capabilities of the CPU and system and there was a significant improvement over the Phenom 9600 with the Phenom 9850 still coming second to the QX9770. Needless to say, the Phenom with the correct setup is still a formidable foe in the graphical department.
3DMark 06 - Overall Score

| | |
| --- | --- |
| Intel Core 2 Extreme QX9770 | (13299) |
| AMD Phenom 9850 | (11701) |
| AMD Phenom 9600 | (9290) |
What better way to test the power of the CPU than with some of the greatest first person shooter games available on the market that truly pushes the gaming world with its exceptional graphics and amazing real-world likeness. Call of Duty by Activision is easily one of the most impressive titles on the market which was released late last year with some amazing attention to detail and is as close as most of us will get to being in an actual war.
Call of Duty

| | |
| --- | --- |
| Intel Core 2 Extreme QX9650 | (74.2) |
| AMD Phenom 9850 | (72.9) |
| AMD Phenom 9600 | (66.1) |
As you can see from the results of Call of Duty, between the Intel QX9650 and AMD Phenom 9850, the difference is minimal and is quite a noticeable improvement over our favourite CPU, the AMD Phenom 9600 due to its price range and ability to use older existing motherboards.
Crysis (800x600 Low Detail)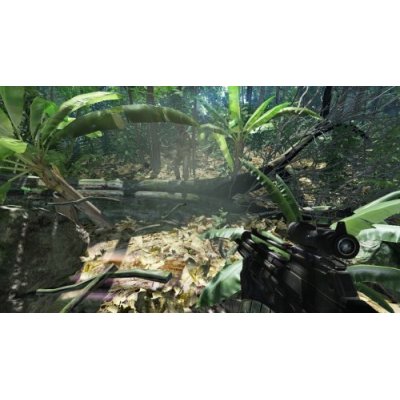 Crysis is one of the most impressive and powerful first person shooter games on the market and I have not yet seen a processor or system that can run this game with full detail, even though many have tried. It's the most graphically power hungry title on the market at the moment with realistic gaming environment and real-world physics. The AMD Phenom 9850 performed well when compared to the more powerful and more expensive Intel CPU's and at the end of the day, the title was still quite playable, the only downside is that the resolution needed to play is lower.
| | |
| --- | --- |
| Intel Core 2 Extreme QX9650 | (127.2) |
| AMD Phenom 9850 | (94.2) |
| AMD Phenom 9600 | (82.32) |
Although AMD still have a long way to go if they are to catch up to the high end Intel CPU's, they are a great midrange processor that offers Quad Core performance which is great for those with budgets but still want something powerful. Match that with the ability to overclock (thanks for AMD's Overdrive software) and gamers on a budget can still play titles such as Crysis and Call of Duty.
Conclusion
The new AMD Phenom X4 9850 goes beyond the original Phenom series, offering improved performance and best of all, the ability to easily upgrade for existing users of the AMD Socket AM2 platform. Although not as powerful as some of the new Intel CPU's on the market, it still offers decent and sturdy performance at a fraction of the cost. With quad cores, B3 Silicon Revision, 125W of Max TDP, this processer is a great option for the mid-range computer users who still want to use the latest software and play the latest games. Another impressive CPU from AMD!