AMD Athlon II X2 250 & AMD Phenom II X2 550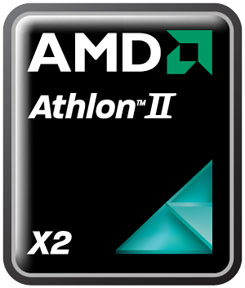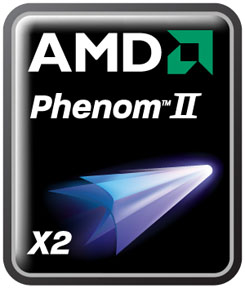 As the gap between AMD and Intel narrows even more, AMD have released another two interesting dual-core CPUs that include the Athlon II X2 250, (yes the Athlon CPU is back) and another Phenom II processor, the X2 550. Both processors use the impressive 45nm architecture with the Athlon II using the Regor core and the Phenom II using the Callisto core.

In terms of processor speeds, the Athlon II X2 250 runs at 3Ghz and the Phenom II X2 550 runs at 3.1GHz. Another impressive selling point is that AMD have kept both CPU's quite affordable and once again, backward compatibility has been taken into account for these dual-core processors with an AM2+ or AM3 motherboard compatibility. We also recommend that you check with your motherboard manufacturer whether your board can support the latest CPU's before running out and purchasing one.
Want more features? Well, the the Phenom II X2 550 supports the Dragon Platform which means with the correct motherboard (AMD 790GX/FX chipset) and graphics card (Radeon 4000 series graphics) from AMD, this combination creates a definitive gaming platform that has been exclusively designed for some serious speed and gaming.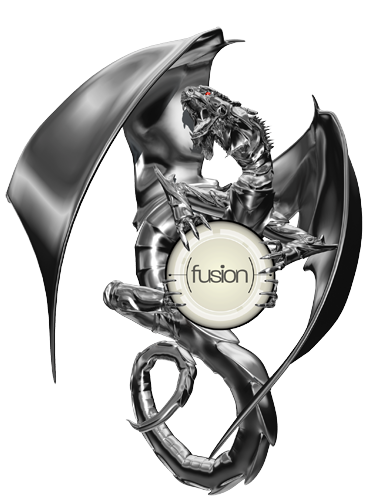 Power Consumption

AMD have added their Cool'n'Quiet version 3.0 technology to both CPU's, ensuring better power consumption. This technology ensures that both cores don't always run at the top speeds which assists in power consumption as they are not always throttled at top speeds. However when needed, the power can also be called back.

Due to the affordability of the CPU's, the Phenom II X2 550 is targeted towards the computer enthusiast, including gamers, whereas the Athlon II targets the average computer user that uses office software, surfing the net and the occasional game. With this in mind, the biggest difference between both processors is the removal of the L3 cache from the Athlon II, however it has a larger L2 cache as displayed by the following table;
ASIC
Fab
CPU Cores
Clock Frequency/MHz
HT Frequency
Socket
Memory DDR2
Memory DDR3
L1 cache
L2 cache
L3 cache
TDP

Phenom II X2 550

Callisto/Deneb
45nm
2
3.1 GHz
2.0Ghz
AM3
800/1067
1333/1600
2x 128KB
2x 512MB
6MB
80W
Athlon II X2 250

Regor
45nm
2
3.0Ghhz
2.0Ghz
AM3
800/1067
1333/1600
2x 128KB
2x1024MB
None
65W
System Specifications

For this review, we used the following system specifications to assist with our testing and benchmarking. Be warned though that testing and benchmarking is quite subjective due to the numerous types of hardware available.
Motherboard - Gigabyte GA-MA790GP-DS4G
Graphics Card - HD4870 X2
Memory - 2048MB (2 x 1024MB) DDR2 CAS4 1066Hz Dominator Corsair
Hard Drive - Seagate Constellation 500GB
Power Supply - Titan 850W ATX Intel AMD PC Case Power Supply
Operating System - Microsoft Windows Vista Ultimate Edition (64-bit) with SP
DirectX - 10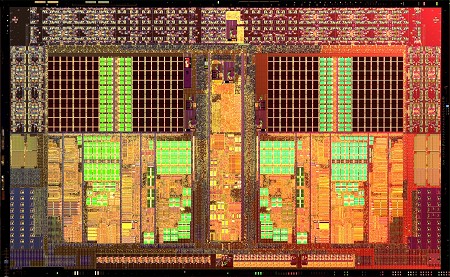 Both CPU's were tested on a clean system of Windows Vista Ultimate 64-bit, ensuring cleaner benchmarking results and of course faster operating speeds. Once installed on our test machine, both CPU's booted quickly into the operating system and just performing basic office commands and surfing the net showed that both CPU's performed quite well.

The first benchmarking program we used was SiSoft Sandra 2009, one of the world's most definitive and trusted programs as it supports the latest CPU and hardware configurations. SiSoftware Sandra 2009 stands for System ANalyser, Diagnostic and Reporting Assistant) or Sandra for short.
SiSoft Sandra 2009 Processor Arithmetic
Athlon II X2


(21) Float Buffered iSSE2


(17) Int Buffered iSSE2
Phenom II X2 550


(22) Float Buffered iSSE2


(18) Int Buffered iSSE2
SiSoft Sandra 2009 Memory Bandwidth Performance
Athlon II X2


(10.91) Float Buffered iSSE2


(10.90) Int Buffered iSSE2
Phenom II X2 550


(10.81) Float Buffered iSSE2


(10.81) Int Buffered iSSE2
SiSoft Sandra 2009 Multimedia
Athlon II X2


(69) Float Buffered iSSE2


(43) Int Buffered iSSE2
Phenom II X2 550


(70) Float Buffered iSSE2


(45) Int Buffered iSSE2
From the results, without getting into a slanging match between different CPU's, brands and the like. Both these new CPU's are about middle range in Sandra results and considering the price of the processors, it's definitely a step in the right direction, considering these volatile times.
Between you and me, these CPU's also outscored some of Intel's Dual-Core processors. It may not win medals with speed, however it successfully manages to get the job done, especially when it comes to the crunch such as with Microsoft Office, surfing the net or creating videos for example.
3DMark06 and 3DMark Vantage
3DMark06 is still one of the definitive benchmarking programs available due the variety of systems that it has been run on since its concept. 3DMark is a computer benchmarking tool created and developed by Futuremark Corporation to determine the performance of a computer's 3D graphic rendering and CPU workload processing capabilities. Once again, both programs mirror a midrange CPU with both quite capable of gaming, however the Phenom II has a slight advantage.
3DMark06 CPU Test
Athlon II X2


(2468)
Phenom II X2 550


(2581)

3DMark06 CPU Test
Athlon II X2


(5099)
Phenom II X2 550


(5302)
Although compared to the higher end Intel and AMD chips, the CPU's scored on the lower end of the scale. Needless to say, they have the grunt for middle resolution gaming as displayed by Futuremark's benchmarking scores.
Gaming
Crysis Warhead
In Crysis Warhead, players will don the Nanosuit of Sergeant Sykes, also known as 'Psycho', one of the most memorable characters from Crysis. More brash and aggressive than his Delta Force squadmate Nomad, players will experience Psycho's parallel story during the events of the original game, finding that life on the other side of the island is even more intense and explosive than they ever could have imagined. Luckily, Psycho's Nanosuit is just as capable and he's equipped with an even bigger arsenal of fully customizable weapons and new vehicles, giving players access to the tools they need to dominate any situation.
With the latest DirectX, we tested Crysis Warhead on both CPU's with some interesting results that proved some decent frames per second that in laymen in terms, means it was playable, provided you are on a midrange resolution of 1280x1024. I'm still yet to see a CPU show some high-end scores for Crysis.
Resolution 1024x768
AMD Phenom II X2 550


(47)
Athlon II X2


(41)
Resolution 1280x1024
AMD Phenom II X2 550


(43)
Athlon II X2


(42)

Resolution 1600x1200
AMD Phenom II X2 550


(36)
Athlon II X2


(35)

BioShock
BioShock is a revolution in the shooter genre that will forever change the expectations for the FPS. Going beyond "run and gun corridors," "monster-closet AIs" and static worlds, BioShock creates a living, unique and unpredictable FPS experience. BioShock is the Shooter 2.0.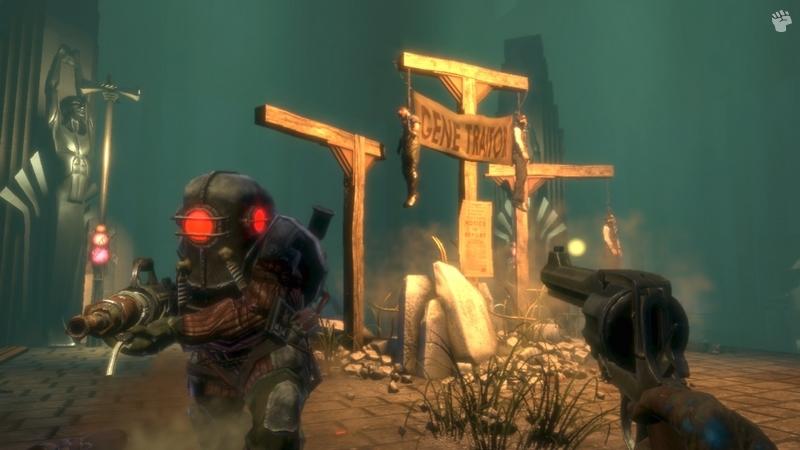 Resolution 1024x768
AMD Phenom II X2 550


(167)
Athlon II X2


(165)
Resolution 1280x1024
AMD Phenom II X2 550


(144)
Athlon II X2


(143)

Resolution 1600x1200
AMD Phenom II X2 550


(116)
Athlon II X2


(114)
Although the CPU's lack the grunt with Crysis, BioShock proved another story with some very very impressive results that at the end of the day shows that these little affordable chips can be used as gaming CPU's. Other tests included Unreal Tournament and World of War Craft and you guessed it... some decent mid range scores.
Overclocking
With some fiddling, both CPU's can be overclocked and depending on your cooling, you can get some impressive speeds. Thankfully using AMD Overdrive 3.0, this allows users to immediately achieve results. We did manage to get some stable results by overclocking the CPU by 25% and other users have even managed to push speeds of up to 4Ghz. Needless to say, this is definitely a challenge for computer enthusiasts. With the right cooling and airflow in your case, I'm sure some impressive speeds could be reached. Of course, overclocking may damage or reduce the life span of the processor.
Conclusion

In conclusion, both CPU's from AMD showed some decent results, especially in reference with their price range. It's definitely targeted for users on a budget which really gives good value for money in creating a decent mid-range system.
The Phenom II X2 550 is definitely (slightly) better for gaming and if you can afford the extra, I would be much inclined to go for this model. In regards to overlocking, both CPU's allow the user to tweak a variety of settings.
Best of all, both CPU's support the AM2+ motherboard, including the AM3 motherboard, ensuring greater access for users. By moving to a AM3 motherboard with DDR3, you will also see some slight improvements with speed and this is a great way to slowly upgrade your system. AMD have also narrowed the gap with Intel's dual-core CPU's and with a little overclocking, the user will definitely win.