AMD A10-5800K
The TRINITY has arrived for desktop PC owners and we don't mean the Christian Trinity either, although God may have played a part in its creation... in all seriousness, we mean the new "CPU" from AMD called the A10-5800K that has a set frequency of 3.8Ghz which can be boosted to 4.2Ghz and even beyond with appropriate cooling. Welcome to the future!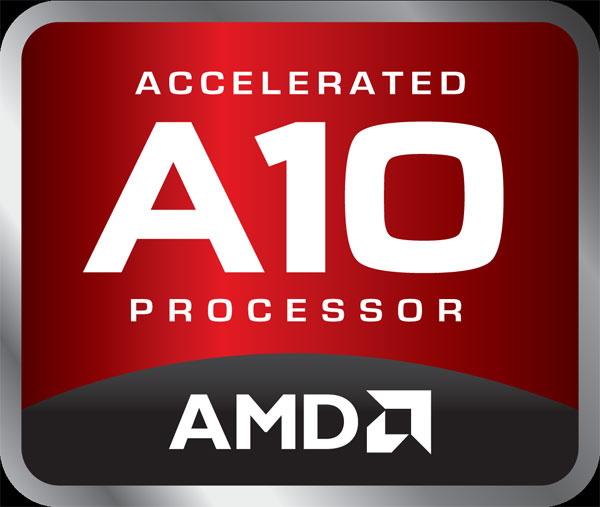 Although codename Trinity has been around for a few months now in notebooks, it is time for desktop owners to experience the new CPU or APU (Accelerated Processing Unit) as AMD call it. It is basically a powerful cohesion between the CPU and GPU, hence the term discrete level graphics. We were a little apprehensive on how "notebook technology" would translate to a desktop but from our results, we were very impressed. It also harkens back to the old days of the CPU where multimedia was king.
This second generation A-Series APU features four Piledriver CPU cores with 4MB of L2 on an FM2 socket which greatly improves energy consumption as the core only enables the cache when necessary but the performance is there if needed. It even supports the AMD AppZone, a list of applications and games that use the OpenCL platform which these APU's thrive on. For example, programs and games such as Adobe Photoshop CS6 and Deus Ex will work better on this platform due to the special mix of CPU and GPU from AMD.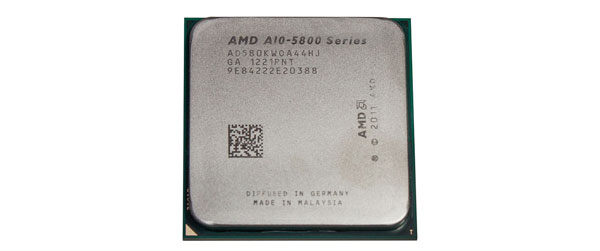 Let's have a look at what makes the A10-5800K tick.

| | | | | | | | | | |
| --- | --- | --- | --- | --- | --- | --- | --- | --- | --- |
| APU Model No. | AMD Radeon Brand | TDP | CPU Core | CPU Clock (Max/Base) | AMD Radeon Cores | GPU Clock | L2 Cache | Max DDR Memory | RRP |
| A10-5800K | HD 7660D | 100W | 4 | 4.2Ghz/3.8Ghz | 384 | 800Mhz | 4MB | 1866Mhz | $149 - 189AUD |
As you can see from the above specifications, the A10-5800K is no slouch when it comes to power and by combining the CPU with the GPU, it creates this powerful multimedia system that is perfect for watching videos. This includes a variety of AMD technologies such as AMD Quick Stream Technology and the HD Media Accelerator to improve your video experience.
The only downside of this APU is that it requires a new motherboard that supports the new FM processor socket but if you purchase a new motherboard and as AMD likes backward compatibility, you could almost be guaranteed that this board will probably outlast your APU.
It even supports EyeFinity technology that allows for up to four monitors to be connected, including 3D support and 45% more graphical performance than the 1st generation A8 APUs. This also includes more powerful gaming but we'll get to our benchmarks a little later. Below is the architecture behind the A10-5800K and once again, it features a variety of additions from the first generation APU's, including other elements AMD's previous architectures.

A10-5800K Architecture
Microarchitecture
Bulldozer (Piledriver)
Platform
Virgo
Processor core

Trinity
Core stepping

B0
Manufacturing process
0.032 micron
1303 million transistors
Die size
246mm2
Data width
64 bit
The number of cores
4
The number of threads
4
Floating Point Unit
Integrated
Level 1 cache size

2 x 64 KB shared instruction caches
4 x 16 KB data caches
Level 2 cache size

4 MB
Multiprocessing
Uniprocessor
Features

MMX
SSE
SSE2
SSE3
SSE4

SSE4a

AES instructions
Advanced Bit Manipulation
Advanced Vector Extensions
AVX 1.1
AMD64 technology

Virtualization technology

Enhanced Virus Protection

Turbo Core 3.0 technology

Low power features
PowerNow!
On-chip peripherals

Dual-channel DDR3 memory controller
PCI Express 2.0
HD graphics controller
HD Media Accelerator
Review System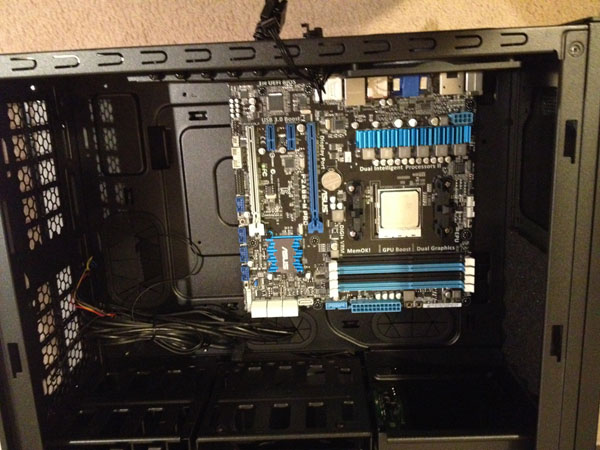 | | |
| --- | --- |
| APU | AMD A10-5800K (3.80GHz) |
| MOTHERBOARD | ASUS F2 A85-M Pro (A85X) |
| MEMORY | 2 x 8GB DDR-1600 (9-9-9-20) |
| VIDEO DRIVERS | AMD Catalyst 12.9 |
| OPERATING SYSTEM | Windows 7 64-Bit Ultimate |
| HARD DRIVE | Intel SSD 120GB |
| CPU COOLER | Cooler Master Gemin II M4 CPU Cooler |
| POWER SUPPLY | Cooler Master GX 750W Bronze |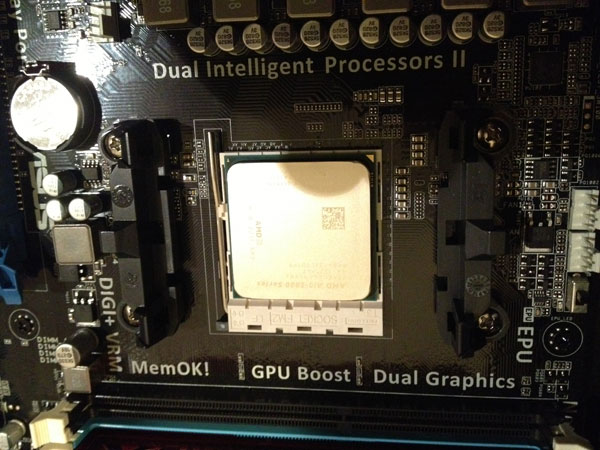 I sometimes loath building new systems but fortunately this was a new system and thanks to Cooler Master, we tested this beast in their new Silencio 650 Case which had plenty of room to move. The entire installation took around 30 minutes to build the machine and the Windows 7 installation took around 15 minutes. Once installed, we were ready to begin our testing, especially in relation to gaming.
Benchmarking
In terms of AMD's competitor Intel, we decided to compare the A10-5800K with its nearest competitor, the Intel Core i7-3220 which is around $299AUD online. The first test was with Cinebench 11.5, a great benchmarking tool from MAXON that tests the 3D capabilities of the APU. The A10-5800K kept up well with the Intel Core i3 on both tests, with its competitor just nudging out its nearest competition. Given these results and the cost of the A10-5800K, the AMD APU would come out on the top, especially in relation to its overclocking capabilities.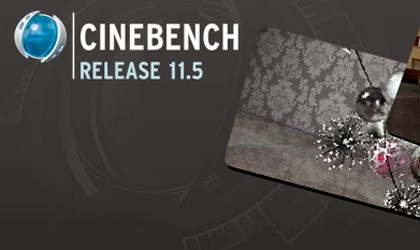 Cinebench 11.5 - Single Threaded



1.08 (Intel Core i3 3220)


1.00(AMD A10-5800K)
Cinebench 11.5 - Multi Threaded



3.33 (Intel Core i3 3220)


3.32 (AMD A10-5800K)
7-Zip
7-Zip is a high compression application used for adding and extracting files for PC owners. The best part of 7-Zip is that it comes with a benchmarking tool and is a great program to use in a "real-world" environment. THE A10-5800K beat the Intel with a considerable amount of breathing room which shows this APU has the grunt when needed.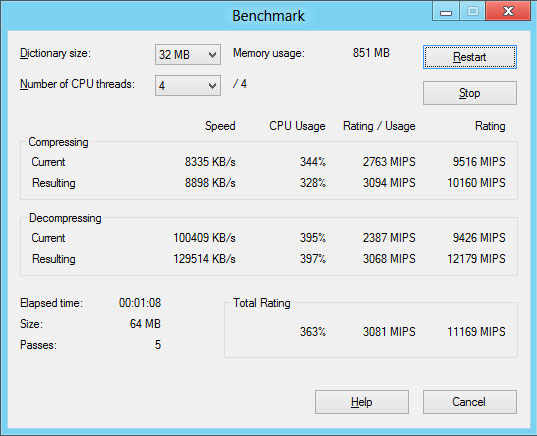 7-Zip



11,169 (AMD A10-5800K)


9,820 (Intel Core i3 3220)

PCMark 7
PCMark is developed by our friends at Futuremark and is a free PC Benchmark testing program which is quite popular amongst overclockers, gamers and users wanting to know how their PC rates against other configurations from around the world. As per our predications, the AMD CPU kept pace with the Intel i3 3220, however through some careful overclocking, we did manage to improve this score.
PCMark 7

4,320 (Intel Core i3 3220)


4,218 (AMD A10-5800K)
SYSmark 2012 1.5
SYSmark 2012 is another premier benchmarking program which once again tests a variety of real-world tests. More specifically, this is focused on office productivity, media creation and even 3D modelling. In our versus test with Intel, both CPU's performed quite similar to each other and as expected, the AMD APU won on the 3D modelling test thanks to the discrete graphics.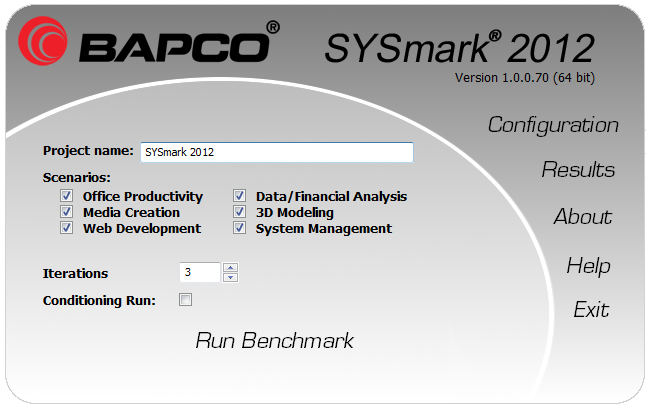 SYSmark 2012 1.5 Overall

144 (Intel Core i3 3220)


131 (AMD A10-5800K)
SYSmark 2012 1.5 Office Productivity

143 (Intel Core i3 3220)


132 (AMD A10-5800K)
SYSmark 2012 1.5 Media Creation

149 (Intel Core i3 3220)


133 (AMD A10-5800K)
SYSmark 2012 1.5 Web Development

133 (Intel Core i3 3220)


94 (AMD A10-5800K)
SYSmark 2012 1.5 Data/Financial Analysis

165 (Intel Core i3 3220)


159 (AMD A10-5800K)
SYSmark 2012 1.5 3D Modelling

144 (AMD A10-5800K)


129 (Intel Core i3 3220)
DiRT 3
DiRT 3 is one of the best off-road rally racing games on the PC which is based on the Colin McRae series. It's also one of those AMD apps that supports this APU. We tested the graphics on a resolution of 1920x1080 and this is where the combination of the CPU and GPU became the star of the show. It was actually quite playable at this resolution (well almost) and by dropping the resolution to 1280x1024, we managed to double the frame rate.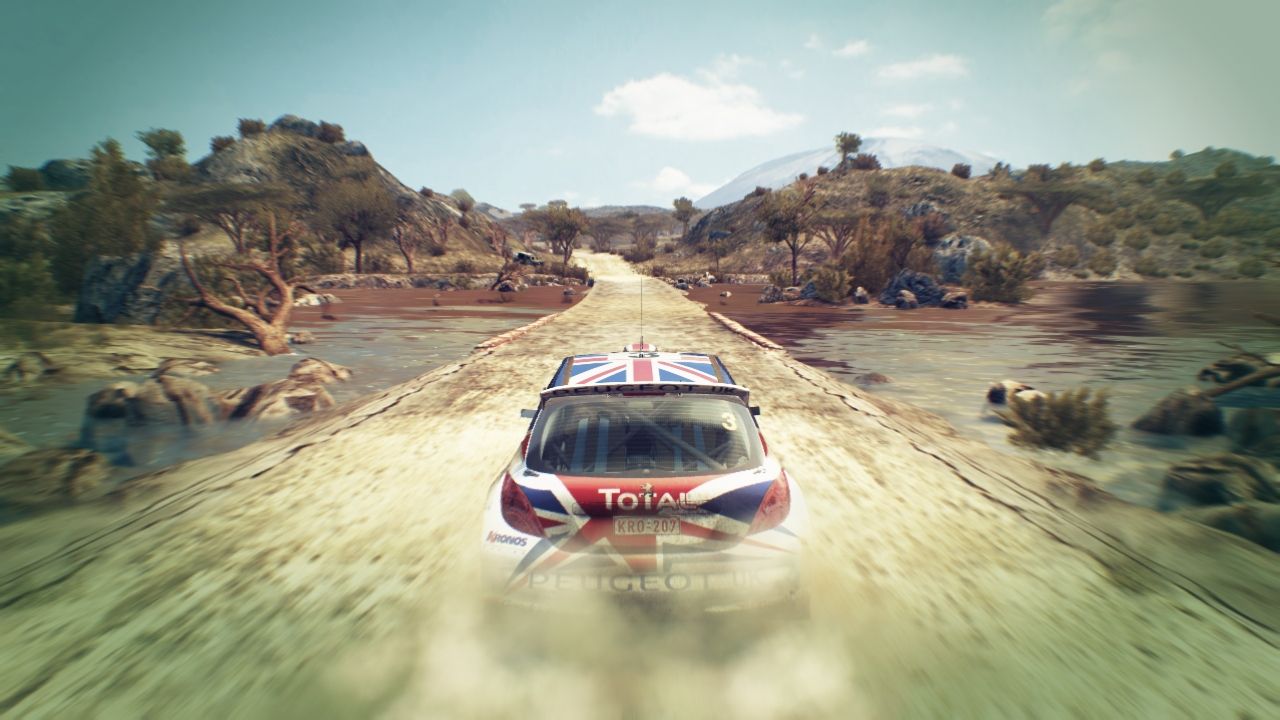 DiRT 3 (1920x1080)

33.42 (AMD A10-5800K)


14.23 (Intel Core i3 3220)
DiRT 3 (1280x1024)

59.42 (AMD A10-5800K)
Sleeping Dogs
Sleeping Dogs is a sandbox game in the same vein as Grand Theft Auto and is set in the rough streets of Hong Kong using the amazing Havok physics engine. This game also supports the AMD AppZone and produced some interesting results. Using the same resolution of 1080p, the results were impressive, although not really playable... although we did beef up the settings. On a lower resolution with the detail tweaked, we got around 33 frames per second at 1280x1024 which was still playable.
Sleeping Dogs (1920x1080)

19.99 (AMD A10-5800K)


10.28 (Intel Core i3 3220)
Sleeping Dogs (1280x1024)

33.09 (AMD A10-5800K)
Batman Arkham City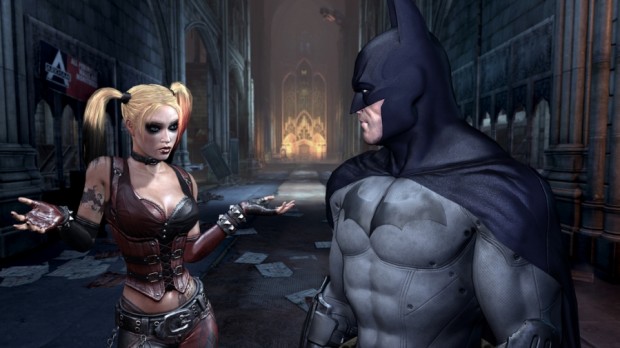 Batman Arkham City, the sequel to Arkham Asylum is one of the best superhero games ever created and looks fantastic on 1080p but unfortunately it was unplayable on this APU. However by dropping the resolution to 1280x1024, we managed to almost triple the frame rate to around 59. Overclocking also provides a slight increase to not just Batman but all the games which just proves that AMD are onto a winner with its APU.
Batman Arkham City (1920x1080)

18.23 (AMD A10-5800K)


11.23 (Intel Core i3 3220)
Batman Arkham City (1280x1024)

59.02 (AMD A10-5800K)
As you can see, if you want to play the occasional game on this APU, it is quite possible but more importantly, you can play the latest games. However when this APU is linked to a high-end graphics card, the results are quite spectacular.
Overclocking
For overclockers and gamers, the AMD A10-5800K was built for strong and stable performance at higher speeds. Whether users want to run it at the standard speed of 3.8Ghz or overclock it to 4.2Ghz and beyond, AMD have given the tools for the user. The first bridge for the A10-5800K for us was the 4.2Ghz barrier which provided no issues in terms of performance breakdown. At this speed, Windows, games and general PC usage was considerably faster than the stock speed of the APU. All we had to do to get this speed was change the multiplier from 38x to 42x via AMD OverDrive.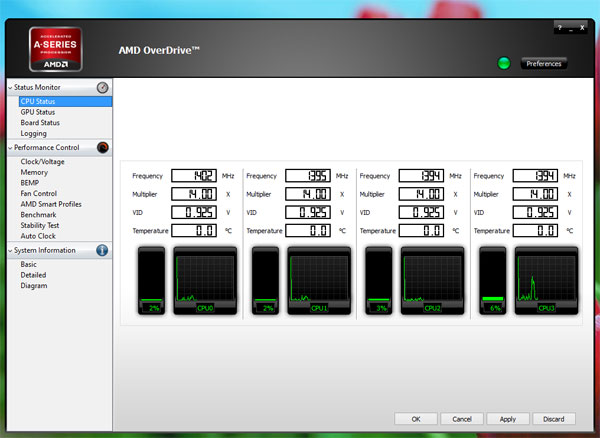 The next barrier was 4.4Ghz and once the CPU and voltage were adjusted, there was once again no performance issues. We even pushed the CPU to 4.6Ghz and things did start to become a little unstable, however from a little more tweaking, I strongly believe that this speed is possible without any crazy cooling. The only issue with overclocking is that the CPU does use more power consumption but it is worth the price. Once again AMD have raised the ante in terms of performance options available to the end-user.
This APU is quite powerful and if you want to combine it with a more powerful graphics card such as the HD 7970, the options are there and gamers/overclockers will be over the moon when it comes to speed and stability. Best of all, the APU features overclocking on the fly.
Editorial Update: According to CPU-Z results, some hardcore overclockers have managed to get this CPU to an unbelievable 7.38Ghz (10/10/2012) thanks to cooling via liquid nitrogen. Although Impulse Gamer managed to get the CPU to 4.5Ghz via traditional cooling methods, 7.38Ghz is truly a feat in itself with most overclockers running the CPU around 5.1Ghz. Of course, Liquid Nitrogen isn't available to most overclockers and probably does border on disaster but it just goes to show that AMD have really let the cat out of the bag with their unlocked A10-5800K.
Final Thoughts
The A10-5800K APU is an affordable upgrade option from AMD and will definitely set a new benchmark in terms of the future of CPUís. Interestingly enough, the A10-5800K is quite similar to Intelís Core i3-3220, however in terms of gaming, the AMD APU is the better choice thanks to Trinity.
As an office machine, especially running everyday programs such as Windows 7, Office, Adobe CS6, surfing the net, movie creation and watching movies, the A10-5800K is a brilliant APU. Even compared to our mega Intel Gaming Machine, Blu-rays were flawless with loading issues whatsoever.
Needless to say, the integrated graphic performance and the ability to overclock, especially the ease of overclocking definitely makes this APU standout from its competitors. If you are looking to dabble in the overclocking world than this is the CPU for you!
Recommended!