The Amazon Kindle 4
The latest next generation Kindle (The Amazon Kindle 4) is almost in Australia and Impulse Gamer had a sneak peak at reviewing this amazing little gadget. For the uninitiated, the Kindle is one of the world's easiest eBook readers which in essence allows people to read a large number of books from one extremely portable device.
The weight of the next generation Kindle is only 170 grams or 5.98 ounces which is lighter than most novels. So what is an eBook? An eBook can be a novel, magazine or even newspaper... did we also mention a dictionary? That's right, the Kindle is your one-stop shop for anything to do with reading books.
Plus with over 750,000 books on the Amazon Kindle store, there is a wealth of information just waiting to be accessed. EBooks are also considerably cheaper than paperbacks (e.g. $9.95 for George R.R. Martin's A Game of Thrones) and there over one million free books as well so you will never be stuck with nothing to read.
Installation

The installation of the Kindle is a breeze. All we needed to do was connect the Kindle to our PC, setup our WiFi connection which is probably the trickiest aspect to this device and then setup our account with Amazon. Once this was done, we were ready to browse the Amazon bookstore. It should be noted that many books have a sample download in order for the potential purchaser to preview the eBook before their purchase.
The design of the Kindle is extremely minimalistic. On the left and right of the Kindle, there are two buttons (each side) that allows you to navigate your eBooks. This includes "Previous Page" and "Next Page". This Kindle is also around 18 percent smaller than the previous unit, however the large 6" e-Ink screen remains.
Unlike tablets, the Kindle screen is very easy on the eyes and definitely prevents eye strain thanks to its sharp text that almost jumps out at you with a respectable resolution of 800x600. Another great aspect of the screen is that you can actually read it outside in the sun and its page turning speed is also quite fast. The only downside of the screen is displaying images but then again, the Kindle is for reading. While reading books, you will never lose the page that you are up to thanks to the Whispersync technology which memorises your current page.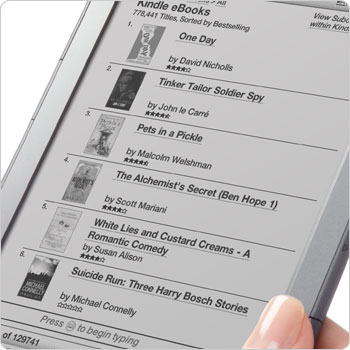 Below the screen, there are five buttons which include "Back", "Keyboard", "5-Way Controller", "Menu" and finally "Home". Last but not least is a USB cable connection which allows you to setup your Kindle and charge the device.
Also in relation to charging, the Kindle is super quick and our device was charged in no time via the USB cable that comes with the unit. Lastly, there is a button next to the USB connection on the left which allows you to turn the power on and off on the Kindle. The Kindle will also notify the user how much battery life is left via the battery status indicator and also your WiFi status connection with five bars indicating strong and no bars signifying no WiFi network.

Another highlight of the new Kindle is the speed of the device which has received a slight power boost that in turn allows you to turn pages quicker. Battery life has also been improved and with the Wi-Fi disabled, the new Kindle can last for around one month without charging. That's probably the most impressive feature that we have seen in any technological device for quite some time.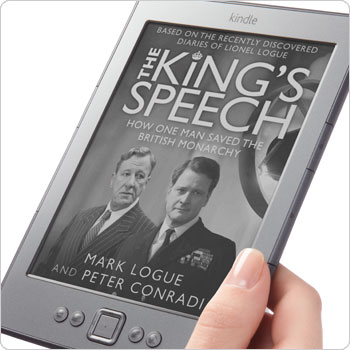 Also, in relation to your book collections, once you have purchased the eBook, it can be read on a multitude of devices that you might own such as PC's or iPad's. Even better is that the Kindle supports free cloud storage which means your purchases are backed up and can be downloaded whenever you need them.
I also like the fact that you can actually "loan" your Kindle books to other users for up to 14-days. I can't see this awesome feature with a certain app store! The Kindle 4 has 2GB of storage which may not seem like much but considering that eBooks are quite small, you can get amass quite a collection on it. That's about 1400 eBooks!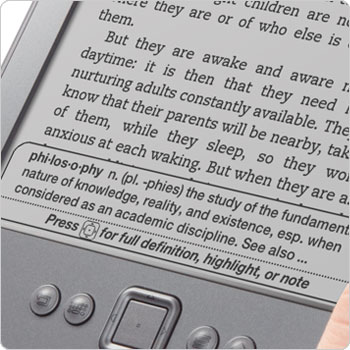 The Kindle 4 has another surprise up its sleeve. The device can even be used to surf the web, however this is quite limited in terms of loading times and presentation. It is handy to have, however where the strength of the Kindle lies is with its eBooks. Another function is that you can e-mail personal documents and PDF's directly to your Kindle with the unit supporting the following formats, Kindle (AZW), TXT, PDF, unprotected MOBI, PRC natively; HTML, DOC, JPEG, GIF, PNG, BMP through conversion.

Final Thoughts?

The fourth generation Kindle is definitely great value for money and if you're looking for a relatively no frills eBook reader than this is the one for you. The Kindle 4 does what it is suppose to do without all the fluff of tablets and more importantly, there is almost zero eye strain when using one. With Christmas just around the corner, it may be the perfect present for all those book lovers!
Features
| | |
| --- | --- |
| Display | Amazon's 6" diagonal electronic paper display, optimised with proprietary waveform and font technology, 600 x 800 pixel resolution at 167 ppi, 16-level grey scale. |
| Size | 166 mm x 114 mm x 8.7 mm |
| Weight | 170 grams |
| System Requirements | None, because it's wireless and doesn't require a computer to download content. |
| Storage | Up to 1,400 books or 2GB internal (approximately 1.25GB available for user content). |
| Cloud Storage | Free cloud storage for all Amazon content. |
| Battery Life | A single charge lasts up to one month with wireless off based upon a half-hour of daily reading time. Keep wireless always on and it lasts for up to three weeks. Battery life will vary based on wireless usage, such as shopping the Kindle Store, web browsing, and downloading content. |
| Charge Time | Fully charges in approximately 3 hours via the included USB 2.0 cable. UK power adapter sold separately. |
| Wi-Fi Connectivity | Supports public and private Wi-Fi networks or hotspots that use the 802.11b, 802.11g, or 802.11n standard with support for WEP, WPA and WPA2 security using password authentication or Wi-Fi Protected Setup (WPS); does not connect to WPA and WPA2 secured networks using 802.1X authentication methods; does not support connecting to ad-hoc (or peer-to-peer) Wi-Fi networks. |
| USB Port | USB 2.0 (micro-B connector) |
| Content Formats Supported | Kindle (AZW), TXT, PDF, unprotected MOBI, PRC natively; HTML, DOC, JPEG, GIF, PNG, BMP through conversion. |
| Documentation | Quick Start Guide (included in box) [PDF]; Kindle User's Guide (pre-installed on device) [PDF]. |
| Warranty and Service | 1-year limited warranty and service included. Optional 2-year Extended Warranty available for UK customers sold separately. Use of Kindle is subject to the Kindle License Agreement and Terms of Use. |
| Included in the Box | Kindle wireless reader, USB 2.0 cable, and Quick Start Guide. |