We recently tested the BRX1121 from Altec Lansing and we also had the pleasure of reviewing the next level of speakers called the VS2421 (this review) which features 2.5" satellite speakers, 5.25" subwoofer with sound, all at an affordable price of $80AUD to $100AUD.
The VS2421 features a sleek black design with a subwoofer, two satellite speakers and a wired remote control to allow the user to change their audio settings. My favourite aspect of the VS2421 is that it features an inbuilt microphone that easily allows you to communicate with other internet users without the need of fiddly microphones.
Best of all, the VS2421 is quite small that allows for added desktop space without losing that audio quality that we all enjoy. As with the BXR1121, the VS2421 features a wall mountable design, a connection for other audio devices such as MP3 players and a headphone jack for private listening.
The installation of the VS2421 was a breeze and it simply plugged into our personal computer without any hassles whatsoever. In a matter of minutes, our PC was rocking to MP3's and the like which boasted quite a decent sound experience.
Wish to listen to your MP3 player? Easy! Simply plug the device into the speaker system. Wish to use the built-in microphone? Easy! Simply manoeuvre the wired controller to your preferred place and you're ready to go. With 28 Watts of RMS power and 56 watts at peak power, the VS2421 is quite an impressive sound system that offers true bass and extreme volume for games, music or movies.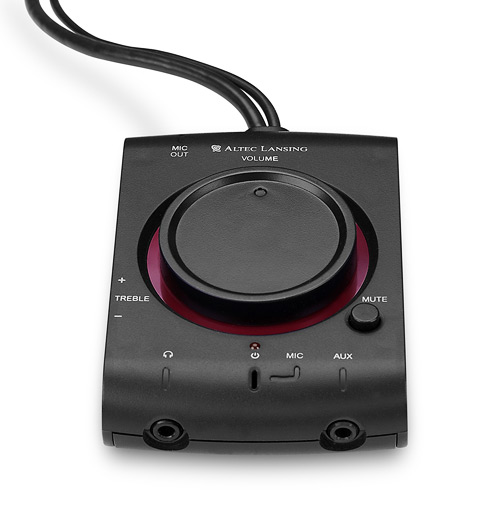 We tested the device with MP3 music, audio CD's, movies and games with the VS2421 performing quite well at all these audio formats. Although I'm not a huge fan of watching movies on the PC, music and gaming was a superb experience. Games really had a grunt behind them as did the capability of listening to music on the VS2421. Although the wired control is a clever device, it is a little fiddly to use but does give users who wish to communicate over the internet an extra option.
In conclusion, the VS2421 is a great buy and product from Altec Lansing and boasts more clarity and bass than the BRX1121 which does a slightly hollow sound to it. We could easily recommend the VS2421 to a vast majority of computer users who wish to enjoy audio on their PC at an affordable price.
Easy to use control system, great design and good audio, this is definitely a product that I suggest those in the market for speakers should investigate and with Altec Lansing behind the creation of the device, users are almost guaranteed a good product.
Features
High-quality stereo - Custom-engineered full-range 2.5" ported speakers deliver clean, full-spectrum sound with outstanding accuracy.

Space-saving subwoofer – Delivers remarkably big sound from a slim 5.25" speaker that shakes the room without taking up a lot of room under your desk.

Built-in microphone – Gives you talk-back capabilities for Internet communications (VoIP) and interactive gaming. Features automatic feedback cancellation.

Small footprint –Compact satellite speaker design leaves plenty of room on your desktop.

Ultra-convenient controls –Wired controller offers easy fingertip control of volume, treble, and mute functions. Bass control is right on the subwoofer.

Wall-mountable design –Simply remove the base and use the keyhole on the back of each satellite speaker.

iPod / MP3 Player Jack –Connect your iPod, MP3 player, or CD player at the same time as your computer.

Headphone Jack – For private listening.