Altec Lansing has been associated with audio for over 70 years and PC users have enjoyed the Altec Lansing audio experience that has not only been affordable but offered quality as well. One of their latest forays to the market is the BXR1121 that will give PC users a truly unique experience with games, movies and music.
Features
Quality stereo
Gaming, music or movies… your PC will come alive!

Quality bass
The ported wood subwoofer adds a new level in gaming realism!

Improved sound imaging
Two separate satellite speakers improve perception of both gaming action and stereo recordings.

Distinctive, wall-mountable design
Elegant design with cloth grilles looks great anywhere in your home. Wall-mounting kit available separately.

Rock your PC
Turn your PC into a powerful sound system that everyone can enjoy.

Rock your MP3 Player too
A second jack allows you to connect your MP3 player without disconnecting your PC. Universal MP3 cradle included!

Built-in Controls
Power, volume, bass and treble are all at your fingertips.

Headphone Jack
For private listening.
The design of the BXR1121 feature two black satellite speakers and a subwoofer that have a sleek yet modern design. Best of all, the BXR1121 come with a universal MP3 cradle that will allow the user to easily connect their MP3 player without fiddling with a plethora of cords.
Another noticeable feature is that the BXR1121 also features a headphone jack which allows for easy headphone input access. The two satellite speakers are also shielded to prevent any interference to your monitors and last but not least, Altec Lansing have upped the ante by offering users the chance of mounting the speakers on the wall, thanks to wall-mounting kit which can be purchased separately.
The installation of the BXR1121 was a breeze and it comes with all the correct cables to connect the speaker system to anyone's Personal Computer. In about five minutes, the BXR1121 were connected to our PC and we were ready to test the device with a variety of programs, games, music and movies.
The main satellite speaker contains all the controls necessary to control your audio experience, however this can also be achieved via the PC.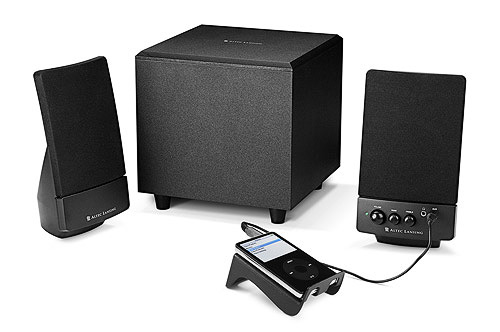 We first tested the BXR1121 with a variety of CD's, both modern and classical and we were quite surprised at the quality of audio that was outputted by the speakers. The audio of the BXR1121 boasted clarity and sharpness, whether it was listening to Mozart or Pink.
For those lovers of Bass, the amount of bass available was quite impressive and you could feel this operate through the speakers. MP3's were also a similar experience to audio CD's and the speakers could produce a rather large amount of volume.
Games such as Call of Duty and BioShock truly enhanced the gaming experience and you could actually hear each shot and explosion that gave the feeling you were actually in the line of fire. Even the background ambience of these games came through and assisted in transforming the gamer into these wondrous worlds.
Movies such as Star Wars Episode III and Indiana Jones and the Raiders of the Lost Ark was a mini-movie experience and although not as impressive as a surround sound system, it was still a quite impressive cinematic audio listening experience.
In conclusion, the BXR1121 is an affordable speaker setup for your personal computer which can purchased (online) for around $49AUD to $69AUD. Even though you get what you pay for in the speaker world, the Altec Lansing are a very good buy for low-end speakers and most users spending this amount of money will definitely be pleased with the results.