Alienware
Area 51-7500
The Area 51- 7500 from the moment the huge black box shows up at the door, to the moment of opening the packaging which is well packed and protected by shock absorbing packing materials, gives off an air of a company that takes it's building of a system very seriously.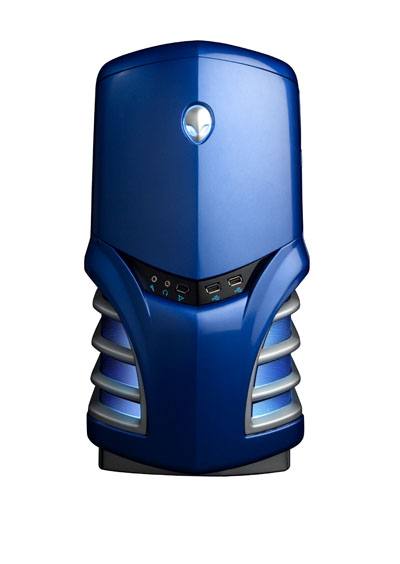 The review rig is a pretty standard Alienware system. With a pleasing blue color, trimmed in silver that Alienware deems a Conspiracy Blue, going to the web site a consumer can of course customize this piece of computing goodness to their own tastes.

Now as we look at this truly impressive computer, any gamer would of course wonder about its gaming capabilities. We will of course be talking about that, but we also will be testing the system in the standard fare as well. Such as photo or video editing, as for games we of course ran tests with some graphic intensive games and benchmarking. (In fact check out some of My and Shael's latest PC game reviews. We have adopted this systems type and configuration as one of our game review test systems)

While the review is of course about the system, I beg your indulgence. For too often we forget about the full package, and so to begin with, we will start with what comes with the system. The Documentation and the systems ease of learning. Sure it's a simple thing to rip something out of a box and plug it in, don't get me wrong, you can do that with the Area 51-7500 as well. But to truly get a feel for this masterpiece of a system, it is suggested to check out the well done documents that come with the system.

A nice touch is a leather bound small note book of instructions including a quick start guide. The normal owner's manual and also the technical reference. At the start of this is a welcome letter from the Chief Executive himself Nelson Gonzalez. As for the Operating System Sticker.. If you're looking for your Windows operating system sticker, you may find it on the front inside face plate of the system. Nice place to put it, you wont tend to lose it that way. We also found a final inventory check list, at the bottom of this check list was my next point... It explains how to contact customer service. The check list form states what should be a no brainer, check your system on arrival and if there is anything missing, contact customer care.

Thankfully the customer care information clearly states the phone numbers and the ways you can get a hold of customer service as well as technical support. The phone numbers state the days and times you can get a hold of customer support and technical support. Don't confuse the two. Technical support is open 24 hours 7 days a week. Customer Service is open Monday to Friday 10 am to 7pm Eastern Standard Time. Checking into this further we called Tech support and went through the automated menu system. It's a standard branching phone system, press this number to reach this etc etc etc. the short side is that if you go into a section that is closed, there is no way to go back to the main menu unless you end the call and start all over again. On the flip side, when I did get a hold of tech support, while they seemed a bit bewildered I did not have my customer account number handy, the gentleman did answer my general questions. The tech support guy was very helpful and polite, so that was a plus. The only down side it seems that any updates you want to get from Alienware, you have to have an account number, there does not seem to be anyway for you to download any updates or drivers. In order to access the various Alienware online resources (such as the Drivers and Downloads section, or the Customer Support Forums) you have to have the customer ID number, this is also called the account number. You have to have that number ready any time you call support or customer service as well. So be aware, hang on to your customer account number.

The online support pages have several areas of help including a FAQ and various other sections that is a gold mine of information. Setting up an online account is simple and fast and gives you access to driver downloads in a flash.

On to the meat of the matter, after all it's the system that counts right? First off they say you get what you pay for; Alienware has enough of a smorgasbord of customizability to balance things out pretty well. While some of the pricing may mean an extra month or two of saving, there is no doubt about this.you are investing in an impressive, solidly built system. From it's gee wiz inspiring alien head look of the case, onto the components and peripherals that make up the sum of the whole.

The very front of the case gives easy access to microphone, headphones also a very nifty six pin fire wire port and last but not the very least two USB 2.0 ports. The front face plate of the case swings open to reveal the media drive bays, this test system has a DVD multi writer, though there is room for three media drives all together. The plug ins for extra media drives, joysticks or mouse, being in the front is well thought out and a welcome design, their easy access makes plug and play controllers a simple task rather than fiddling around at the back of the machine. While there are extra ports at the back for even more plug in options making the ability to plug in even more goodies like external hard drives easy. In this case we applaud the designer. The pleasing look of the case does not stop there. The front gill like designs center forward extending along the sides of the case is for ventilation, keeping all ventilation points free and clear is paramount to keeping the system running as it should. To finish off the front of the system, there is the power button which also does extra duty as a power indicator and hard disk activity indicator. This button appropriately is shaped like a little alien head. X-file fans Unite. (Yes, the inner fan boy in me is coming out.)

Now onto the back of the case, from what we can see of this system there is room to grow even with its impressive configuration. At the rear there is access to an I/O ports with the standard fare of mouse, keyboard and Ethernet cable, speakers and USB 2.0 ports as well as DVI display ports to plug in a monitor. While this test rig system only has one video card, the Area 51-7500 mother board can be configured to run two Video cards in an SLI configuration, (Scalable Link Interface). This can increase the processing power of an already power packed system.

Our review system is Powered by the NVIDIA GeForce 8800 GTS graphics processing unit (GPU), this gaming God of video cards is ready for the next level of DirectX 10 and gives an enhanced game playing experience as well as usability and longer life as newer games come out. We ran everything we could think of to tax the system as best we could, from Doom 3 to Half Life 2, Silent Hunter III and Call Of Duty 2. Newer games such as Medieval 2 Total War, Dark Messiah Might and Magic, Teenage Mutant Ninja Turtles and Supreme Commander ran with impressive smooth speeds and short load times. There was an issue with StarWars Battle Front II that seemed to be linked with the motherboard onboard graphics being on while also running an add on graphics card. But who really wants to fiddle with the mother board graphics and shut it off just to play a game. So sadly Battle Front II did not grace this system. Surprisingly enough we could not get Far Cry running either, even with the patches. While an older game that is still number one in my heart for scaring the crap out of you.."Alien Vs Predator 2" runs so smooth it sprang new scares into the game for me.

Gaming aside, the demanding pull on any system that comes with video editing was no problem for the Area 51-7500. High end video editing software like Adobe After Effects and Adobe Premiere Pro, as well as middle of the line video editing software such as Pinnacle Studio Plus Titanium Edition played well with the system rending particle special effects as well as luma keying and Chroma Keying all rendered very quickly and without any issues.

This test system is equipped with Creative X-Fi Xtreme Fidelity game sounds pumping through the surround speakers gave richer sounds, bringing even older games we have reviewed to life. With the Sound Blaster X-Fi Processing - 10,000+ MIPS of power equals a perfect configuration for the Area 51-7500. Joined with Windows XP Media Center or one of the higher tiered Vista Versions, it turns into a well rounded system, able to handle all of your entertainment needs. What's cool about it is that you can switch between three modes, Gaming, Entertainment and Audio Creation. Using the Creative X-Fi with programs like Karma FX Synth we created some side chaining effects that sounded wicked cool. We even put the system through its paces using Sony Acid we created some sound tracks with multiple effects including some chorus effects and reverbs. The system rendered it all pretty darn fast and played it back with crisp sounds.

Intel Core 2 Quad CPU 2.66GHz is perhaps the most powerful beast in the electronic jungle, or should I say planet? Simply put the Alienware Area 51-7500 is a solidly built well thought out system, ideal for not only gaming, but is a solid system for video and sound editing as well. Shael, my fellow writer points out that's all fine and well, but what about all those bench mark tests I had her perform? So ok, we won't round it off without giving the scores. This gives the Area 51-7500 double thumbs up in gaming goodness.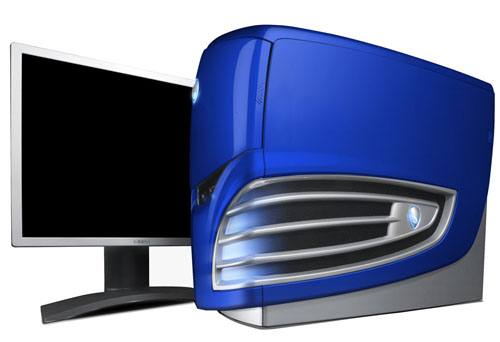 I never was a really big fan of Bench marking but grudgingly ran some bench mark tests. Benchmark and performance tests ("benchmarks") are used to measure different aspects of a processor and/or systems performance. There is no be all end all of numerical measurement that completely describes the performance of such complex devices such as a personal computer, benchmarks none the less are a useful tool in measuring different components and the system. But to really get a true accurate measurement of performance is to test the software applications you use on your system. This includes happily enough, games. Just remember tests and ratings are done using specific computers and components and are approximate performances. But I will grudgingly admit it is a popular tool and useful tool to measure a systems GPU.

We used a mix of benchmark tests including 3dMark and Aquamark. The Alienware Area -51 7500 gave off some very impressive frame rates with the components that came with our test system. The graphics where tested pretty extensively in several tests that pushed the CPU and graphics when they are most stressed in a game when lots of action is taking place.

Without sound and using just a graphics test the system game very high frame rates. Running with out sound gave off the chart frame rates, With sound they dropped back down to earth but where still very impressive. The CPU, the graphics card, both with and without sound where not too shabby at all. It was interesting to see the score differences between using a couple year old versions of some benchmarks and the more recent ones. Of course on the older version the scores had been higher, I suspect because it was not designed to tax the latest systems as much.

3DMark Score: 12,468.00 3DMarks

SM2.0 Score: 5,027.00

HDR/SM3.0 Score: 5,361.00

CPU Score: 4,068.00

All in all the fill rate texturing, multi texturing and vertex shader and pixel shader tests all came in with impressive frame rates.

Game wise, Doom 3 was down right scary coming in with a frame rate of 206.5 Frames per second. That NVIDIA GeForce 8800 GTX is a really good choice for this computer system and for gaming. Even better when more games catch up and make use of the impressive power of today's high end and even middle end graphics cards.
Alienware Area 51 7500 is an all around working machine. Depending on the configuration the system is ideal for the most intense gaming not just in the here and now, but in the Games for Windows future. I know I have said this before but, If Gaming alone is not enough for you, the system is a real surprise with its quad core extreme processing power that can be used for video editing with the best of them, with power to spare for audio and music creation and enjoyment.

From gaming, relaxing with a movie or some other creative endeavor, the Alienware Area 51 7500 is a gem of a find, well worth the time and money for what it gives back in leisure and productivity. It's up to the cutting edge components make it ready for the software of today and of the future, with room to grow and expand as one may need or wants. Alienware is stepping up to the plate in this time of Next Generation Gaming, and they are bringing the mother ship. Alienware makes the rigs with the demands of ultimate PC games in mind.

We run several systems here at Impulse Gamer United States, from Gateway and Dell. I will have to say the Alienware Area 51-7500 is by far my all time favorite in computing. Visit Alienware here and consider the possibilities. http://www.alienware.com

Have fun, play games
Edwin Millheim