Acesonic DGX-106 Multi Function Karaoke Player
For this article we have a heaping helping, some talk about a ultra fun hobby, a review on bit of hardware, and also an interview by Shael on one of the companies that cater to that past time and for many a passionate experience.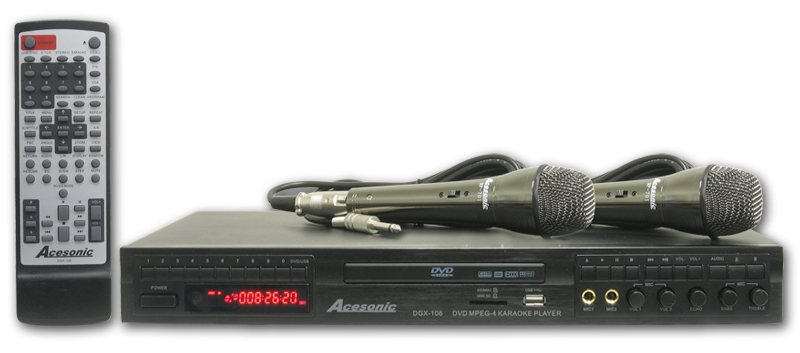 Entertainment can be described in many terms, though nothing has come as far with todayís technology as home entertainment. Having fun with friends and family thatís what itís all about. Like I always say, have fun, play games. Though entertainments focus is not only gaming with such systems as the PC, the MAC computer, or any number of consoles like the Xbox 360 or the PS3 or Sony PSP and the Wii. All over the world we not only game, but we enjoy movies on DVD and now more and more some pretty cool phenomenon is finding its way into our living rooms, or family rooms. What ever you call the room, itís the central room in the home where we entertain not only ourselves, but guests, family and friends. Nothing has taken many of us to that guilty pleasure as singing our hearts out, whether or not we can actually sing or not. Itís still fun.

Since its beginnings Karaoke has continued its sky rocket in popularity. Look at some of the Karaoke style games originally for such game systems as the PS2, such games have been spawned to mimic some popular singing shows, such as Karaoke Revolution: American Idol. Then there is SingStar for PS2 and also rocking us out on the PS3. Then of course there are the games such as Rock Band where you can not only sing, but play with a band of friends. How cool is that. With downloadable content for most of the games out there, who is to say that some of us wonít be looking for licensed versions of our favorite singing groups for our favorite games?

Much like gaming, Karaoke enthusiasts can and often do, form a strong friendship since they all share the same passion. Now more and more this wicked fun past time is entering the home. Not on those little Karaoke machines mind you, but really cool multi-entertainment style systems that are a essentially DVD/CD players, but also have hook ups for Microphones so you can party in the privacy of your own home with friends and family. Not to mention getting some practice in on some of your Karaoke favorite songs before singing in public. Itís a hobby that has entered many homes and can be a fun family oriented activity for all ages.

For the home entertainment factor we are taking a look The Acesonic DGX-106 Multi Function Karaoke Player. The system is a pretty versatile system that took a bit to get all set up, but for the best enjoyment following the included manual is highly recommended. Not only does it play CD+G disks (thatís Karaoke CDís that have the music and Lyrics that show on screen), but it also can handle several other types of disks and media. The full list the system can handle are, MP3, JPEG, MPEG, MPEG-4 and WMA files that are recorded onto a CD-R/RW, DVD+R and DVD+RW disks. The machine also has a USB interface and an SD/MMC Card Reader.

Now if your shopping around donít let the fact that itís a 2007 model detour you. The sleek profiled Acesonic DGX-106 Single Tray system is also Rack-mountable. Nice touch if youíre wondering how to set up your system within the frame work of your entertainment center. We have found that this Karaoke Player is not only a powerful DVD karaoke player, but is also one of the most versatile in the market today.

While not considered high end, or better yet high priced, this system has thus far proven itself as a very worth while addition to any entertainment system. Set up was not exactly easy, but with some fiddling around and one resetting it back to factory preset later the system was ready to play.

Best of all, right out of the box, the system comes with a remote and two free microphones. A couple of the features that the Karaoke crowds will be appreciative of are some of the key controls. There are two types, key control down and key control up, using these enables the user to transpose the music key either up or down respectively by half tones.

The microphone controls include treble so high frequency adjustments can be made. There is also a Bass control, so users can make low frequency adjustments to the microphone output. Karaoke of course would not be the blast it is with out the ever popular Echo control, which this unit also has, both microphones echo effects are controlled with one knob.

The two microphones the system comes with have weight to them and feel very well made. They do seem a bit overly sensitive, just by touching the metal surface while they are on and plugged in, you can here the skin scraping just by touching them.

Now as if Karaoke was not enough, the unit also plays DVD movies. This player is now HD ready; supporting 480 and 720p, allowing you to watch movies in the best quality yet. We unfortunately did not get to fully test this aspect of the system, while the DVDís we did get to test out looked pretty vibrant and clear. So, all in all the system provides a very satisfying movie watching experience.

Further features include an MMC, SD Card reader and mini SD card reader on the front and also a USB port, so storing some extra songs on an external drive and accessing them is no problem. No matter what your entertainment tastes are, your whole family will find something worth while here.

The DGX-106 DVD Player is perfect for watching DVD, VCD, MP4, and HD movies, listening to MP3/WMA/CD music or singing CD+G/VCD/DVD karaoke discs.

Breaking down itís features,

Features:

3 Preset Modes for Maximum Playing Experience:
Karaoke Mode: (Stop after Each Song, Key Reset after Each Song)
2 Channels Mode: (Continuous 2 Speakers Playback for CD and Music)
5.1 Channels Mode: (Optimized for 5 Channel Movie Mode)

Factory Reset Key - Restore setting back to factory default in any events
Built-in 7-Band Equalizer and Spectrum Analyzer
Plays Windows Media Audio (WMA) Files
Ultra Thin (1U) Rack-mountable (kit included)
Built-in 64 mb Cache for Smooth Playback Even in Fast Video Motion
Utilize 32Bit Professional Digital Mixer and Echo Processor
Direct access keys on front panel including: 0-9 keys, DVD Audio Track, L/R/Stereo, Key Controller, DVD Menu
Worldwide Compatible - Can be use anywhere in the world, or play any discs from around the world!

Features:

Progressive Scan Output Via Component Video or VGA for Flicker-Free Images
HD Compatible: 480i/720p
Playable Disc: CD, CD+G, VCD, DVD, CD-R, CDĪRW, DVDĪR, Dual Layer DVDĪRW
Compatible Format: Audio CD, HDCD, DVD-Video, VCD, CD+G, MP3, MP4, JPEG, AVI, WMA MPEG
Next generation Real-time Super Error Correction - Auto Skipping Discs Read Errors, Provide Smooth Playback even when discs are dirty, scratched or minor cracked.
Super Shock Resistant Design - Resist shocks from music vibration. Smooth Playback even in cars or boat.
Upgradeable Firmware - Support Future New Formats When Upgrades Are Available
Simultaneous Dual Screen Output: VGA & Component Video or RCA & S-Video
Built-in 5.1-channel Dolby Digital, AC-3 DTS and HDCD decoders
Player can be set to any region for exporting worldwide
Plays Both NTSC and PAL Discs. Automatic NTSC and PAL switching
Aspect Ratios: 4:3 Pan and Scan, 4:3 Letterbox, 16:9 Widescreen
14 Steps Key Controllers: +7 and -7 Steps
Random Play Mode / Programming Mode / A-B Repeat Mode
Slow Motion / Picture Zoom / Frame Advance / Multi-angle Viewing / Bookmark
Playback Control (PBC) for Direct Plays
Parental Password Control
2 x 1/4" Microphone Inputs
2 Independent Microphone Volume Controllers, Built-in Professional Grade Karaoke Mixer , Built-in Microphone Bass and Treble Controller, Echo Controller

Audio Outputs:
5.1 Channels Surround Sound Output (RCA)
2 Channels Stereo (Music) Output (RCA)
Mixer (Vocal + Music) Output (RCA)
Coaxial Output
Optical Output

Video Output:
1 RCA Video Output
1 S-Video Output
1 Component Video Output (Y/PB/BR) (Interlace or Progressive Scan)
VGA Output (Interlace or Progressive Scan)
European SCART Output

Package Includes:
1 3 Ft 3-RCA Cable
1 User's Manual
1 Remote Controller
2 Free microphones in box
2 AAA Batteries
Rack-Mount Kit

Nice unit indeed. Now Shael got a chance to throw some interview questions at a Karaoke supply store, the very place we picked up our DGX-106 system. Read on to see what they had to say. Then visit them at www.acekaraoke.com to see what they may have to offer. Thank you to Fontaine Su and Marisol Espino from Ace Karaoke for taking time for the interview.

Shael Impulse Gamer: How big is Karaoke?

ACEKARAOKE: Karaoke is huge. Just googling the word karaoke brings up over 112,000,000 results. It has graduated from a hobby limited to those in its sub-culture to the mainstream activity it is known as today. Mention the word karaoke to anyone in the world and chances are they know what it is. Especially since singing shows such as American Idol and Singing Bee have become so popular, people have karaoke more than ever on their minds and forcing them to take the singing out of the shower and into the family room.

Shael Impulse Gamer: Karaoke has mostly been in bars, when did it start coming into the home?

ACEKARAOKE: With the introduction of smaller, more attractive and affordable machines, many families realized that they donít need to be DJs to enjoy karaoke. Especially with the recent addition of Disney karaoke, many tweens are demanding that their parents join the karaoke bandwagon.

Shael Impulse Gamer: Karaoke is starting to gain more ground in the main stream as people get into Karaoke, Do you think the Karaoke market shows any signs of slowing down?

ACEKARAOKE: Not at all. In a year when many businesses saw a visible slump in their sales, the karaoke industry was able to maintain its momentum. Now more than ever, karaoke is the answer for people trying to find an affordable and highly entertaining way to enjoy time together. Despite recent concerns with the economy, karaoke will surely continue to demonstrate its staying power.

Shael Impulse Gamer: There are so many different types of Karaoke machines and players, what are some of the things someone should look for in a Karaoke home system?

ACEKARAOKE: It is all a matter of preference. Does the karaoke singer want a system with all its components built into one box? Do they want separate components? Do they need it to be portable? Do they already own a sound system? How loud do they need it to be? How many people are they planning on entertaining? How big will the room be? Will the karaoke player be used indoors or outdoors? These are all questions that karaoke enthusiasts need to take into account when choosing their perfect machine.

Shael Impulse Gamer: What makes one system better than another? are they that different from each other?

ACEKAROKE : Some systems are not necessarily better than one another, it really depends on the customerís needs. Some systems are louder than others, made by more recognized karaoke brands, and may have exclusive features like USB ports and SD card readers. It always comes down to what the customer wants to be able to do with the machine. If a customer is looking for a way to have all their music embedded in one system, we recommend the Acesonic KOD-800 which comes with 2,000 songs built in. They still receive the hard copies of the discs but can queue up songs by just pressing the song number on the remote control, from the song list we give them. If a customer already owns a sound system and wants an inexpensive player that plays all the karaoke formats we offer the Acesonic DGX-106 which also has a USB port so that they can run music from an external source as well as from an SD card. If a customer wants a small, low volume machine that is kid-friendly, we usually recommend one the many attractive Singing Machine models we carry. It always comes down to what is going to fulfill the customerís karaoke needs.

Shael Impulse Gamer: There are a few markets where sites offer a more customized disk where the consumer picks songs and they get the disk made. What are some of the pros and cons of this?

ACEKARAOKE: Making customized discs is always a tricky subject. Here at Ace, we do not offer that option. The pro of having your own customized CDG disc is of course the fact that every single song on there is a favorite. The con is that it is usually a lot more expensive to have a karaoke manufacturer make you a customized CDG disc. Another issue that customers need to be aware of is the fact that many of these companies that are doing these customized discs may not be doing it legally. It is always best to steer clear of companies that are not well known karaoke manufacturers.

Shael Impulse Gamer: There are just as many microphones on the market as there are karaoke machines, Does the type of Mic really matter?

ACEKARAOKE : It can. It really depends on how serious the karaoke singer is about singing. Some microphones may have more bass or treble and can affect the way a singerís voice sounds. For instance, if a singer tends to have a breathy, high voice it might help to get a microphone with more bass in it. For singers with bassier, booming voices, a microphone with more treble might complement their voices. There are all sorts of details that singers look for in their microphone but for the most part, when choosing a microphone for karaoke, it is always best to choose a quality microphone made of sturdy material. Because so many people take turns singing in karaoke, there is no way you will be able to accommodate every singerís needs. It is more essential to get one that will withstand much wear and tear.

Shael Impulse Gamer: Why do you think Karaoke is so big?

ACEKARAOKE: Because everyone secretly wants to be a rock star! Whether people admit it or not, everyone enjoys their small time in the lime light, even if it is only in your living room or in front of friends at the local bar. There is something exhilarating about being on stage with a microphone. Before karaoke, these thrills were limited to professional musicians but now, anyone can feel like a star!

Thatís that Impulse Gamers! So go ahead and embrace your inner singing star and have a blast!

Have fun, play games
Edwin Millheim

Sit back, relax, letís play
Shael Millheim