Friel TV Bench
(IKEA Australia)
Created by designer Ehlen Johansson, the Friel is truly a modern masterpiece that is the perfect stand for your high definition TV. The colour of the unit is silvery white with a modern chic designed that would suit a variety of homes. With a whopping width of 198cm and with a maximum load of 45kg, this is stand is perfect for medium to large LCD or Plasma televisions.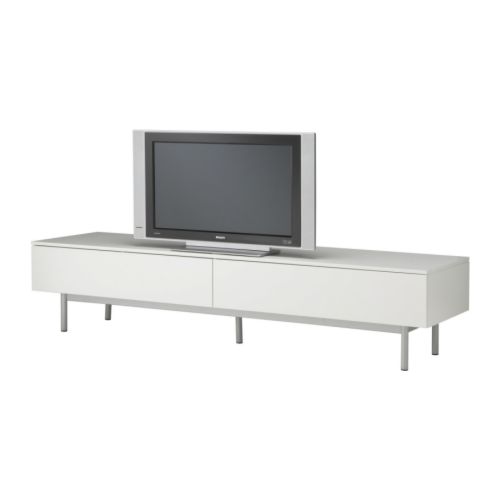 Special Features & Benefits
Doors pull down to hide and protect the contents.

Cord outlet at the back; keeps cords in place.

Tall legs make cleaning easy
Installation
The installation of the Friel was a breeze and within 30 minutes, the stand was fully assembled and we had our glorious Philips 40" Plasma TV seated on the unit.
It should be noted that the Friel comes in two boxes with all the parts carefully labelled in a manual that is written in basic English. Finding it a little difficult? IKEA have a professional available for those a little scared to invest their $2,000 dollar plus TV on their own skills.
The only drawback of the installation is the weight of the Friel with the packaging which weighs a whopping 125kg so you definitely need some assistance in getting this item to the home.
With generous storage space, the Friel is perfect for the tidy conscious person who wishes to hide those unsightly cords and what better way than the Friel.
Simply pull down the doors and your DVD or console is tucked away, out of sight and out of mind. My favourite aspect of the Friel were the tall legs as our home has tiles, this makes for easy cleaning.
Dimensions
Width: 198 cm

Depth: 55 cm

Height: 44 cm
Conclusion
In conclusion, the Friel from IKEA is a great TV stand for Plasma and LCD television which is relatively easy to install and comes at an affordable $499AUD which is considerably cheaper than some of the higher end TV stands on the market at the moment. Check it out!
The Friel is available at the following retailers
IKEA

For more information - please visit www.ikea.com.au