X
Boasting what is possibly the greatest box cover art in the history of home media, the latest release from Australian director Jon Hewitt (Acolytes) is an ambitious, gritty and eminently hardworking drama that pulls out all the stops in an attempt to keep viewers on the edge of their seats. And it largely succeeds.
Also known by the rather more discursive if not altogether accurate title X: Night of Vengeance (the characters herein are searching for a number of things, including money, freedom, redemption and love, but not vengeance per se) the film revolves around high class escort Holly (Viva Bianca, Spartacus) who plans on calling it a night - after, that is, just one more night on the job.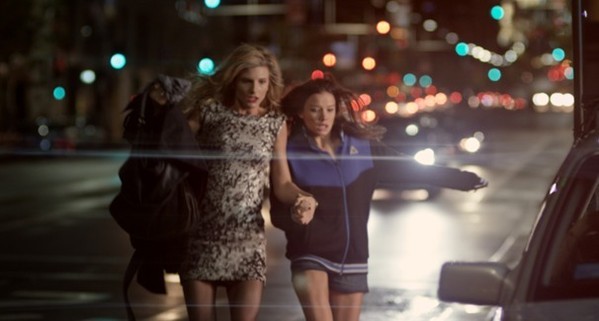 On her way to a client and a brunette working girl short after the lass originally scheduled proves unable to attend the rendezvous, Holly espies leggy young runaway and would-be hooker Shay (Hannah Mangan Lawrence) strolling down the street in garb reminiscent of Julia Roberts in Pretty Woman. Ordering the taxi to screech to a halt, the leaps out and yes, as luck would have it, the young lady is not only an aspiring sex worker but she would be interested in accepting $300 for taking part in a threesome.
The client, it turns out, is a coked-up douchebag although it must be said he's fairly generous with his drugs, of which both lasses partake. After some raunchy dancing, noisy cunnilingus and presumed off-screen intercourse, the ménage à trois is interrupted by a drug deal which ends badly for our beau, in that he gets shot three times in the head ('You're a fucken bowling ball' is the assassins tactless quip). It also ends badly for the two hookers cowering in the bathroom - spotted by the gunman they are chased through Sydney's streets for the next several hours. Throw in a few pimps, junkies, crooked cops and assorted lowlifes, the majority of which would as soon punch you in the face as look at you, and our heroines are in for a pretty rough evening.
The plot relies far too heavily on coincidence and inexplicable decisions taken by the protagonists, and raises myriad irksome questions throughout: Why the hell did Holly let the gunman into her penthouse harbourside apartment? Doesn't she have a peephole? How did he even get in the building, a multimillion dollar complex that presumably would've had a security camera and a locked front gate? Why didn't she think to finish him off after she clubbed him repeatedly with her suitcase? And why did Shay leave the safety of her King's Cross hostel room to get a burger when she knew the killer would likely be driving around the Cross at that moment trying to find her? I know the answer is because the plot needed them to act that way or else there wouldn't be a movie, but I don't want to be consciously aware of that fact while supposedly immersed in the world of make believe. I've seen Fringe, and The Muppets, and even Battlefield Earth - God knows I can suspend my disbelief as much or more than the next person. But X does test one's patience in this regard.
On a more positive note both Bianca and her up-and-coming coeval Mangan Lawrence work hard for their director, putting in convincing and confident performances and demonstrating a level of belief in the project that helps temper the triter moments. Also the more violent sequences (of which there are many) as well as the determinedly unarousing sex scenes are expertly composed, and the whole film displays a fast-moving, hyperreal visual sense that both suits and accentuates its gritty subject matter. X may occasionally paint itself into a corner, but much like its two heroines it doesn't have too much trouble finding its way out again, and as far as Aussie film fare goes it represents one of the most interesting and ambitious outings of the past several years.
Bonus Features
- Audio commentary with director Jon Hewitt, writer/actress Belinda McClory & producer Lizzette Atkins
- Behind the scenes/Making of Featurette
- Original soundtrack with portrait gallery
- Teaser
- Theatrical trailer and US trailer