The Academy Award nominated creators of STOMP, Luke Cresswell and Steve McNicholas are the masterminds behind Wild Ocean 3D who wrote and directed this amazing journey of the wild life near the treacherous Wild Coast of South Africa.
Filmed in glorious IMAX 3D, this documentary will give viewers an almost surreal experience as they follow the mass migration of sardines as they make their journey up the KwaZulu-Natal Coast. These fish are also an integral part of the world's ecosystem as they attempt to avoid the of the predators in this mesmerizing documentary.
Amazingly enough, these sardines act as an autonomous entity as they travel these dangerous waters, attempting to avoid sharks, dolphins, seals and the like with their worst predator being that of mankind themselves. The footage captured D.J. Roller is not only awe-inspiring but quite riveting as you watch a variety of underwater animals and even some land based make their way to this rich feeding ground of sardines.
This documentary also highlights the dangers of mankind's over fishing of the ocean as they not only prove a threat to the migration of the sardines but also the wildlife that rely on this yearly event. Ironically not even 100th of 1% of the world's ocean is protected and Cresswell and McNicholas leave the viewer with a question of what will happen if this resource vanishes and how man can prevent this foreseeable disaster on the world's ocean ecology.
With stunning 3D photography and an original musical score by Cresswell and McNicholas, the journey of Wild Ocean 3D will appeal to almost all viewers and is not only informative but quite wondrous in this stunning IMAX 3D presentation.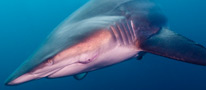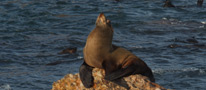 Visit IMAX Melbourne (Click here)
Visit IMAX Sydney (Click here)
Official Wild Ocean 3D website (Click here)