Wedding Band Season 1
Created By Josh Lobis and Darin Moiselle, Wedding Band premiered with decent ratings but struggled to sustain the numbers, falling victim to the cancellation axe after a sparse ten episode season. Did this amicable comedy have its wings prematurely clipped or was it a turkey that was always destined for the chopping block?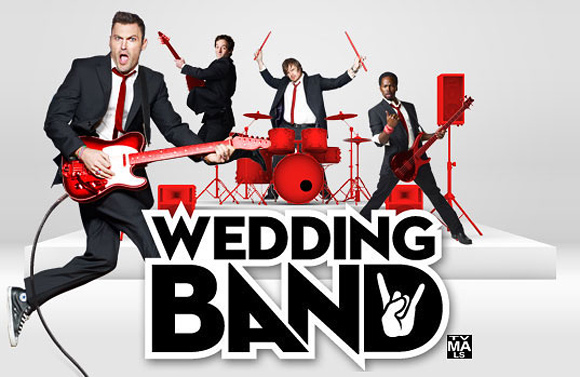 In my personal opinion Wedding Band is a show that, despite some shortcomings, is packed with potential comedic gold. The simple premise of a group of four friends and their misadventures as a wedding band was certainly malleable enough to sustain further seasons of hilarity.
Indeed, the myriad of storylines include a feud with a Boy Band tribute band that leads to the theft of instruments owned by one Ms. Courtney Love, primary protagonist Tommy (Brian Austin Green) having to contend with the ire of chagrined sci-fi fans after he inadvertently let slip the disappointing ending of their beloved show and Drummer Barry becoming enamoured with a "wise, magical black child" who seemingly has the answers to all of their problems, in a sly riff on the "Magical Negro" trope.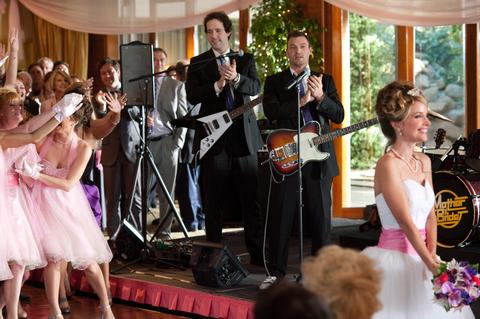 Signing with the prestigious 'Rutherford Events', the band find themselves thrust into a myriad of quirky situations, with each episode ending with a unique cover of a popular song – Think Kiss's "Rock and Roll All Nite" rendered as a bouncy polka song and you're on the right track.
Despite showing such promise, the show does have its flaws; female characters are painted rather thinly, conforming to archetypes long established as sitcom mainstays: The coy gradual love interest, the sexed-up, ball breaking boss, the wife with a quirky job – Given time the characters may have developed more dimension, but throughout this season they certainly play second fiddle to the band themselves.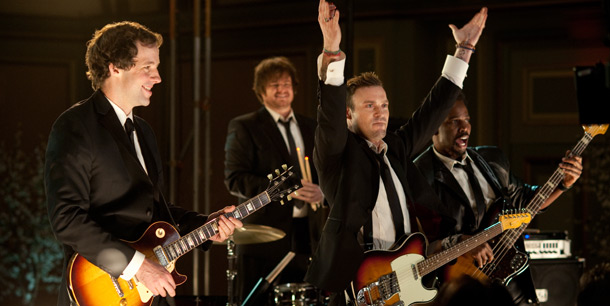 The band members have great chemistry, with Austin Green's capable performance bolstered by Peter Cambor, Harold Perrineau and Derek Miller channelling his inner Jack Black. Playing off of one another effortlessly, it's easy to believe that they're really just four friends stumbling through life. Guest stars abound, with screen grabbing turns from Ken Marino, Megan Fox, Molly Sims and more.
The writing, whilst occasionally cheesy, is fairly solid all around. Now and then a joke will miss the mark (Some of the blame can be attributed to some odd editing choices) or hang in the air like a stale fart, but the witty exchanges, pop culture references and irreverent humour more than make up for those few that miss the mark. There's an extremely odd product placement for the Toyota Camry that is blatantly inserted into the show and played for laughs; although this doesn't exactly work as intended, it's this kind of outside-the-box writing that works best within the context of the show, with the irreverent moments adding a unique flavour to the sometimes slightly contrived storylines.
EPISODE LISTING:
- Pilot
- I Love College
- Don't Forget About Me
- Time Of My Life
- Get Down On It
- We Are Family
- I Don't Wanna Grow Up
- 99 Problems
- Personal Universe
- End Of The World As We Know It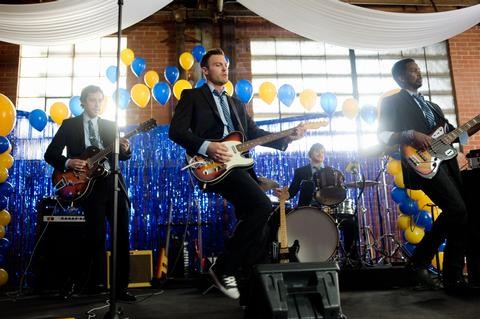 Audio/ Visual
The image quality is fairly impressive for DVD, with clean colours and a crisp, detailed picture; there is some noticeable strobing in certain scenes, mainly those featuring strong reds, but this issue only popped up briefly on two episodes, so it's no biggie. The sound quality is up to par; some of the renditions of cover songs can come off as a bit flat, but this is due more to the performance rather than the quality of the audio. All around a competent transfer.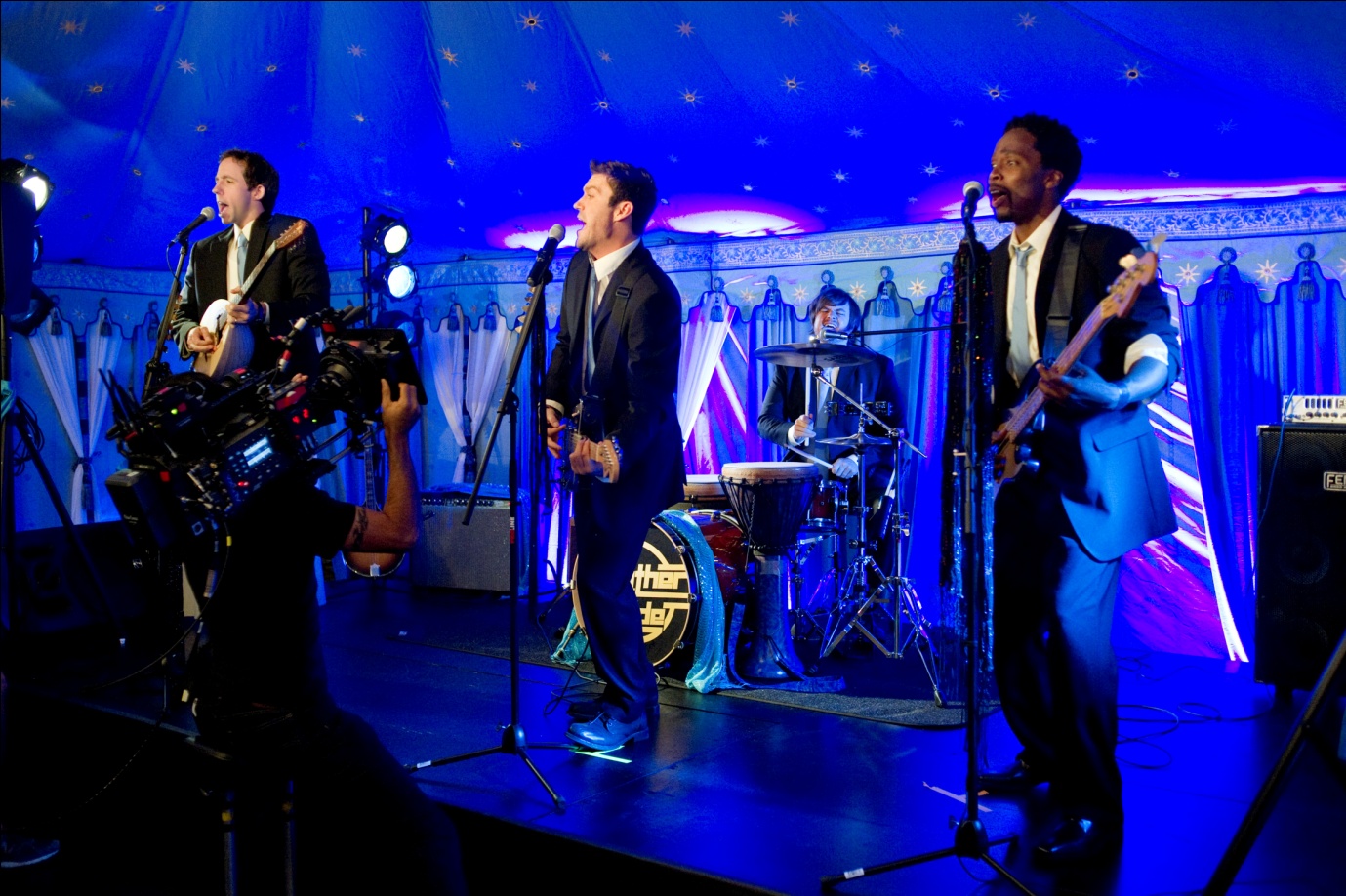 Special Features
Unfortunately there aren't any special features on this release, unless you count closed captions. This is a shame, as some commentaries or a behind the scenes look would have been warmly welcomed, especially in retrospect of the show's cancellation.
Final Thought
I rather enjoyed Wedding Band; it's an agreeable little comedy that makes good use of its premise. The cover songs are generally fairly catchy and the performances of the core cast are superb. I think that a lot of the blame for its early cancellation can be laid at the feet of TBS's marketing department; going off of the promos that seemed to paint Wedding Band as a more rock-centric Glee, I had no interest at all in watching the show, and, but for reviewing this set, would never have experienced the witty and concise writing of this amicable little beast.
An enjoyable ride, Wedding Band invites you to join the celebrations and you could do much worse than R.S.V.P for this event. Recommended.