Though it follows hot on the heels of such thematically-similar fare as The 4400 and District 9, V is actually a remake of a highly-regarded 1983 TV miniseries based upon an alien invasion of earth.
No expense has been spared on this stunningly-shot and richly imaginative series, which begins with the sudden appearance of 29 gigantic extraterrestrial motherships hovering over all of the planet's major cities. When the highly advanced beings eventually make contact they seemingly, as the saying has it, come in peace, and soon inspire a cult of devotion amongst much of humanity. Eventually however the visitor's motives are revealed to be anything less than friendly, and far from exalting the newcomers to the status of deities, humankind might just find them to be the stuff of nightmares.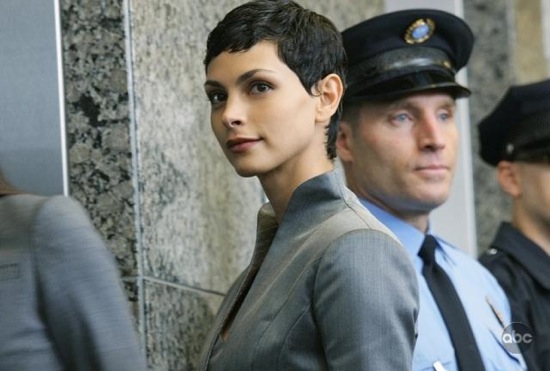 The 2009/10 remake, like the original, quickly built up a sizable following and garnered a positive critical reception. Perhaps the most accurate assessment came from the King Features website, which rightfully gushed that the series is 'the best new show on television, by far. The special effects are feature-film quality; the writing is intelligent and time-relevant, and the acting is first-rate. The first five minutes alone will hook you for the entire season.'
The special effects are indeed majestic; sequences where the huge alien craft hover above city skylines make Independence Day look like a primary school production. The performances are uniformly excellent, with sci-fi pinup Morena Baccarin particularly mesmerising as the inscrutable, sinister Queen of the Visitors, and a slew of believable, expertly nuanced supporting characters keep the storyline grounded, as it were.
Allegory aside and reptilian conspiracy references notwithstanding, the series is one of the cleverest and most addictive of the past couple of years. The perfect melding of a big budget with big imagination, V is quite simply a cut above.
Special Features
The three-disc set is laden with a number of excellent bonus incentives, including an audio commentary, several deleted scenes as well as makeup and special effects featurettes. There are also explorations of the series' mythology, and at look at the obstacles faced by the writers and crew when trying to reimagine a decades-old series in the 21st century.
Audio & Video
The 2.4:1 anamorphically enhanced widescreen transfer is suitably stunning and picture quality on the DVD edition is faultless – the Blu-ray release must really be something to behold. English 5.1 surround and Dolby 2.0 soundtracks are on offer. The 5.1 really packs a wallop, and the sound design overall has been nicely done. There are also French and Spanish audio tracks, and subtitle options in English and nine other languages.