Van Diemen's Land (2009)
Vegetarians be warned: unless you feel vindicated by one man munching on anotherís raw flesh, this not the film for you.

Meat eaters, too, might be turned off by this depiction of convicts pushed to the edge in the raw Tasmanian landscape.

Van Diemenís Land, the debut feature of Australian director Jonathan auf der Heide, tells the true story of the infamous Alexander Pearce (played by co-writer Oscar Redding). We find him having been sent to the Macquarie Harbour Penal Settlement in Tasmania, a sort of outdoor Colditz for dangerous prisoners. Knowing that they are surely to die of starvation, dysentery or the lash, he and seven other prisoners escape into the wilderness.

Itís not long before the scarcity of food weighs on their spirits, the rainforest largely devoid of animals, and they begin to look for more immediate means to satiate their hunger.

Under the pretention of eerie colour-saturated photography, long moody gazes into the empty forests and a self-consciously arty voice over (in Gaelic), Auf Der Heide has ambitions of profundity his script canít match. Tension is generated in exactly when and how the killings take place, but each character, hidden under impressive beards, is indistinguishable from the next. This, and the unrelentingly bleak tone, make it a bit of a chore.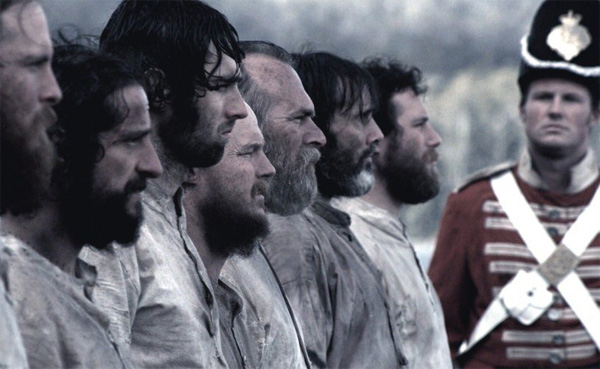 Undeniably though, itís well made, in particular, the cinematography by veteran Ellery Ryan.

Itís at its best when it becomes a hypnotic Terence Malik kind of existential, when the morally dubious characters reflect on their actions and their place in the natural order of things , but it doesn't make the film any easier to digest.

The disc contains a good array of features, including a commentary and some insightful docos. Best of them are the three additional self-depreciating featurettes (one has the clapperboard man describe his subtle influence on the actorsí performances). These are funny and uniquely Australian. In their more sincere moments, the interviews reveal that this was clearly a project of love for the creative principals. One should expect good things from Auf Der Heide in the future.

Special Features

* Audio commentary with director and co-writer Jonathan auf der Heide, co-writer and lead actor Oscar Redding and cinematographer Ellery Ryan
* A Journey Up River: Making Van Diemen's Land
* Three additional featurettes: The Battle of the Beards, Subtleties of the Slate and From Bailbo to Van Diemen's Land
* Theatrical teaser and trailer
* Original Storyboards
* ATOM study guide