U23D (U2 3D) is the ultimate U2 experience which is presented in glorious IMAX 3D and puts the viewer straight into the heart and soul of this amazing Irish phenomenal from Dublin. Front row seats at a concert can be an amazing experience and costly, however U2 3D is almost like being on stage with Bono (vocals and guitar), The Edge (guitar, keyboards and vocals), Adam Clayton (bass guitar) and Larry Mullen Jr (drums and percussions).
Filmed during the South America Vertigo tour with over 100 hours of footage, the creators have put together one of the most wondrous musical experiences ever, making you feel like an urethral creature as you fly around the concert, from being on stage to moving through the crowd. You can also feel the emotional of the band and the crowd, one cannot help but be drawn in... almost mesmerized. Although the footage is quite exceptional due to the 3D nature, the other star of the feature is the music of U2 that literally sent shivers down my spine and truly made myself and everyone part of this amazing experience.
Featuring a wide scope of hits from U2, this IMAX experience will have something for everyone, even if you are not a U2 fan. With that said, this review cannot do this feature true justice and I highly recommend that you see this amazing 3D concert! I left the movie buzzed, wanting more and yes I'll see this again!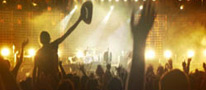 Visit IMAX Melbourne (Click here)
Visit IMAX Sydney (Click here)
Official U2 3D website (Click here)